What's So Special About a Pillow Paper Box
Pillow paper box (also referred to as pillow gift box, pillow packaging box, or pillow pack gift box) are used for lightweight packaging materials, gifts, and products. They are foldable into different sizes and can be customized into various designs (graffiti, logos and branding imageries, quotes, etc.).
They are mostly made from kraft paper and can be used to store soaps, candies, cookies, and small cards, which makes them suitable packaging material for weddings, birthdays, baby showers, and other parties. Most boxes are small and often used along with jute twine to beautify the box.
They are made from high-quality, non-toxic cardboard or kraft papers which can be recycled due to the raw material used in their production, and do not require any special wax coating. Another edge to its incredible lightweight is how easy it is to assemble and personalize.
Why You Should Consider a Pillow Paper Box
Pillow paper box, there are many advantages to using this type of paper packaging. In UNICO factory, we can make these boxes with your custom design printing, 100% customization.
Serve as Protective Layers for Goods
Pillow paper boxes serve as great packaging for delicate products during shipping and storage, protecting stored products against dust, moisture, spills, pests, and other environmental hazards for an extended period. It prevents products from damage over long-distance land travel or air travel. Since they are made up of two panels that fold together with flaps to keep them locked and intact, they can preserve stored items inside and sealed up till you need them.
Besides the fact that they conceal and protect products from damage, pillow paper boxes are also aesthetically pleasing. Since they can be designed and decorated, they present products stylishly without taking the main focus from the item. They serve as excellent gift packaging items for events.
Pillow paper boxes are pretty impressive when adequately branded and can create a lasting impression in the receiver's hearts.
Pillow boxes stay in shape for months or years after first use. You can use them to store items for months without getting damaged. You must consider the size of the box to the weight of the item(s) you want to store to preserve its durability. They can be stored anywhere, even with goods, under room temperature to maintain their average shelf-life. They can be folded back to their initial shape when not in use.
Affordable and Easy to Produce
Anyone can afford to use a pillow paper box for packaging due to its low price and availability. Pillow paper boxes are still the most affordable packaging alternatives for shipping products, especially pillows. They work well with bulk shipping of items depending on the sizes and weight of the product in the quest.
They can be made at home from scratch but require an expert to create branding designs for products going out to your customers. Kraft papers and cardboard cannot only be reused but also recycled.
Variety of raw materials to choose for its production
Most packaging boxes are made from single raw materials, unlike pillow boxes which can be manufactured from either kraft papers, cardboard, or other crude materials. These different materials also have benefits specific to their products. For example, some are eco-friendly, while others have lightweight, have great durability and shelf-life, etc. Still, the two commonly used materials, cardboards and kraft papers, are eco-friendly and easy to move about.
Depending on the quality and usefulness of what you want to produce, you can choose materials from several alternatives based on their benefits.
They Require Fewer Materials for Their Production
In the production of pillow paper boxes, choosing from various materials is not the only benefit. The reduced quantity of materials used compared to the production of other packaging boxes is another edge-on. Reduction in material usage helps reduce the production cost and weight of the output and makes pillow paper boxes better packaging alternatives for small and large businesses. Low production cost affects the price of the finished products, thereby relieving end-consumers.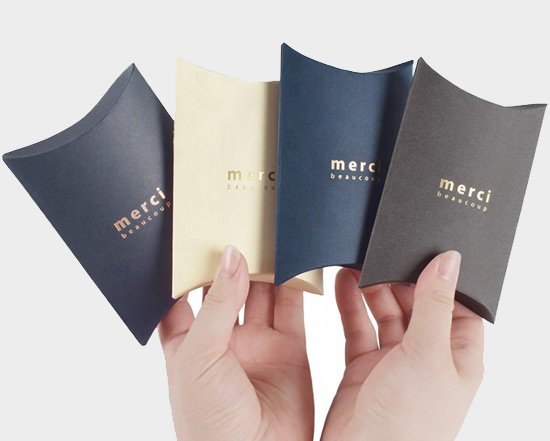 How To Easily Assemble a Pillow Paper Box
Originally, the boxes came flat from the factory. To assemble a pillow paper box, you must fold the right and left tips at the one edge of the box to meet one another. This same process is repeated to get the same result for the other side of the box.
Finding the Right Size for Your Paper Pillow Box
To determine the size of a box, you must understand how to measure the box's length, width, and height. The length is the longest side of the box without a flap, the width is the side bearing the flaps that you will later join together, and the height is the longest part of the box from the center to the flaps when assembled.
There are a variety of sizes of pillow boxes depending on their usefulness. For wedding souvenirs, the size can range from 85mm x 60mm x 20mm, 100mm x 80mm x 25mm, 130mm x 80mm x 25mm, etc. For packaging pillows, 150mm x 130mm x 35mm, 200mm x 170mm x 50mm, 250mm x 220mm x 60mm, etc., A5, A4, and so on.
It would help if you kept in mind the kind, weight, and mass of the product you'll like to package before placing your order.
Expert Guide to Decorating Your Paper Pillow Box
Know Your Brand Style and Identity
You must first consider your brand identity to give your paper box the best branding. Your brand identity is anything that creates an image of your brand in the minds of your customer. You should choose designs and styles that exude the type of business you run or the occasion the box was made for.
There are several things you should consider as your brand identity. Your brand color and font, brand logo, brand design style, core values, etc., are some of what make up your brand identity.
Talk to an Expert in the Field
You can rest assured about the successful outcome of a product when you give an expert to do the job. Your brand identity alone cannot bring out the beauty of your packaging material; an expert's advice will. If you encounter problems along the line, an expert is one to guide you through the journey.
Besides speaking to an expert, you should give your project to experienced personnel in the field. Here at Unico, we have experienced and trained professionals that can handle all your packaging needs, from the project's architecture to the finished result. You can rest assured that you are getting nothing short of the best from your money and materials.
Pillow paper boxes are made from kraft paper and used as lightweight packaging materials. The boxes can be easily arranged by following the step given here. It would be best to consider the size of the box you desire before placing an order. You can trust Unico's team of experts to handle all your branding needs; we are just one order away!