Custom Packaging for Small Business
UNICO is a leading factory in China to produce custom printed packaging for small business. You can order printed mailer boxes, shipping boxes, carton boxes, rigid boxes and more. Fast turnaround, Premium quality, Low minimums.
Send Your Inquiry Today
Nowadays, more and more businesses would like to order custom packaging with their own logo printing. Order custom printed packaging for your own business, it's much helpful to your brand promotion. The branded packaging brings the first impression to customers. If the packaging appeals to the consumers, it will create a positive impact. In UNICO, we can customize the boxes according to the size of your products so you can ship the products in an appropriately sized box. We also do custom packaging for small business, with super-fast delivery of 7-10 days.
Custom packaging also allows you to design and print your logo, artwork, shapes, and patterns on the boxes and other packaging materials. Packaging is also a much critical part of customer experience, especially for online e-commerce shops. 
Customized Corrugated Shipping Box
Custom corrugated shipping box is made of single-wall B flute board, which is thick and durable. They are lightweight, environmentally friendly, and cost-effective.
2 Sides Printed Shoes Packaging Box
UNICO can produce the shoe packaging boxes with 2 sides design printing, both exterior and interior. You can also use it as an online business shipping box for products mailed to consumers.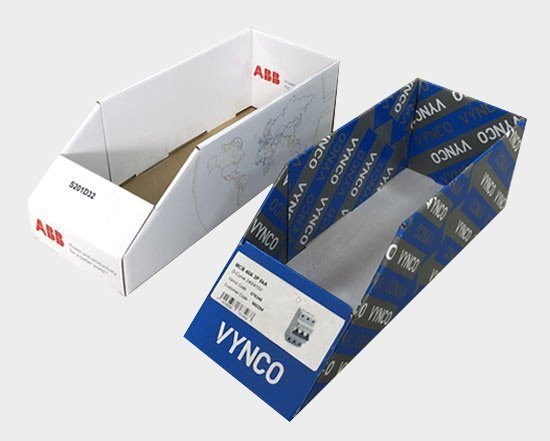 Custom Printed Cardboard Bin Boxes for Display
Cardboard display boxes are much popular for product shelf display. They are self-locking, no tape or staples are required for assembly, which are ideal for displaying products.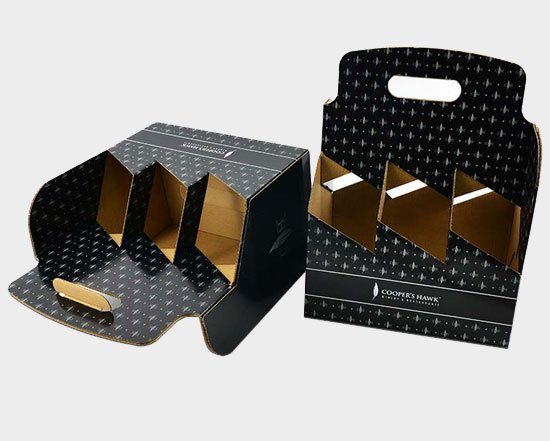 Six Pack Cardboard 12oz Beer Carrier Box
6 pack cardboard bottle holders are made from strong and durable material, making them a great carrier for easy transport of beer, soda, and other bottled products.
Custom Branded Blister Packaging
Blister packaging is widely used for small consumer products, which include a pre-formed transparent plastic cover and printed cardboard base. You can display the products on shelves.
Color Printed Cardboard Counter Display
Custom printed counter display unit (CDU) is very popular to display unit normally placed on a shop counter top. You can also use it as a product shipping box, which is foldable & durable.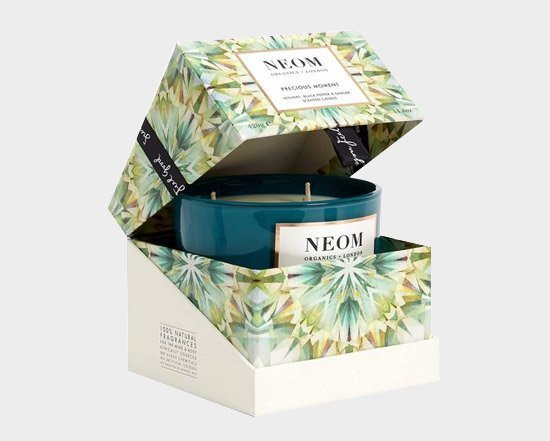 Rigid Cardboard Candle Packaging Box
The custom candle packaging box is one of the custom packaging for small business, which is made from rigid cardboard. It's possible to add your logo and artwork printing.
Auto-bottom Cardboard Packaging Box
The auto bottom box is a kind of pre-glued bottom, that is locked by hand without tape or glue. You can choose white cardboard, or kraft paper for your own custom packaging box.
Custom Printed Vinyl Sticker for Bottles
If you are running a small business, custom-printed vinyl stickers are much great choice to promote your brand. You can seal the products with logo printed stickers, or wrapping paper.
The Benefits of Custom Packaging
With your own logo and artwork printing, consumers would know your brand quickly, and it's helpful to improve your brand awareness.
We provide a less expensive custom packaging for small business, even a small order quantity. What we offer benefits your business.
A custom-printed packaging box is helpful to protect your products because the boxes are made according to the size of your goods. 
The material for custom packaging is usually paper, or cardboard, which is 100% recyclable, reducing the environmental pollution.
Part of the designing process is the most important step. Designers need them to check whether it's workable for lithographic printing. First of all, the designer would make the drawing of your requested box style template. We will send it to you for embedding the artwork including your logo.
During the period, we can discuss how to optimize the packaging and make it a more luxurious appearance. This way, surface treatment is needed to add on the boxes, especially the position of the logo. You can choose hot stamping, glossy spot UV, emboss or deboss, flocking, or glittering, etc. 
Depending on the size of the box and the weight of the packaged product, we will recommend a suitable material for custom packaging for small business.
Allow UNICO to help with your custom packaging boxes. We have made thousands of different packaging boxes for our customers overseas. We guarantee good quality products and less expensive service.
How to Make a Custom Packaging
Various Surface Finishing
On the surface of custom packaging for small business, there are various different surface finishing, like hot stamping, embossing, spot UV, flocking, etc. Each of them has different visual effects.
Hot Stamping, you can choose colors in stock for foil print, like red, blue, yellow, gold, silver, pink, etc. Usually, hot stamping is widely used on the logo position. 
Spot UV, it is a varnish to be applied to the logo, your slogan, or phrase. It is easy to catch the attention of consumers.
Emboss, This is an artwork to make your logo bulge from the surface of the box. When you touch the logo with your hand, it is a little higher than other surfaces.
Flocking, It is a fantastic artwork to make the logo with a furry feeling. On the position, there is a need for glue to stick the fluff.
In fact, you can also choose 2 finishing together on one position, such as hot stamping with embossing on the logo, or spot UV with embossing. If any doubts or concerns, please contact our service team for help.
UNICO: Your Premium Manufacturer of Custom Packaging for Small Business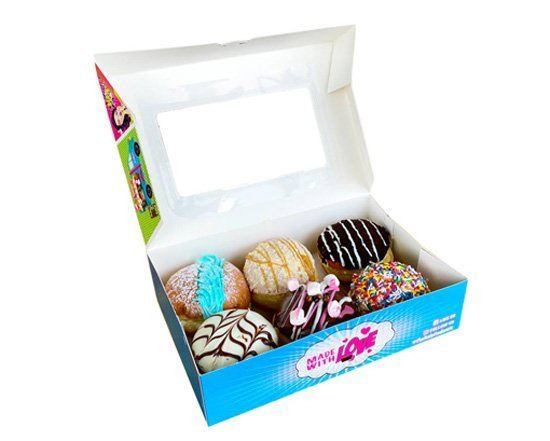 Donuts box is a custom packaging for small business with a transparent plastic window in the lid. It's a super popular packaging with 6 corners pre-glued in the factory. You only need to push the bottom to pop up the box, then put the donuts inside for packaging. 
Custom Made Cake Carrier Box
Cake carrier box made of paper material is much hot among bakery shops. It is convenient for the consumers to bring the cake home with a paper handle on the top. On the sides of the box, there is a clear window for consumers to see through. You can choose gold hot stamping on the logo position or others you want.
Color Print Kraft Box for Soap Bar
If you are running a small business of soap bars or other essential oils, the custom color printed kraft packaging paper box is highly recommended. Because such material is 100% eco-friendly, and less expensive cost. You can also ask the manufacturer to print the soap bar packaging box with your own design artwork.
OEM Order of Subscription Box
Subscription businesses are becoming more and more popular these days. Customers can receive a different item every month, and there will be a feeling of surprise. To ship the goods to the consumers, you can choose a cardboard subscription box, or a corrugated mailer box, which is strong and durable to protect the goods. With a locking tab in the front, the boxes can be closed well.
Custom Print Wrapping Paper
Custom print wrapping paper is a very suitable choice for small business owners because of its cheap cost and fast delivery. With your logo printing, usually, it takes 7-10 days to finish the job. Furthermore, there are also many patterns of tissue paper in stock. If your budget is much narrow, the ones in stock and the "Thank You" sticker are a great choice to save the packaging costs.
I can't thank you enough for all your help! I know it's a rush order, but you finished on time and shipped out, therefore we can attend the exhibition.
Ashley Rog
Buyer
We run a bakery business in Canada, and donuts box are needed for takeaway. After searching on Google, we found your company specialized in this. The trial order is fantastic quality, and we will order more in next month. Thanks for your help.
Daniel Loszmann
Founder
The boxes arrived safe and sound by sea shipping. We really love the quality of printing and strong material. Also got feedback from our clients, they received the subscription boxes safely, no damage.
Luis Aserrano
CEO