Ultimate Guide to Jewelry Packaging Boxes: Saving Your Packaging Cost
Jewelry is an invaluable ornament in the modern-day world. From rings to bracelets to necklaces, jewelry is used to portray elegance, dignity, beauty, and sometimes (in the case of engagement rings) love and commitment. These ornaments, usually made from rare jewels and precious metals, are expensive. To this end, manufacturers who make pieces of jewelry to sell at scale need to pay attention to packaging and branding. Jewelry packaging boxes must represent the encased jewelry's elegance, beauty, and value.
A gorgeous diamond ring enclosed in a shabby anonymous package loses its value and appeal. Not even the most brilliant and well-fabricated gemstone can do without a package box that extols its sheer beauty, color, and value. The package box must not only assure the buyer of the quality of the jewelry inside, but it must also protect the product throughout the shipping and retail process.
With the burgeoning jewelry sales, due partly to the current generation of millennials and gen-Zs who are incredibly fashion-centric, the demand for jewelry packaging boxes rose exponentially. Most jewelry makers, however, like to outsource the manufacturing of package boxes for their products. As a result, more and more companies are investing in producing jewelry packaging boxes.
Jewelry Box Manufacturers
As the name implies, jewelry box manufacturers are makers of packaging boxes for jewelry. They design and fabricate wholesale units of jewelry packaging boxes. They sprang up to fulfill the role that jewelry makers outsourced – manufacturing suitable boxes to house their valuable ornaments. Individual jewelry owners who own quite a jewelry collection are also potential customers for jewelry box manufacturers.
The jewelry box manufacturers' relationship with prospective customers is a two-way street. The manufacturer needs to understand its customer's particular demands and tailor design and fabrication to suit those demands. Jewelry makers and jewelry owners also need to consider some factors -like box material, size, visual attraction, kind of jewelry they own, etc. – before choosing which kind of jewelry box is best suited for their jewelry.
UNICO is a leading manufacturer of 100% customize jewelry packaging boxes with your logo and brand design printing. With 20+ years of manufacturing experience and skilled workers, they can offer high quality rigid boxes for your jewelry.
What to Consider when Designing Jewelry Packaging Boxes
A good jewelry box must perfectly suit for the jewelry it is made to house. It must showcase the jewelry's value and elegance while protecting it from damage. The jewelry manufacturers also need these boxes to communicate their brand persona and promote and advertise their brand, thereby carving a niche for themselves in the jewelry market.
The following are questions the jewelry box manufacturer needs to consider before designing these boxes.
What Kind of Jewelry Is Each Box Made For?
First, you need to know the type of jewelry to put inside the box, because this would determine the box's size, shape, and aesthetic. The size and shape of a box intended for earrings and another box intended for bracelets will very much differ.
Where Is the Jewelry Going To Be Sold?
Where your customers will sell the jewelry determines the degree of protection the packaging box should offer. A packaging box made for a jewelry-making company that sells its merchandise on local store shelves would require far less protective packaging than, say, a piece of jewelry that will be sold abroad. For optimum protection for the jewelry sold internationally, the packaging box needs to be big enough to accommodate bubble wrap and more interior layers of packaging material.
What's Your Budget for Packaging?
Determining the budget for a jewelry packaging box is premised on knowing the kind of jewelry the box is made to store. The budget for each package box would depend on the prospective value of the jewelry it is to house. A box for a very valuable diamond ring would require a higher quality packaging box and, as such, a bigger budget.
Your company's packaging box needs to reflect your brand identity and aesthetics. The kind of colors you use, the type of production material, the lettering fonts, and the logo placement on the box all indicate your brand persona. It is important to have a clear picture of what this is before designing a jewelry packaging box.
Who Are Your Targeted Demographic?
To better satisfy the specific needs of your potential clientele, it is important first to understand who they are. A demographic of customers who sees jewelry as a functional part of their everyday outfits would have different packaging needs than another demographic of fashionistas who treat pieces of jewelry as collected treasures. Jewelry box manufacturers must understand who their buyers are to serve their needs best. It is also important to note if your clientele is a jewelry maker who would need wholesale deliveries of packaging boxes or if they are jewelry owners who would only need retail units of these boxes.
Types of Jewelry Packaging Box
There are many types of jewelry boxes, as they come in various sizes, shapes, colors, and closure mechanisms. You can classify the jewelry boxes based on their production materials and closure system. Classifying based on materials, we have the paper jewelry box, plastic jewelry box, leather jewelry box, velvet jewelry box, and wooden jewelry box.
These are jewelry boxes made of customized cardboard paper. They are lightweight boxes and often come in various colors and patterns. You can use paper jewelry boxes as gift packaging. There are two main materials for paper jewelry boxes, one is soft style cardstock, and the other is rigid cardboard. Nowadays rigid cardboard jewelry box is much popular because this material is 100% eco-friendly and easy to reuse. Let's work together to protect our only EARTH.
These are jewelry boxes made of plastic. The embryo body is made of plastic mold, which is then covered with layers of filling paper. The outer surface is highly customizable, enabling the individual aesthetic and taste of the jewelry owner. While they are relatively cheaper to make, they still manage to look high-end. It is often the preferred choice of mid-end jewelers who have to thread the thin line between luxury and cost.
Leather is a popular choice for making jewelry boxes because it is durable and looks chic and luxurious. It is often used to make men's jewelry boxes because it is thought to give them more masculinity and a coarser look. Fabrics like satin or velvet are used for making women's jewelry boxes.
Velvet is one of the most commonly used fabric materials for making jewelry boxes. It can decorate the interior of the jewelry box or cover the outside of the jewelry box. Its soft look and texture give the jewelry box a refined, almost royal look. They are automatically expensive and are associated with very valuable jewelry pieces.
Wood, mainly from oaks and pines, is one of the popular production materials for making boxes for high-end jewelry pieces. You need to refine and polish the wood material before painting the colors. Wooden jewelry boxes are expensive to make and thus unsuitable for the wholesale production of jewelry. You can choose wooden jewelry boxes for your high-end jewels.
Jewelry Boxes with Drawers
These are compartmentalized jewelry boxes designed to house several pieces of jewelry. Each compartment (drawer) has a tab on the side that allows you to draw them open or shut to reveal or conceal the box's contents.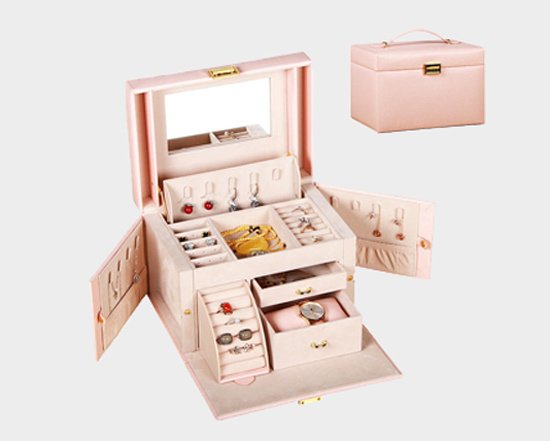 A piece of jewelry is only as valuable as its packaging. A beautiful gem in a shabby package box would often be valued less than an inferior gem in a high-quality box. Jewelry box manufacturers are important in sustaining the rising fashion-centric culture immersed in this current generation. The need to understand the factors that determine design choices for these boxes remains apparent. The mutual understanding that needs to exist between jewelry box manufacturers and jewelry makers/owners also becomes obvious.
You need to keep the jewelry pieces safe over time whilst still retaining their value. Proper design jewelry packaging boxes guarantee this, glamorously portraying the value of the jewelry they house without even having to open it. These boxes protect the jewelry pieces all through the shipping period – right from the time they are made, through the delivery period to wholesale jewelry box vendors, till they reach retail stores.