Custom Rigid Boxes and Luxury Packaging
We manufacture rigid paperboard boxes for all types of products and industries. Custom rigid set up boxes bring a high-end unboxing experience.
Get Started Now
Unico is a leading manufacturer in China to make custom printed corrugated boxes, rigid paper boxes, cardboard boxes, etc. On your custom packaging project, it's possible to add glossy spot UV varnish, hot stamping, flocking, glittering, etc. If you are looking for any rigid paper boxes, welcome to contact us for free quotes. In fact, the printed gift boxes are much helpful to improve the grade of your products.
Rigid Paper Boxes Made in China
with lower cost rate from China
Ask Price for Your Branded Boxes
Custom rigid boxes are popularly used to package gifts, jewelry, cosmetics, electronics, etc. They bring a huge competitive advantage to your brand. UNICO has been in the paper printing & packaging business for over 20 years. With rich experience, we can produce every single custom box high-end to protect your products while adding value to your brand. Now we have been ranking top 30 rigid box manufacturer in Zhejiang. If you are looking for luxury packaging boxes like rigid setup boxes or rigid packaging for your promotional items, we are here to help you.
In UNICO, we'd like to listen to what you need and care about what you care. We 100% value your ideas and feedback to optimize the design, prototyping, mass production, and delivery.
We are a leading and experienced rigid box manufacturer in Zhejiang, China. With over 20 years of manufacturing experience, we have been serving at least 1,825 customers at home and abroad.
We try every single bit of effort to organize the best resources to produce rigid boxes for your products. We have automatic production lines to save labor costs. These ensure the less expensive cost to your packaging need and fast delivery in days.
UNICO is specialized in rigid boxes, corrugated paper boxes, folding cartons, paper tube boxes (round boxes), etc. We are serving worldwide markets of jewelry, electronics, cosmetics, perfume, gifts, food, toys, etc.
100% quality control during production and 100% finished quality inspection.
100% on-time order shipping
Custom Rigid Box Manufacturer
UNICO is a leading factory in China producing custom rigid boxes with custom design artwork printing for clients all over the world. We are producing various styles of rigid boxes for our customers, including perfume boxes, cosmetic boxes, electronics boxes, wine boxes, food boxes, etc. So far, we have been a reliable partner for companies from many different industries. We also ensure your rigid boxes are made from high-end material and give your consumers a fantastic unboxing experience.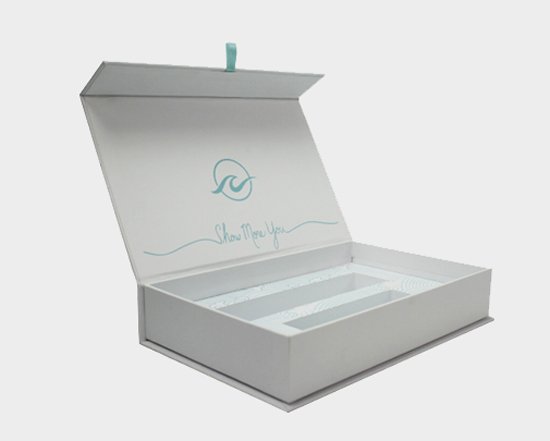 The one-piece rigid box is made from thick paperboard, usually, it's in 1000 or 1200gsm. In the front flap of the rigid box, there are two pieces of magnet closure to close the boxes. You can also choose to put inserts made of cardboard, EVA, foam, or pulp tray to hold your products.
Our one-piece rigid box can be printed with custom design artwork. The boxes can be fully customized and tailored to your specific needs and requirements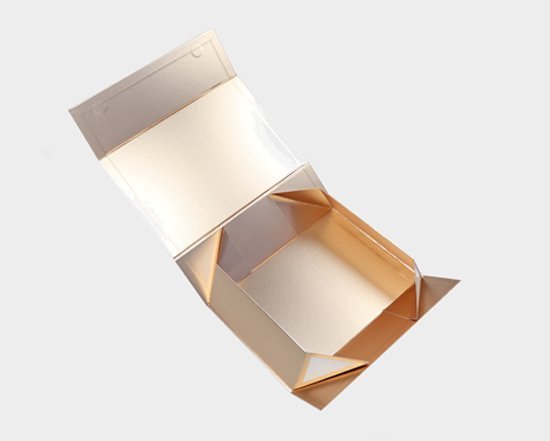 Collapsible Magnet Close Box
Foldable rigid box is a super popular style of packaging box, which is packed flat for shipment to save your shipping freight and your storage space. It's well-assembled with four double-sided tapes in the corners. You only need to pop it up after peeling off the surface paper, then stick it together.
Custom-made magnet close rigid box is with a strong structure and easy set-up. With UNICO, we can give you professionally made foldable packaging boxes that will protect your goods in place.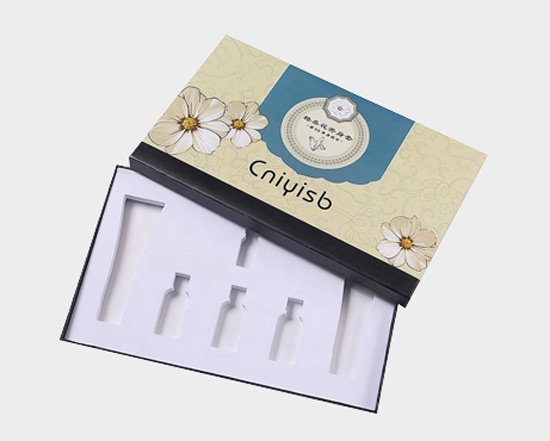 Two-piece Setup Rigid Box
Two-piece setup rigid box is also known as lift-off lid box or detachable lid box, which is a quite classic style packaging box. They are essentially boxes with separated lids. We can tailor this rigid box to your brand to achieve your goal.
In UNICO, we provide structural packaging designs which are reliable and workable to protect your luxury products. We can help you deliver a memorable box experience to your consumers.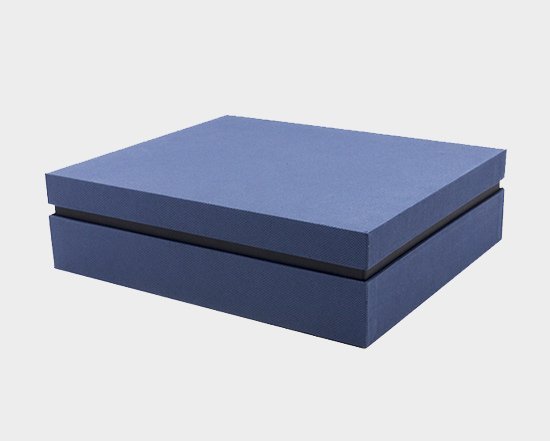 As the same suggests, there is s shoulder or neck inside the rigid box. It is also a typical style of rigid packaging box with a separated lid, and printed cardboard is assembled around the bottom to support the lid. Usually, between the lid and bottom, there is a 5mm distance to display the slogan, or logo.
Shoulder/ neck rigid boxes are very popular to package luxury products like watches, perfume, wine, jewelry, etc. Your logo on the top with foil stamping would be a fantastic design.
Partial cover lid rigid box is also a classic two-piece setup packaging box, which includes a lid and box. The height of the lid is smaller than that of the box. They are great options for showing the color differences between the two components.
As a leading custom rigid box manufacturer in Zhejiang, China, we can make the partial cover rigid boxes with your design printing. You can choose the logo with foil stamping, glossy UV, embossing, etc.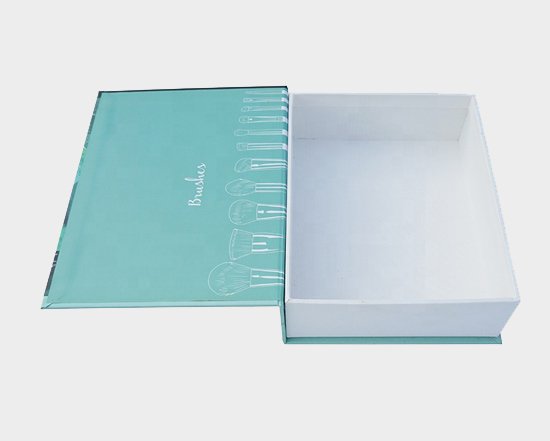 Book style rigid box is a variant of one-piece rigid box, which is still a magnet close rigid box. Its magnet is well installed in the edge of the inner box, and covered by the surface wrapping paper. The spine of the box is usually straight, or arcuated, which is determined by your choice.
A book style gift box is with a simple and strong structure. You can personalize this box style with your own artwork printing. We can offer high-quality printing and a large selection of surface finishes for you.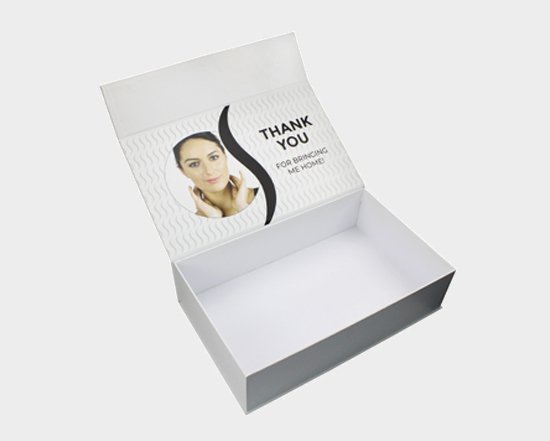 Rigid Box with Magnetic Lid
Magnetic lid rigid box is one of the one-piece rigid box styles. Two pieces of magnet closure are well assembled in the lid flap. They help the boxes close elegantly, and beautifully. Inside the inner tray, you can choose inserts made of EVA, cardboard, sponge, or pulp tray to hold your products and protect them safe during the delivery.
Using a magnetic box brings your brand an advantage to display your high-end products. Our team will help you provide high-quality printed magnetic boxes made from rigid box material.
Rigid drawer box is also known as a rigid sliding box, slipcase box, or match box. It consists of an outer sleeve and an inner tray. When your customers want to open the smart style box, they only need to simply slide the box tray out of its sleeve, using the assembled ribbon pull.
In UNICO, we can produce the sliding rigid boxes with your own design artwork printing. You can use the drawer rigid box as perfume packages, jewelry packaging, e-cigarette packaging, etc.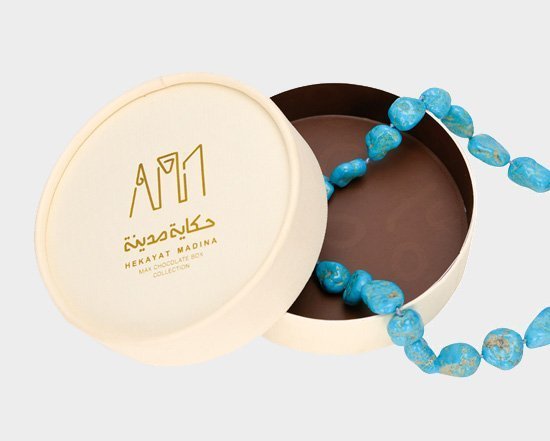 Rigid Round Packaging Box
Round rigid box is also called as paper tube packaging or cylinder box. It's a custom round shaped rigid box. You can customize the round box in large or small sizes. We have the packaging that will serve your product packaging needs.
We can manufacture luxury rigid tube boxes with high-end materials. Your design artwork in CMYK or Pantone will lead to a fantastic appearance of the cylinder rigid boxes. If you need any special finishes on the surface of the packaging tube, please feel free to contact our service team for help.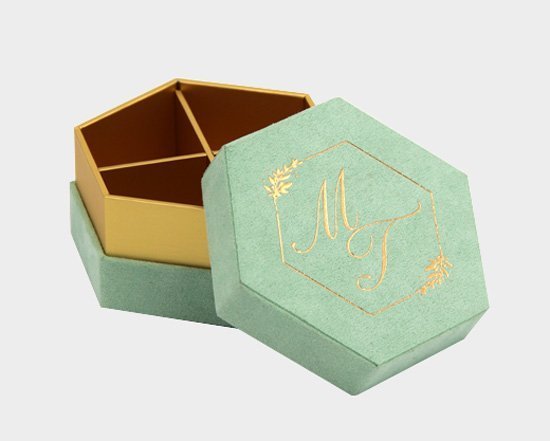 On the market, you can see many different shaped rigid boxes, including heart-shaped boxes, animal-shaped boxes, hexagon-shaped boxes, Christmas tree-shaped boxes, suitcase-shaped boxes, etc. They are all custom shaped rigid gift boxes.
UNICO can provide your designed packaging in any shape you can imagine. We have everything that you are looking for. Contact our team for further communication.
Crafted Solid Rigid Boxes
Exquisite Luxury Rigid Boxes
Good packaging protects your products, but great packaging protects your brand. A professionally designed rigid box brings a great unboxing experience to your consumers. In UNICO company, our engineers ensure that your personalized printed rigid boxes are precisely measured and tailored to suit your products and ensure they are comfortably and safely delivered to the consumers.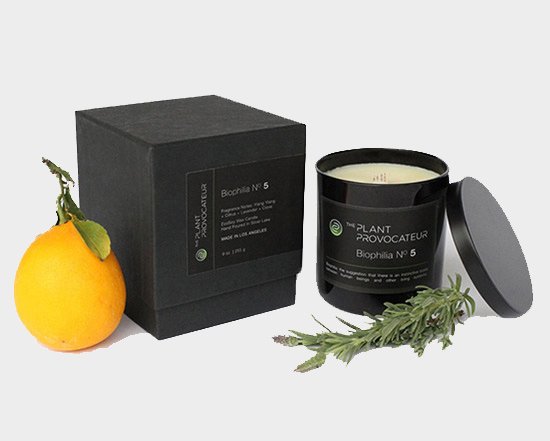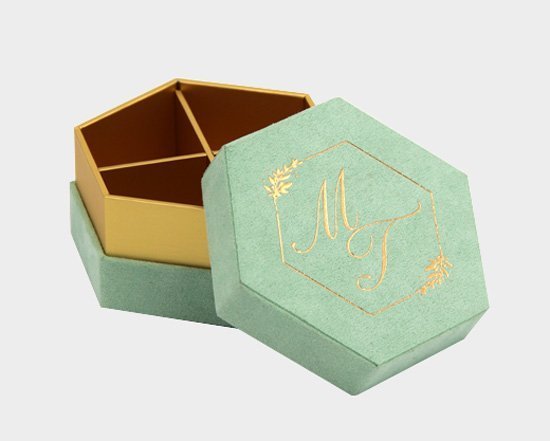 UNICO offers 100% customized artwork printing rigid box packaging for your business. We use high-end materials to ensure the basic quality of the structure is strong, after all, the customized rigid box isn't just about looking good. We insist on producing damage-resistant cardboard setup boxes to protect your luxurious products. Moreover, protective inserts made of EVA, cardboard, sponge, or pulp tray can be offered to help ensure your products stay safe and sound during the delivery.
Unrestricted Packaging Design
As a leading rigid box manufacturer in Zhejiang, China, UNICO can offer various rigid packaging to make your brand stand out. Our packaging engineers will recommend you the best solution for your product packaging. No matter it's a rigid magnet close gift box, chocolate box with window, perfume rigid display box, or custom cylinder packaging, we can make it for you in the high-end result.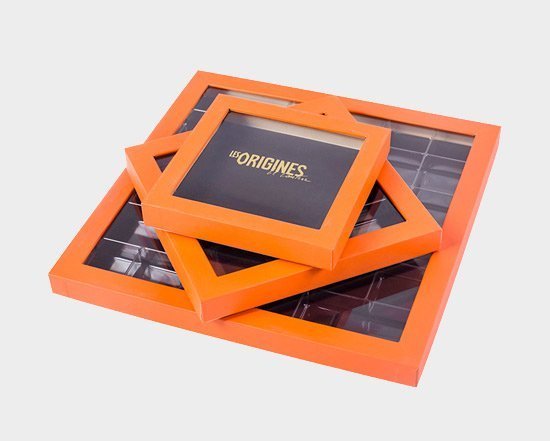 Advantages of Top Rigid Box Manufacturer
Work with us, your order of rigid box packaging can be 100% customized according to your every single request.
We have 20+ years of manufacturing experience, and skilled engineers & workers to ensure the perfect quality.
Stable supply chains, rich specialized knowledge, and perfect production process keep our costs reasonable.
In UNICO company, it's possible to cover your small order quantity order of custom rigid box packaging with your own artwork printed.
We inspect during the production process, and the goods will be fully inspected before packaging by QC.
We have advanced production equipment and skilled workers to ensure quality and short delivery time. Rush order in 7 days.
Offering Premium Rigid Box Packaging to World Famous Brands
UNICO did a super great job in customizing the rigid chocolate box with our design printing, and really nice quality that we got. All are absolutely durable and affordable.
We are pleased with the custom printed jewelry rigid boxes made from UNICO factory. The team never ever disappoint us, and always exceeds our expectations.
If you need custom rigid boxes for your business like bakery donuts, choose UNICO! I had a great journey with the team. Fast response to my queries, and assist me all the time.
Various Styles of Printed Rigid Paper Boxes
Rigid lift off lid presentation box
A lift-off lid box is a box with a separated top lid covering the bottom tray. It also refers to telescope box, detachable lid box. With simple structure, top and bottom styles enjoy great popularity among packaging boxes.
Though the box structure is quite simple, the lift-off lid box is also possible to act in different roles. The separated lid covers the bottom base fully or partially. You only need to make a design for the outside. Of course, inside printing is also acceptable. This makes the design process much simpler. Welcome to contact us for a free die-cutting template.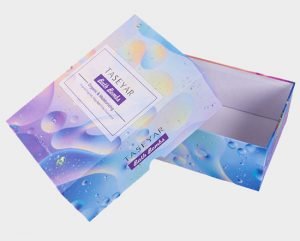 Lift Off Lid Rigid Paper Boxes
Rigid boxes with lift-off lids can be with short lids or full depth of lids. It's a good choice for your business product packaging. The lid of these boxes can be branded with your own custom logo.
The lift-off lid rigid box is an ideal option for sale retail or e-commerce product display, as the lid can sit neatly under the assembled base.
Rigid Shoulder Presentation Box
A rigid shoulder box also refers to a neck box, for it's a "neck" middle part assembled in the bottom base. Should boxes are produced in three parts: a base and tray that are the same size and the neck which is slightly smaller.
You can choose the rigid neck box for gift items like perfume, candles, watches, and more.
Hinged Lid Rigid Paper Boxes
For the hinged setup box, the wraps and chipboards of the lid extend to form the base completely or partially. Usually, two magnets embed into the front flap, while two metal plates are installed in the middle board. So the lid-hinged box is also called a magnetic closure box.
Magnetic closure rigid boxes are perfect for product promotion and sending out gift items. Unico has numerous options for hinged lid rigid boxes. You can have them printed in your favorite shape, size, and color theme. If you want detailed information, call our customer support agent now!
Magnet Close Rigid Paper Boxes
Usually, they are made from rigid cardboard and with two small pieces of magnet plates slotted inside the front box wall, and two pieces of small metal plates glued inside the flip-top closure, so they will attract each other to close the box lid. It is also called magnetic closure boxes and magnetic flap boxes.
The core material of these rigid paper boxes is made from a 1400gsm grey board (approx.1.5~3.0mm thickness), with interior and exterior covered with 157gsm C2S art paper. As part of our Eco range, these boxes are 100% recyclable.
Magnetic closure rigid boxes are perfect for product promotion and sending out gift items. The sophisticated look and finishing of these boxes make them preferable for business and personal usage. Inside the rigid box, it's possible to add an EVA foam insert or pulp molded insert to hold the product.
Book Style Rigid Paper Boxes
This style rigid box is a variation of the magnet close boxes above. By comparing you will find that on the book-style rigid boxes, there is no front flap. And the magnet is usually embedded into the edge of the thick board.
It's a rigid set up box, made of strong paperboard overlaid with printed paper, leather, or fabric wraps. Rigid paper boxes offer an excellent mix of product production and perceived luxury. Generally, larger than folding cartons, rigid (set-up) boxes are made of thick 36 to 120 pt board overlaid with a printed paper wrap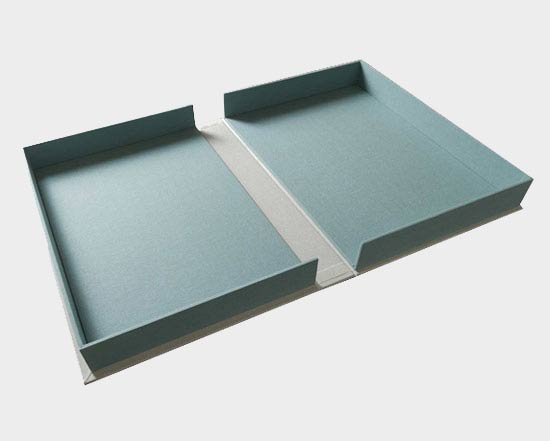 A standard clamshell paper box comprises 2 sections, an external cover and an inner plate. The clamshell rigid paper box is a hinged lid rigid paper box that opens and closes like a clamshell. It is mostly used as a presentation box for gift books, manuals, and booklets. 
Unico is committed to supplying you with the most beautiful cardboard gift boxes with the custom size, printing, finish, chipboard insert, and wraps.
Rigid Candle Presentation Box
The rigid candle box is also referred to as a custom paper box for display. It's usually a custom lid-hinged rigid paper box. Inside the base is a cardboard insert or an EVA foam insert with cutouts to hold the product inside. 
Your logo and custom size are available. Small MOQ. The logo is usually printed with gold hot stamping like the one showed in the image.
Candles have been in our lives for a long time, and are still much popular. However, now people don't use it as a source of light, but as a decoration item. There are many brands on the market. In order to get more attention from a lot of customers, you need a good product presentation. Usually, the products that look good sell well. These rigid paper boxes for candles will get your product a lovely look.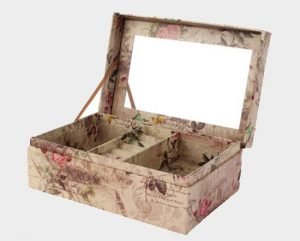 Rigid Shoulder Box with Hinged Lid
Shoulder boxes continue to be one of the most popular forms of the packaging within the luxury packaging market. They can be used to store any number of different goods and present them in a premium format.
This rigid should box is made for jewelry storage, and a mirror is installed inside the lid, much useful for makeup. A ribbon is assembled to the side to connect the lid with the body.
Printed Sliding Drawer Box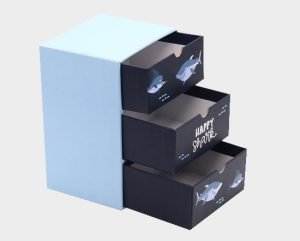 Drawer boxes are also called rigid slide box, or rigid match box. They are widely used to package and display high-end books, jewelry products, and electronic products.
It's possible to make a single-drawer box or multi-drawers. Usually, it's a traditional slipcase format that has one side closed off.
A variety of different board grades are available in addition to a selection of textured and untextured paper stocks to wrap around the rigid paper boxes. Embossing and debossing are possible on all of our boxes, as are premium finishes such as block foiling.
Tray and Sleeve Rigid Paper Boxes
Tray and sleeve rigid box is the other style of sliding paper box. The box consists of 2 parts, the cardboard sleeve, and the paper tray or drawer sliding into the sleeve.
Sleeve boxes are used for packaging and promoting a number of products. The appealing design of these boxes makes them a preferred option for commercial and personal packaging. Based on the kind of product you are packaging, you can make luxury sleeve boxes more likable for your customers.
You can use these rigid paper boxes to package chocolates, eyelashes, cosmetics, etc. With the transparent outer PVC sleeve, it's quite helpful for consumers to know what's inside, and check the quality.
Collapsible Rigid Paper Boxes
Also called foldable rigid boxes, the collapsible rigid box is the like the die-cutting paper boxes, which is flat shipped. It can significantly reduce the fees of the warehouse and sea freight. Collapsible or foldable rigid paper boxes are widely used by brands for packaging delicate products. These boxes have a unique design and they look entrancing for products like perfumes, chocolates, and luxury garments.
In Unico, we produce the various custom collapsible rigid boxes according to your requested size and printing. Spot UV varnish is the most widely used surface treatment, which makes the rigid boxes look high-end and luxurious.
Collapsible Cardboard Box
For this style of collapsible rigid paper boxes, there are four double-sided tapes in the corners. This way, it helps the boxes to be shipped flat and saves storage space. Further, it's easy to assemble foldable rigid boxes. These boxes are designed for different sorts of product packaging since they can be easily set up and are enduring. 
These rigid paper boxes have superior quality and hence they are preferred by the cosmetic, perfume, clothing, and gadget industry for product packaging across various regions.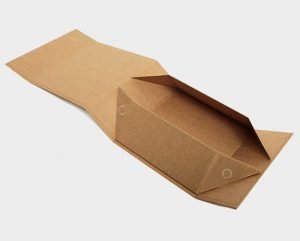 Magnet Close Folding Rigid Paper Boxes
Compared with the collapsible rigid paper box above, the magnet close folding box is a little bit different. There are magnets in the four corners to attract to assemble the boxes. You don't need to peel off the double-sided tapes anymore, just erect the boxes, and magnets will help, which is more convenient.
Unico offers you a diverse range of collapsible/foldable rigid boxes. You can have them customized according to your brand and product needs. If you have questions regarding custom printing for Folding boxes, call us or leave a message!
Custom Shaped Rigid Paper Boxes
There are two main functions of the paper tube, one is to package the product, which makes the product look high-end, and the other is to send the product by express to protect the safety of the product, which is used as a mailing packaging tube.
Cardboard tube packaging is the ideal packaging solution for art, paper or tall narrow objects. Because sometimes standard postal boxes are just a bit too big. For many branded clothing, a custom printed paper tube packaging is the go-to packaging solution.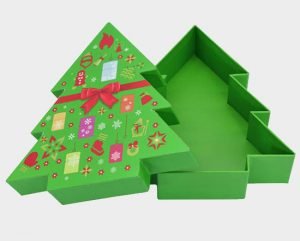 Christmas Tree Shaped Rigid Box
Rigid paper boxes are shaped like a Christmas tree, and it's also a telescope box with a separated lid. Usually, such packaging boxes are used to package jewelry, candy, presents, cosmetics, etc. This makes the packaging much luxurious.
Christmas tree-shaped rigid box is completely handmade and made from recycled paper. It's certain this fashion rigid box would bring smiles to the people who receive these objects.
Animal Shaped Cardboard Box
Custom printed animal-shaped boxes are surely the most popular box style for use on various occasions. They represent joy, affection, and cheers. Usually, they come in the shape of a dog, cat, bunny, fox, bear, Peppa Pig, etc. 
Such rigid paper boxes are widely used for the packaging of cakes, chocolates, cookies, card games, jigsaw puzzles, etc. Animal shaped rigid boxes are elegant and voguish. Furthermore, they are available in various sizes and shapes to suit all occasions.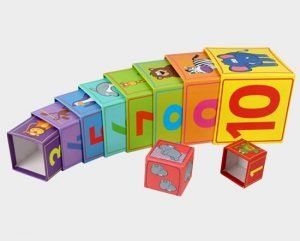 Cardboard Stacking Cubes for Kids
Stacking cubes are also referred as cardboard stacking blocks, with 10 cubes of different sizes to stack and nest. On the surface of the blocks, it's wrapped with printed paper with adorable animals, words, numbers, and objects. It's helpful for kids to learn to read, identify numbers, and count. 
Stacking blocks are made of high-quality cardboard, non-toxic, and environmentally friendly. Cardboard nesting cubes are one of the early learning games, which are sturdy and durable but light in weight.
Note

: If the box type of printed rigid paper boxes is not in the list above, you can contact us at any time.
FAQ of Printed Rigid Paper Boxe
1. How can I get a quote of the branded rigid boxes?
To make the cost calculation, you need to get the information of the packaging box dimensions, print colors, box type, and order quantity, etc. Of course, if you are still not clear what to offer, please feel free to contact our service team.
2. What format of the design artwork is needed?
Usually, the print artwork file is in .ai version. You can also send it to us in PDF or PSD. However, please make sure the files are vectorial and editable. Thereafter, our designer could work on that to make print plates.
Another thing to be mentioned, it's important to make the files in CMYK format, not RBG. 
both of them are modes for mixing color in graphic design. However, RGB mode is usually for digital print, while CMYK is used for print products of lithographic.
The more color added in CMYK mode, the darker the result. The more color added to RGB, the lighter the result. You can compare them in the image on the left, which is much obvious.
CMYK color mode is for printing with ink, while RGB is for screen displays.
3. Can I get the die-cut template from you?
Sure, you can. If you are making the design graphics of your branded rigid paper boxes, but without the template, please feel free to contact us. Our designer would draw the template based on your requested dimensions, and send it to you FREE.
4. Do you have any request of Minimum?
Yes. Usually, the minimum order quantity of the printed rigid boxes is 1,000 pieces per design. If you are a small start-up company, it's possible to reduce to 500 pieces at least. We also hope to grow up with you and have a long-term cooperation.
5. Is it possible to have a sample made before bulk production?
Yes, it is possible to make a printed sample box before production. No problem. Two options are below for your reference. 
(1) the printed sample box in stock, is with other brand printing, which is free of charge. You only need to pay for the express shipping cost to your door.
(2) to print the sample rigid paper boxes with your every request, which is charged US$100-300. Once the order amount is over US$10,000, it's possible to refund 100% or deduct from the order deposit.
(3) you can confirm the bulk order to us and pay 30% down payment, then the printed sample box made and shipped to you for approval. After everything is okay, you can tell us to proceed with the mass production. This way, you don't pay the sample charges any more.
6. How many days do you need to finish the order?
The sample of custom printed rigid boxes usually takes 5-7 days after print artwork is confirmed. For the bulk order, we will finish it within 14 working days even if your order quantity is more than 10,000 pieces. If there is too much handwork needed, usually it takes 21 working days or so.
7. How to pack bulk orders in your factory?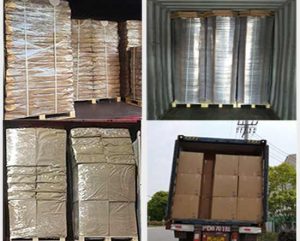 In our factory, there are several options for your choice of packaging for bulk orders. The listing is below for reference.
(1) the printed rigid paper boxes packed by master carton.
(2) the printed corrugated boxes are fully wrapped by natural kraft paper, then loaded onto pallets with shrink film.
(3) the cardboard boxes bundled by brown kraft paper, then loaded into containers of 20GP, or 40HQ.
(4) the customized boxes directly onto pallets, with shrink film winding.
8. If I place an order with you, should I pay the import fees?
Yes, you need to pay customs taxes or duties when the goods arrive. Usually, the price offered from us is based on FOB, CFR, DDU/DAP, these incoterms exclude import fees. If you don't want to handle these matters, we can help to make them solved. When you submit the RFQ, please make this clear, and we will offer a price of DDP, which includes taxes or duties paid by our side. Then you only need to wait for the production, and shipment to your warehouse address. 
9. What's the payment terms of rigid paper boxes?
Usually, the amount of custom printed rigid boxes is large. So the terms are 30% down payment, and balance before shipping. This way, it would help you reduce financial pressure. If the amount is smaller than US$5,000, it's advised to pay 100% in advance, because the bank handling fee is too much, including the cost from the intermediary bank too.
10. How do you deal with the damaged shipment?
As listed above, every order of packaging boxes would be well packed before shipping. We use strong and durable materials for your order, which ensures the shipment arrives in good condition. If an accident happens, you have received damaged goods. Please contact us on time, and take photos to share with us. If the shipment is arranged by our side, and boxes damaged badly, we will re-make the order, and ship to you as soon as possible. If the shipment is done by your appointed forwarder, please contact them for compensation.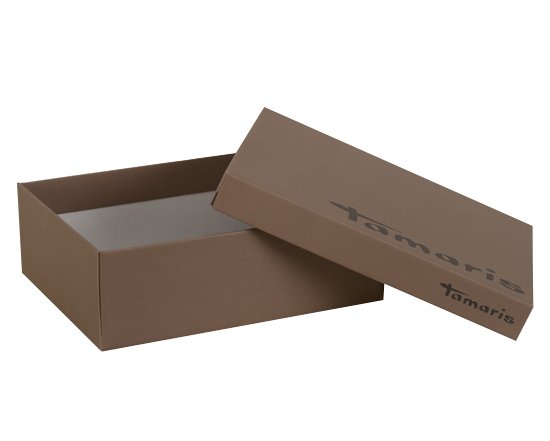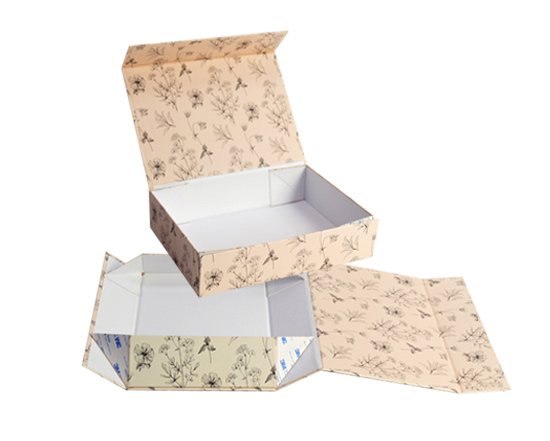 Magnet Closure Box (Collapsible)