Corrugated Box Manufacturer
Corrugated boxes are the most commonly used packaging boxes. We can use it to pack cosmetics, electronic products, express packaging, hardware packaging, etc. Of course, corrugated boxes also play a big role in the house moving. As a leading corrugated box manufacturer in China, we can make the packaging boxes with your logo and design graphics printing.
Corrugated Boxes Made in China
with good cost rate from China
There are several different box styles of color printed corrugated boxes much popular on the market for your choice, such as auto locking bottom boxes, snap lock bottom boxes, tuck end boxes, etc. Easy to assemble, and durable for products packaging. Any doubts about how to choose one, please contact us for answers.
Ask Price for Your Packaging Boxes
Different Types of Corrugated Boxes
2 Sides Print Shoes Shipping Corrugated Box
FEFCO 0427 styles corrugated box is a classic packaging box, which can be used for shoes packaging, or online store packages shipping. The bottom of the box is hinged to the lid to form all side walls and covers. On the front flap, it's possible to add a locking tab or a plastic handle.
Unico is a leading corrugated box manufacturer in China, and we can custom the shoes corrugated shipping boxes with your design graphics. Like the image on the left, both inside and outside can be well printed. You can send us your design or even an idea, starting customizing your packaging boxes now. Of course, if you need a free die-cut template of the shipping corrugated box, you can also contact us for help.
TTAB (Tuck Top Auto Bottom) Corrugated Box
TTAB box is an abbreviation for Tuck Top Auto Bottom box. These boxes have a stronger bottom structure than other styled boxes. Furthermore, they are a more costly option as well. The TTAB box style is widely used for paper printed boxes and corrugated printed boxes. 
The bottom of this style box is pre-glued in the factory of the corrugated box manufacturer. It's easy and quick for assembling on the production line. As its bottom is well glued, it is stronger to hold more weight, but the cost of TTAB is more than the snap lock bottom box. You can use it for heavy weight products packaging. TTAB boxes can be shipped flat to save the warehouse and shipping costs. You can contact us for your TTAB style corrugated boxes price.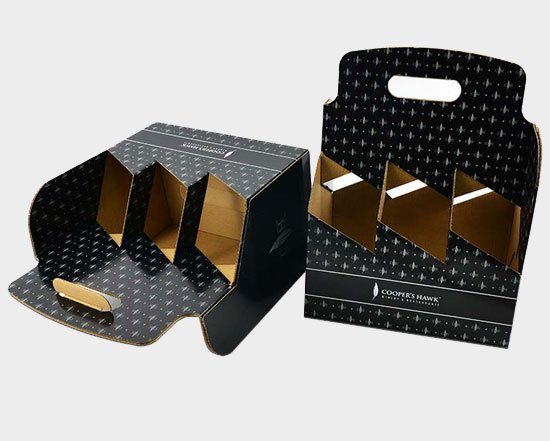 Six Pack Beer Bottle Carrier Box
The six pack beer carrier box is designed for 330ml beer bottles, and its material is a single wall F flute corrugated box, which is super thin but strong and durable. On the market, there is also 4 pack carrier box for beer, beverage, juice, etc. In Unico company, we manufacture the 4 pack and 6 pack beer bottle carrier box with your design printing.
The carrier corrugated box has a pre-glued auto bottom, which is important for the structure to hold the beer bottles. In our factory, we use F flute corrugated board for this box, which is 0.08~0.1mm thickness. The total weight of 3 layers is 500gsm or so. To protect the printing inks, you can choose glossy or matte lamination, which is also helpful to protect the edges from breaking. 
Electronics Packaging Corrugated Box
Packaging corrugated boxes for electronics are usually made of single wall corrugated board, such as E flute, or B flute. If you need a thinner material but are still strong, F flute is a great choice. In our factory, we have our own corrugated production lines to match your urgent delivery time. Fast delivery of 5-7 business days is acceptable. 
For printing your design graphics on the corrugated boxes, it's usually lithographic printing, which makes the colors much attractive and beautiful. You can choose matte lamination on the surface to protect the edges of the boxes from breaking. And the logo can be made with hot stamping, shiny spot UV, embossing, or glittering. They are helpful to consumers to remember your brand.
24 Bottles Corrugated Box Packaging
Corrugated box packaging for 24 bottles beer is a classic box style FEFCO 0201. It is a slotted-type carton with closing flaps at both ends which can meet in the middle. Actually, this is a standard packaging box, but it is the world's most widely used box construction. A common material for 24 bottles packaging box is B flute corrugated board with a custom printed surface CCNB board. The surface is coated with aqueous to protect the inks. They are shipped flat, ready to use, and you need to close them using the flaps provided.
We are a top corrugated box manufacturer in China, and it's possible for us to customize the beer packaging boxes with your requirements of printing colors, dimensions, etc. You can send us your design or even an idea to get a free quote for reference. 
Clear Window Corrugated Box for Cake Carrier
A corrugated box packaging with a clear plastic window is much popular. You can use that for cake carriers, toys packaging, stationery packaging, etc. It helps consumers to have a rough idea of the products packed inside. We manufacture this kind of packaging corrugated box with material E flute corrugated board, and the surface paper is the duplex board for your design printing. Usually, the printed surface paper is coated with aqueous to protect the inks, which is environmentally friendly. 
If you are looking for an experienced corrugated box manufacturer in China, Unico is your first choice. We have been in the printing & packaging industry for over 20 years and exported to many countries and regions. It's certain we can offer a high-quality packaging box for you.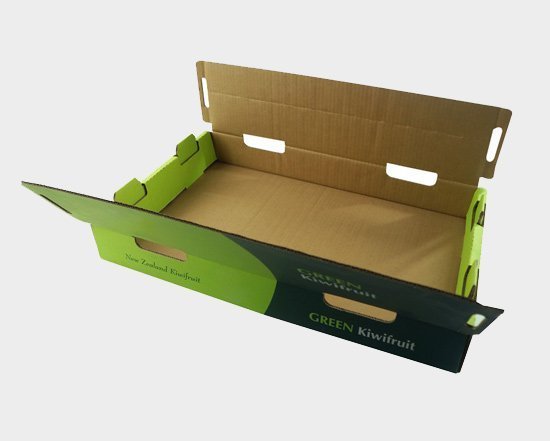 Fresh Fruit Corrugated Packaging Box
Corrugated box for fresh fruit packaging is widely used for shipment, so their material should be super strong because during shipping the boxes are stacked. Commonly the material is double wall corrugated board. If you need a thinner material like B flute, it's possible to use a thicker layer weight, such as 170gsm, or even 230gsm. On the surface of the fruit packaging, you can send us your design graphics to print on. 
So far, we have manufactured many different style packaging boxes for fresh fruits, like cherry, kiwifruit, apple, etc. For cherry packaging boxes, there are normally 3 sizes for you, and they are 1kg 2kg, and 5kg packaging. If you are looking for such packaging, please contact us.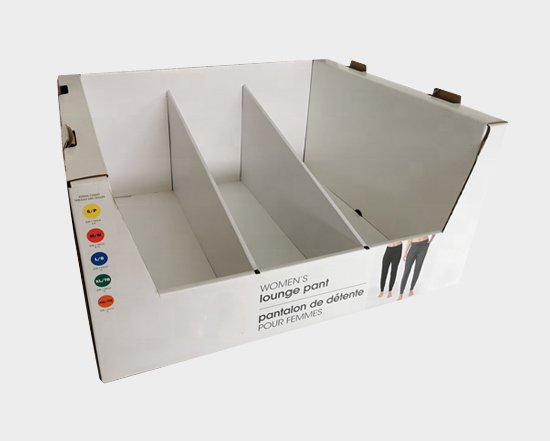 Cardboard PDQ Tray Packaging
The display box is a kind of packaging box. Through the packaging, the products in the packaging box can be seen intuitively. A PDQ stands for products displayed quickly, which is widely in supermarkets, like Walmart, Costco, Target, etc. Usually, there is a need for a PDQ pallet display to pack the products for shipment. Products in bulk are pre-packed and placed directly on the retail shop floor, and it's easy for consumers to choose.PDQ corrugated box packaging is much attractive. 
In China, there are many corrugated boxes manufacturers to make such style display trays. Unico is one of them with rich experience to make your order perfect. Welcome to send us your design or even an idea, our team would offer you packaging solutions in the end.
UNICO: Your Preferred Corrugated Boxes Manufacturer
Welcome to check our latest corrugated box design. These can give you some inspiration for your own packaging box solution.
We will provide you with the best corrugated box for your business.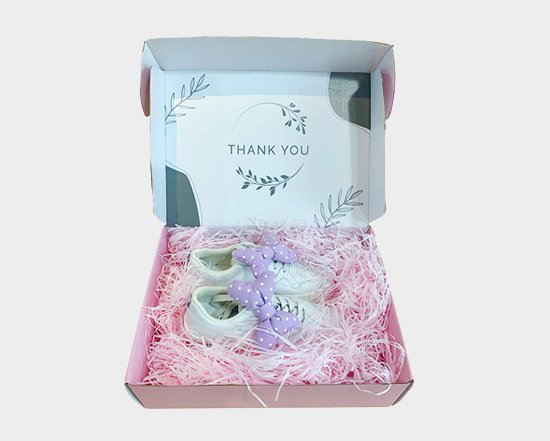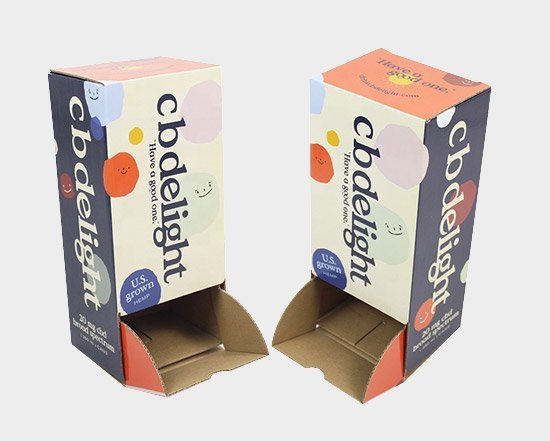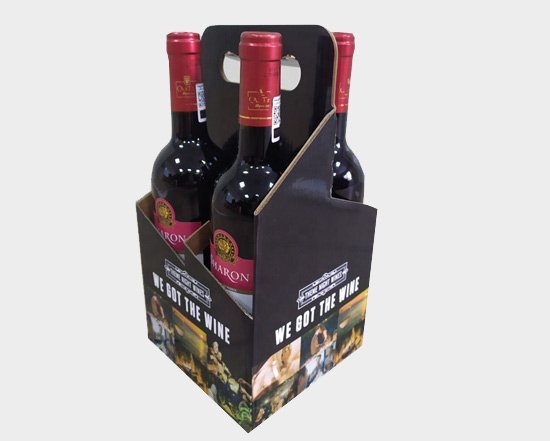 All Corrugated Boxes Can Be Customized
with Your Requirements.
Frequently Asked Questions
1. Can I get custom print corrugated boxes from you?
Absolutely. Unico is a leading corrugated boxes manufacturer in China, and we have been manufacturing high quality customized corrugated boxes for over 10 years. In our factory, we manufacture different types of packaging boxes for your business. You can use the custom printed corrugated boxes for electronics, fresh fruits & vegetables, wine bottles, small hardware metals, and all other creative products.
2. Do you offer sample corrugated boxes?
Yes, we do offer sample corrugated boxes for you to check the quality of printing and material. For the moment, we have two options for your choice. 
the first choice, which is free of charge, is that we can offer the printed corrugated box sample in stock, but printing with other client's brands. This way, you can get the sample box to check the material whether suitable for your packaging box. What you only need to pay is the express shipping cost of $50 or so. 
the second choice, you want the sample box with your own design printing. To make the custom printing corrugated box sample, it's also acceptable in our factory. You can send us your design file, then we can figure out the sample charge for your reference.
3. Will my final print be the same as that of laser printer output or in my monitor?
Frankly speaking, it is not possible to achieve 100% the same color quality as that in your laser printing and monitor showing. The computer monitor is in RGB mode, while our printing machine is in CMYK mode. Colors in RGB are bright, while CMYK colors are dull. If you need a comparison, please contact our sales representative to get it.
4. What file format do you accept for printing?
It is highly recommended to use Adobe Illustrator or In Design format, and save the files in .ai or .pdf format. Besides that, you may consult our designer if you are using Adobe Photoshop or MS Word, etc. 
5. Do you provide Pantone color printing?
Sure, we can provide you with Pantone colors printing. No problem. You can tell your designer to make the specific colors in Pantone. When we make the printing plates, our designer will inform the offset machine operator. At the same time, please also inform our sales representative about the Pantone color. Because he/she needs to tell the engineer to make the cost calculation correctly. 
6. How many days does it take to finish my custom corrugated box order?
As a leading corrugated box manufacturer in China, it's possible for us to finish the custom packaging box orders very fast. One-stop purchase can be realized. We have all kinds of machinery and equipment to complete the order.
custom corrugated box sample order, it takes 3-5 business days once the print artwork is approved. 
custom packaging box bulk order, the lead time depends on the order quantity. Normally it takes 12-15 business days after the sample box is approved. If your quantity is super large, it may take 20-22 days.
7. What is the minimum order quantity of custom order?
The general order quantity for a custom corrugated box order is 500 pieces. However, the more quantity you order, the better price you will get. 
8. Do I need to pay the import fee?
Usually, we offer FOB or CIF prices for your quote. So the import fee, customs clearance cost, duties, your local destination fee will be charged by your side. If you are not sure how much to pay, you can consult a local broker for more information. Of course, we can also offer you a rough reference cost from the online page.
If you need our service to do everything for you, it's also workable. Please contact our sales representative to offer you the price in DDP terms. We have good cooperation with many shipping forwarders, and they will quote a good price, and ship the packages to you after all is done on our side.
9. What is the surface finishing options for corrugated box packaging?
There are various surface finishing on the market, and now we'd like to list them for your reference. 
Glossy or matte lamination, UV coating, Hot stamping, spot UV varnish, flocking, glittering, aqueous coating, emboss/ deboss, etc.
10. Do you manufacture the boxes which are not in the list?
Sure. We are a corrugated box manufacturer in China, and we can make every single box according to your requirements. The box in the list is only for your reference. In fact, we do all custom made packaging boxes.