As manufacturers of cardboard boxes, we can offer bespoke sizes in small and large quantities at wholesale prices. Our range of cardboard boxes includes single wall mailing boxes, custom printed corrugated shipping boxes, cardboard postal boxes, cardboard mailer boxes, etc.
For cardboard postal boxes, they are widely used for e-commerce business. If you are selling products online, a custom logo printed mailing box will help improve the grade of your brand.
Corrugated Mailing Boxes Made in China
with good cost rate from China
You can choose custom printed corrugated mailing boxes for your online shop delivery. It's available to print your brand inside and outside the postal boxes. At present, the two-sided printing corrugated mailer box is much popular, because it presents a much luxurious appearance of the packaging.
Ask Price of Your Packaging Boxes
Various Types of Postal Boxes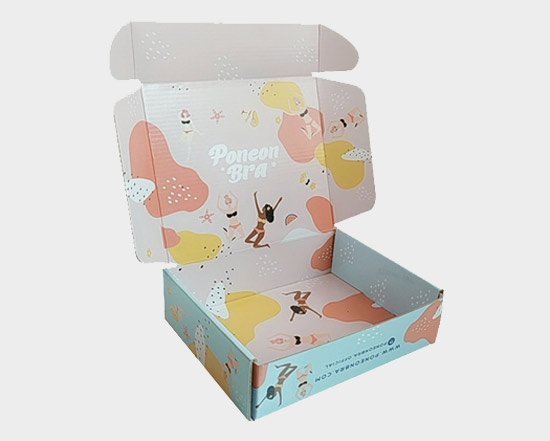 Roll End Tuck Top Mailer Box FEFCO 0427
Roll end tuck top boxes are kind of mailer boxes that help keep your product safely tucked in the box. It's a traditional mailer box that has a lid that rolls over smoothly to cover the box's main body. Then you can seal the box from the top to the bottom. 
FEFCO 0427 style mailer boxes can be printed both inside and outside with your custom graphics. Normally the postal boxes are strong and durable. So it's ideal for shipping all products from your online shop. Of course, you can also use them for subscription boxes or to wrap unexpected gifts.
Die Cut Corrugated Shipping Box FEFCO 0426
FEFCO 0426 style postal boxes are also referred to as "pizza boxes". It's quick to assemble and efficient use of board material. Furthermore, 0426 boxes are relatively sturdy with a good stacking strength.
You can choose 0426 style mailer boxes for courier deliveries or postal boxes. It's possible to tape closely for security. In the front of the flap, we are able to add self-locking tabs, and locks if you need them.
With the same dimensions as the cardboard postal boxes, the price of 0426 boxes is cheaper than that of 0427 ones. Because 0426 boxes have no folded flaps on the sides.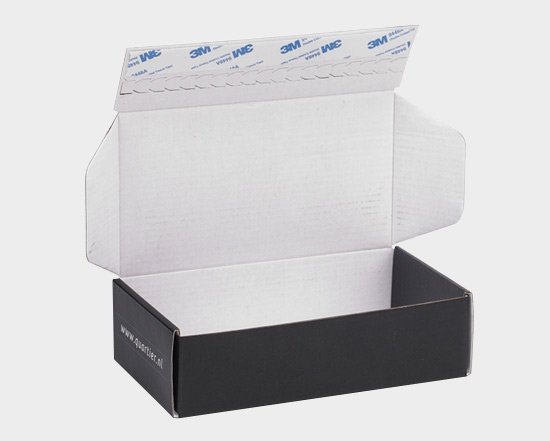 Self-seal Cardboard Mailer Box
Self-sealing postal boxes are SO easy and convenient for your online shop. It's a roll end tuck top mailer box with double-sided tape and tear tape. After the product is put inside the package, you only need to tear off the paper on double-sided tape, then close the postal boxes tightly. When the consumer get the postal delivery, they can tear off the strip to open the box and get that they need. This saves recipients' time and effort to enjoy a pleasant unpacking experience.
Inside the personalized postal boxes, it's also possible to print your logo or a welcome message. These boxes are made of corrugated board with light weight, which help you keep the shipping costs at a minimum.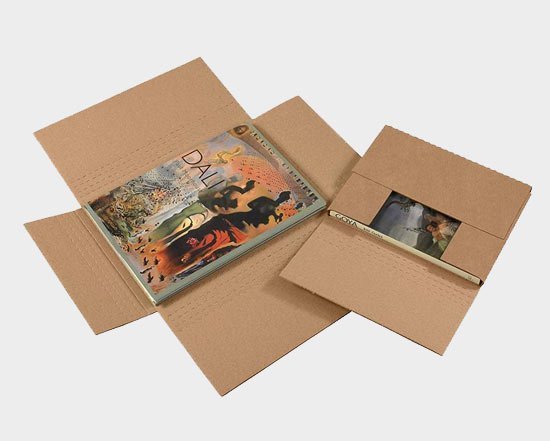 Easy Fold Mailers FEFCO 0401
Easy folder mailer boxes are designed for packaging and shipping books, catalogs, sample packs, and welcome kits, etc. Usually, its material is rigid but lightweight corrugated cardboard. It's possible to fully customize by printing on the inside and outside of the mailing box.
The easy fold mailers are also referred to as Book Boxes. They are delivered flat to your warehouse, and this allows you to save a lot of space in your shop. When you need them, they will be ready for your product's packaging in just a few seconds.
Furthermore, such easy fold mailers are usually designed with different foldable heights, which means they can be folded to fit the thickness of the products.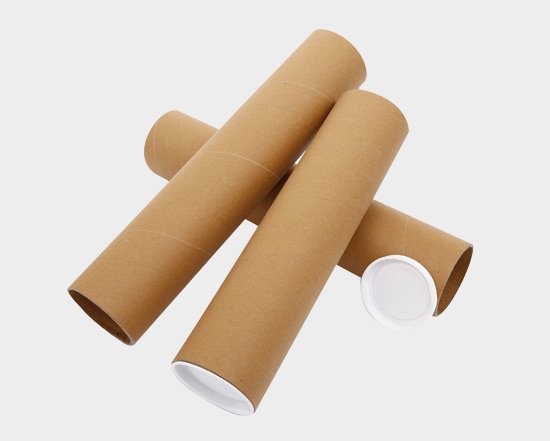 Cardboard postal tubes are much popular to package and protect posters, paintings, or other large documents. This can avoid creases caused in them by folding during transportation. Usually, they are both ends open, and plastic caps close them tightly. These postal tubes are durable, so you can easily ship your contents in them with ease.
Moreover, postal tubes come in various sizes, and it's helpful to accommodate posters of different sizes. Of course, it's available to print your custom logo and design graphics on the cardboard postal tubes.
You can also use these cardboard tubes for storing larger documents and keep them from getting excessively wet. On the surface of the tubes, it's possible to add thin film, or lamination, which helps the tubes to be waterproof.
Self-seal Corrugated Shipping Box
Cardboard Mailer Box Printing
In the market, there are three different printing methods, including offset printing, flexographic printing, and silk screen printing. Among them, the most commonly used is offset printing. Because offset printing usually provides a high-quality printed picture on the box surface, both inside and outside available. The flexographic printing is usually used for a mailer box with little and simple printing. You can choose silk screen printing for the simple printing of the texts, lines, and patterns.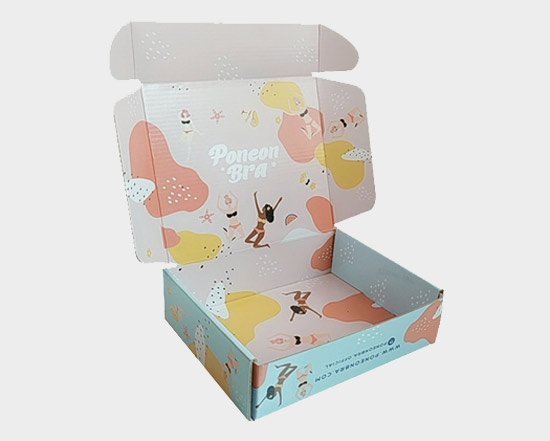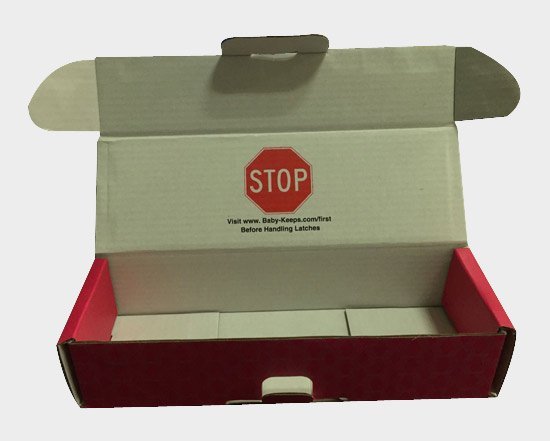 Finish for Corrugated Mailer Box
Among all the surface finish, lamination and varnish both are the most widely used for corrugated printed boxes. They both have two options of glossy and matte. 
The lamination is usually a quite thin plastic film to be made on the box's surface. The printed cardboard postal boxes with lamination are durable, have better strength, and are waterproof.
Varnish coating is also a quite widely used option of the boxes surface. Normally it's only to protect the printed ink, not helpful to the strength of the boxes. Among the varnish, UV coating varnish is more expensive than the ordinary glossy varnish.
The postal boxes sometimes are printed interior and exterior with custom design graphics. Such a printing method makes the packaging boxes much luxurious and brings a fantastic unpacking experience to the consumers. As a result, there is a need to make a surface finish on both sides, which makes the cost of the mailer boxes higher.
Corrugated Board for Mailers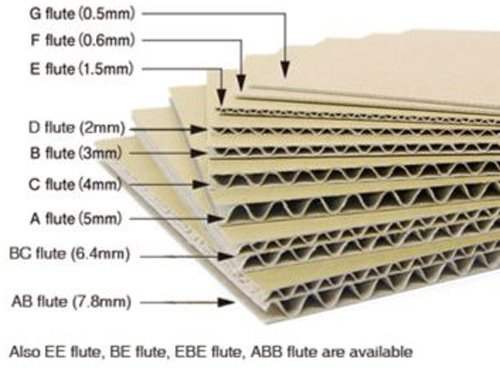 There are some different thickness corrugated boards to your choice. Among them, B, E and F flute are the most widely used material for cardboard postal boxes. Even though they are very thin, such corrugated mailers are super strong and durable for shipping. 
Mailer boxes made of these materials are usually suitable for retail products, electronics product packaging, and e-commerce shipping. In order to get a fancy design inside the box, it's possible to get color printing inside the postal boxes. When the consumers get the package, they will have an amazing unpacking experience.
Inside the boxes, of course, you can also leave it plain natural brown or white, which helps you get a better cost. After all, printing inside the boxes is an extra cost to your budget. Welcome to contact us and discuss further on the cardboard postal boxes project.
Free Dieline Template for Postal Boxes
As a leading manufacturer of cardboard postal boxes in China, we'd like to supply you with the free dieline template for your requested packaging. You only need to contact us and inform the dimensions of the boxes. Thereafter our designer would work on that, and create an accurate template for you.
For the printing graphics, you can forward the dieline template to your designer and tell them to embed it. Of course, if you don't have a designer, you can forward the graphics to us, and our designer would like to help embed, and share with you the digital proof for double-checking before printing proceeds.
For e-commerce, cardboard postal boxes are a very popular packaging method. It not only can protect the product's safety but also the beautiful design can make the recipient refreshing. The inside printing of the welcome phrase, it's a much attractive design and brings a fantastic impression to the consumer.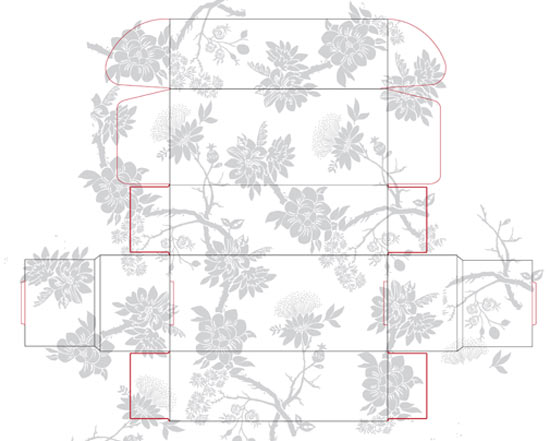 Artwork and Dieline for Corrugated Mailer Box
FAQ of Printed Postal Boxes