Corrugated boxes are the most widely used packaging products. The amount has always been the first of all kinds of packaging products. In order to make the packaging boxes beautiful, the printed corrugated boxes came into being. In China, there are many factories to manufacture custom printed corrugated boxes. Welcome to contact for free quotes.
Printed Corrugated Boxes Made in China
with good cost rate from China
For more than half a century, corrugated boxes have gradually replaced wooden boxes and other transport packaging containers. And it's becoming the main force in transport packaging. In addition to protecting commodities, facilitating storage and transportation, it also plays a role in beautifying and promoting commodities. Corrugated boxes are environmentally friendly products. It is beneficial to environmental protection. Importantly, corrugated box is also beneficial to loading, unloading, and transportation.
Ask Price of Your Packaging Boxes
History of Corrugated Boxes
In 1856, the British brothers Edward Healy and Edward Allen invented the pressurized corrugated paper. They used it as the inner lining of the hat to breathe and absorb sweat. In 1871, American Albert Jones invented single-sided corrugated cardboard. They used such a board for packaging glass lampshades and similar fragile items. This obtained the first patent right in the United States. By the end of the 19th century, the United States began to study the use of corrugated cardboard to make packaging and shipping boxes.
In 1920, double corrugated cardboard came out. Its use is rapidly expanding. During the First World War, corrugated boxes accounted for only 20% of transport packaging. But during the Second World War, corrugated boxes accounted for 80% of transport packaging. Corrugated boxes have now become the most widely used packaging containers in modern commerce and trade. It is also one of the most important packaging forms used by countries in the world today.
Material of Corrugated Boxes
Firstly, classified by flute type: A, C, B, E and their combinations, such as AB flute, BC flute, EE flute, BBC flute, etc. There are already thinner corrugated F flutes in production on the market.
Secondly, classified by the number of base paper layers: two-layer cardboard, three-layer cardboard, four-layer cardboard, five-layer cardboard, seven-layer cardboard, etc..
Thirdly, classified by flute shape: U-shaped, V-shaped, UV-shaped. Universal UV shape on the market.
Finally, classified by flute number: single-wall, double-wall, triple-wall, etc.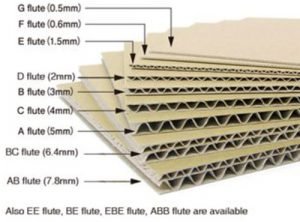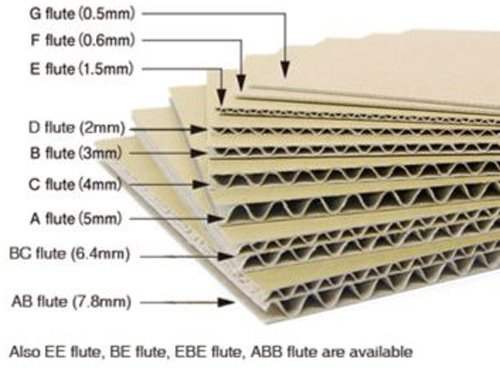 Printing Methods of Custom Color Boxes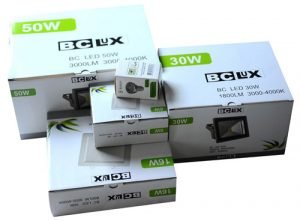 Lithographic offset printing
Offset printing is an absolutely dominant printing method in China. The printing speed is fast, the printing quality is relatively stable, and the entire printing cycle is short. 
The process of making a litho printing corrugated box: graphics design > print plate > offset print > surface disposal > corrugated board mounting > creasing + die cutting > box gluing > packaging > ready for shipment.
Compared with litho printing, carton with flexo printing has higher strength, lower cost, and higher production efficiency (fast delivery). And the overall printing effect is close to color printing. It is widely used in the transportation and packaging of products.
The process of making a flexo printing corrugated packaging box: corrugated board> color print> creasing + die cutting > box gluing > packaging > ready for shipment.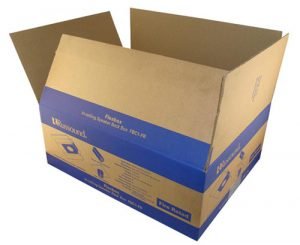 Main Difference Between the Printing Methods
offset printing needs an extra surface paper for printing, then mount the printed surface paper to the corrugated board. However, for flexo printing, it's directly to print the colors on the corrugated board of 3-layer, 5-layer, or 7-layer.
print colors are different. The design of offset printing is in CMYK, or Pantone, which is colorful. But for the flexo printing, it's usually one or two colors in solid colors.
there is a need for surface disposal on offset printing surface paper to protect the inks. Usually, it's widely used to get aqueous coating, glossy or matte lamination. For flexo printed corrugated boxes, there is no need.
on the surface of offset printed corrugated boxes, it's possible to add hot stamping, spot UV, embossing on the position of the logo. But for flexo printed boxes, it's not available.
flexo printed boxes are mainly used for shipping, however, the litho printed packaging boxes, it's widely used for packaging goods, such as electronics packaging, cosmetics packaging, hardware packaging, etc. Of course, it can be also used for goods mailing
Different Types of Printed Corrugated Boxes
RSC Style Corrugated Boxes
The RSC (Regular Slotted Container) is the most common box style. All flaps are the same length from score to edge. Usually, the larger flaps meet in the middle and the small flaps do not, unless the width is equal to the length. A regular slotted container is code of FEFCO 0201.
FOL Style Corrugated Boxes
The FOL (Full Overlap) styled box is much similar to the RSC type box, except the major flaps fully overlap. It can also be said to be a variant of RSC. For the FOL box, it provides extra stacking strength and edge protection. A full overlap carton is coded FEFCO 0203.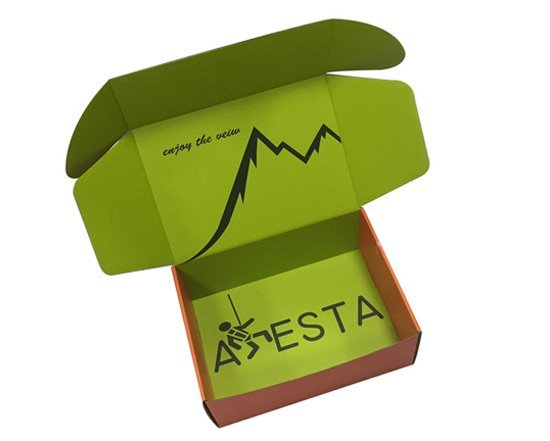 Pizza boxes are not only used for pizzas, which is their main purpose but also used as mailing boxes to transport various products. Like other cardboard boxes, pizza boxes can be made in various thicknesses. A pizza box is coded FEFO 0427.
Tuck Ends Corrugated Boxes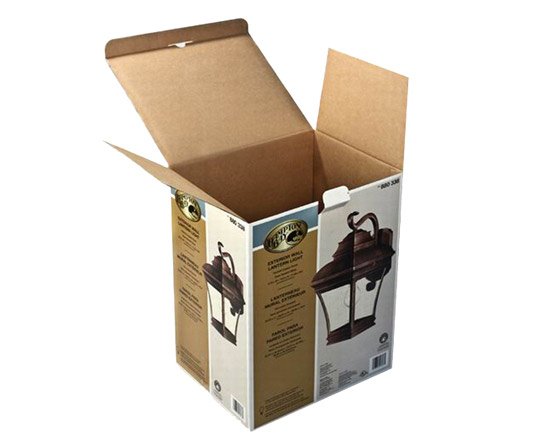 Tuck end boxes have opening and closing flaps, and both ends open style. There are 2 versions of such box, one is STE (straight tuck end) and the other is RTE (reverse tuck end). Tuck end boxes are versatile, easy to assemble. You can make it to pack cosmetics, hardware, electronics package.
Snap Locked Bottom Corrugated Box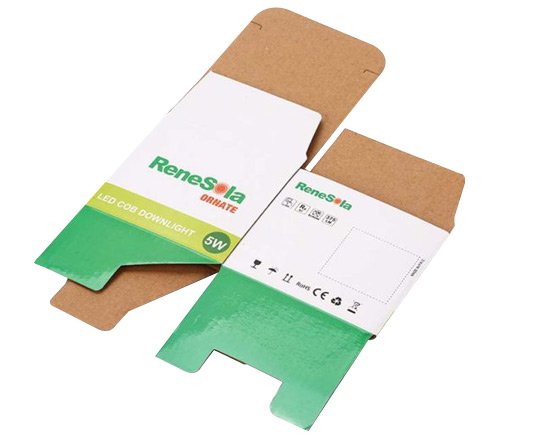 The snap bottom paper box, also referred to as the 1-2-3 bottom printed box is well known for its 3 steps bottom closure process. It's widely used for various products packaging. Material of this styled box is usually E flute corrugated board with color printed surface CCNB duplex paper.
Auto Bottom Printed Corrugated Boxes
TTAB style box, also referred to tuck top auto bottom box, is widely used to make printed corrugated boxes, and printed paper boxes. The bottom is pre-glued for the easy and fast assembling on the production line. And it can also be shipped flat during the transportation.
Telescope Corrugated Printed Box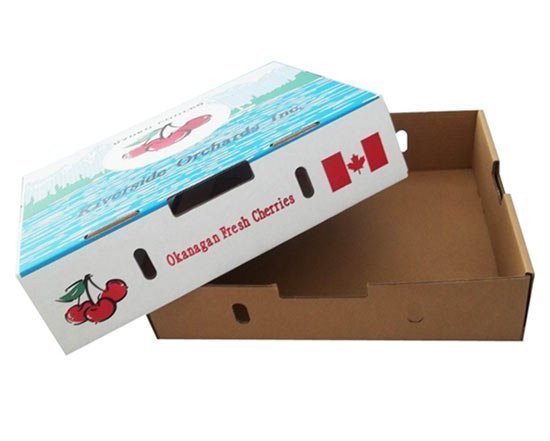 Telescopic boxe have a seperated top, or top and bottom that fit over each other or a separate body. They are manufactured in a number of unjoined or pre-glued styles and configurations. You can choose it to pack fresh fruits like cherry, kiwi fruit, grapes, etc.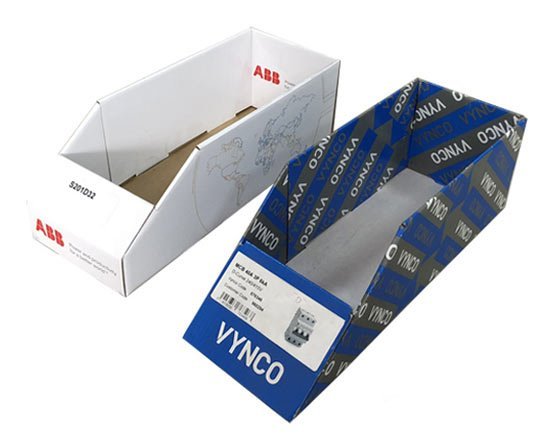 Counter cardboard bin is a one-piece sheet packaging to display your products. It's possible to ship by flat package, and easy to assemble for display. Of course, you can also choose to make it shelf-ready design, and use such bin box for transport and protect your products.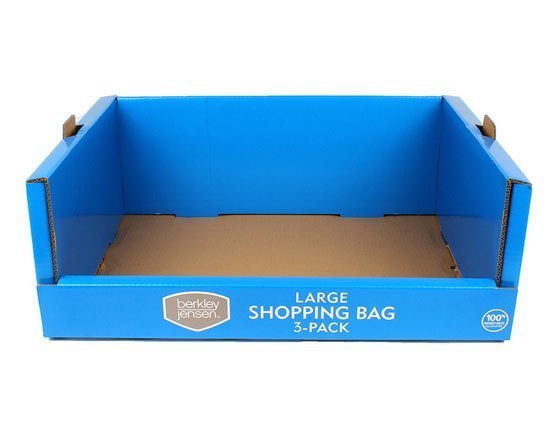 PDQ stands for "Product Displayed Quickly", or "Pretty Darn Quick". In some cases, it could be a PDQ pallet display when you need it. Printed corrugated PDQ box is light-weight, and easy-to-install trays. Most corrugated PDQ displays are versatile in terms of what you can sell in them
Note

: If the box type of printed corrugated boxes is not in the list above, you can contact us at any time.
2 Sides Printed Mailing Boxes
Kraft Cardboard Shipping Boxes
Add-Ons and Coatings for Packaging Boxes
To get a beautiful appearance of the packaging boxes, it's possible to provide add-ons and other additional processes from the boxes factory. These add-ons include different visualization and customizations, such as:
Perforation
Hot stamping
Spot UV
Flocking
Glittering
Embossing/ Debossing
Glossy/ matte lamination
Aqueous coating
Soft touch film
and many more……
If you want to make your logo more attractive, you can choose to get it with glossy spot UV, or hot stamping in gold, silver or other colors. In our factory, our designers would like to work with you of your graphics. Finally, any thing not clear, please contact us for help.
Box Type Standards for Corrugated Boxes
The size design of the carton starts with determining the nature of the product and the type of the box. After that, you can design the size of each part and calculated only after the box type is determined.
International carton box type standard
There are two major types of international corrugated box type standards. The first category is the international carton type standard approved by the International Corrugated Board Association and jointly formulated by FEFCO and ASSCO. While the other is the national standards of Japan and the United States. In the international carton box type standard, the text name of the box type is represented by a simple 4-digit to 8-digit code. There are legends for various box types in the standard.
Domestic carton box type standard
In China, we have formulated the national standard GB/T6543-2008 "Single Corrugated Box and Double Corrugated Box for Transport Packaging" with reference to international standards. It's to specify the basic box types of single-corrugated boxes and double-corrugated boxes for transportation and packaging.
Factors to Consider When Choosing the Right Manufacturer
In China alone, there are more than 1,000 manufacturers of custom printed corrugated boxes and similar containers. Therefore, it's much important to find the right one for your packaging need. Several points below for your reference.
discuss with the potential suppliers, and check whether they are professional and experienced to provide helpful information.
is it possible for them to provide any certification.
manufactuting timelines. If your delivery time is tight, you should choose a manufacturer who can make it fast. Usually, the process of the printed corrugated boxes is 7 days at least.
will the supplier offer any sample proof before mass production.
how they will ship your boxes to you.
whether they are able to develop the custom solutions you need. for example, to make the die-cut template for you in your requested dimensions and box style.
how about their quality control, and whether all finished in one-site.
at last but not least, how about the after-sales service. If any problem when boxes arrived, do they have any solutions?
Leading Manufacturers of Corrugated Boxes in USA
Since 1973 Riverside Paper Co. Inc. has been servicing businesses in Florida based on some simple principles:
Provide the best possible service, quality and value in the industry.
Supply quality products at a fair price and delivering them promptly and accurately.
Treat our customers and employees as family and make them our #1 priority each and every day.
We stock a comprehensive selection of shipping, packaging and maintenance products. Distribution Centers in Miami, Tampa, Orlando and Jacksonville inventory products and provides next day delivery and shipping. Furthermore, a state-of-the-art service center repairs and services more packaging equipment than any other company in Florida.
Specializing in custom corrugated boxes, Larsen Packaging Products is a one-stop manufacturer and distributor of a wide range of corrugated items. Also it's a custom manufacturer of corrugated packaging products and branded packaging solutions. Able to print, die-cut, glue, fold, sort and ship branded packaging to you directly from inhouse fleet of trucks. 
If your business buys its packaging and shipping products from a catalog, Larsen Packaging can save you time and hard-earned money. Larsen Packaging manufactures its own boxes on-site, including custom box sizes and branded packaging, too. Working with one supplier on both your custom and stock packaging gives you preferred pricing and faster turnarounds since items are shipped from our own fleet of trucks. No middle man. Larsen also carries over 1300 stock boxes and over 30,000 shipping and janitorial products. Boxes, tapes, on-demand inflatable, and paper void fill, wraps, banding, etc. We have everything you need to get your products from point A to point B. Reach out to our team and Box Smarter today.
Deluxe Packaging has a proven track record in custom packaging design and implementation including POP (Point of Purchase) displays. Don't even think about talking to anyone but us for custom packaging. We're the best and we'll prove it with our outstanding performance.
Deluxe Packaging is an acknowledged leader in the packaging industry in the Philadelphia metropolitan area including Northern and Southern New Jersey and Delaware. Deluxe Packaging ships internationally, including Europe and Asia. We are well known for our professional expertise, range of packaging products, superior product knowledge and exceptional pricing. We are able to consistently maintain and expand our customer base because we always think of the customer first. Incidentally, everything Deluxe Packaging sells is 100% recyclable.
Peter Reid founded Reid Packaging in 1982 and for all 33 years of the company's existence, it's been an industrial packaging company at the very pinnacle of performance.
Based in the north metro area of Atlanta, Reid Packaging began as a family business and Bill Reid, son of the founder, is a senior sales executive at the company today – managing accounts with the same high level of service to which his dad had accustomed every customer.
Reid Packaging manufacturers and distributes corrugated boxes and many other corrugated products. With over 25 years in the industry, we know how important strength and reliability is for shipment and storage. Reid Packaging wants to ensure you're getting the strongest corrugated boxes that adhere to highest quality set by industry standards. Plus, by turning to Reid Packaging located in Atlanta, Georgia for all your corrugated boxes and products, you get the most competitive prices in quantities that will cut overhead costs significantly.
At Cougar Packaging Solutions, we have spent 50 years carefully curating an array of industrial packaging solutions, products, services and supplies to offer the efficiency and accountability of single sourcing to our customers. We can also provide custom printed corrugated boxes with your logo printing.
Distributor of corrugated boxes. Heavy duty single, double and triple wall Kraft corrugated boxes are available. We can offer boxes in multi-depth, telescopic half slotted, and regular slotted container styles. Available in different specifications. You can use for shipping products such as motors, compressors and valves.
Acorn Paper was founded by Jack Bernstein in 1946, after moving to Los Angeles from Chicago, where he was active in the packaging business in the late 1930s. The company started by selling job lot (over-run) boxes with 5 employees in a 11,000 square foot warehouse.
Today the company has 250 employees with over 500,000 square feet of warehouse space. We are able to manufacture custom printed corrugated packaging boxes locally, and shipping to you fast.
Acorn is one of the 3 divisions of Oak Paper Products Company Inc. Acorn Paper Products operates end user distribution and Oak Distribution Company operates wholesale distribution. The corrugated carton manufacturing division is USCAMD Container & Display.
Within Acorn Paper Products, there are four specialty product divisions. The Creative Services Department, Janitorial & Sanitary Division, Wine Packaging Division, and Agricultural Packaging Division focus on specific product segments.
At Associated Bag, we have built a reputation among many industries by providing a broad range of high-quality corrugated boxes and exceptional customer service. Our 6-month quote guarantee is unequalled in our industry, giving our customers the flexibility to order whenever the time is best for them.Our line of boxes include corrugated shipping boxes, insulated boxes, and more. Contact Associated Bag today!
Success in business is all about meeting or exceeding your customer's needs. As we collaborate toward this end, we become customers of one another. When we treat our co-workers like customers, the actual customers receive even better service.
Open and honest communication is the key to unparalleled customer service. And, a workplace administered with consistency and fairness promotes enthusiasm, teamwork, and pride for all.
Imperial Paper Company founded in 1963. It is a family owned enterprise which emphasizes a team concept in its operation. Each member of the team is an expert in his or her field and therefore highly valuable and an integral part of the success of the company.
Our mission is to provide high quality packaging products and services through fair and ethical business practices. We exist to provide the highest level of satisfaction for our customers, employees and their families. We seek to be an indispensable resource to our clients by delivering unbeatable value, the most favorable combination of superior service, excellent quality and competitive pricing. If you are looking for any color printed corrugated packaging boxes, please don't hesitate to contact us.
We are one of the world's leading producers of fiber-based packaging, pulp and paper, with approximately 48,000 employees and more than 25,000 customers in 150 countries.
We create:
Packaging products that protect and promote goods, enable worldwide commerce and keep consumers safe, including color printed corrugated boxes.
Pulp for diapers, tissue and other personal hygiene products that promote health and wellness.
Papers that facilitate education and communication
We do the right things, in the right ways, for the right reasons, all of the time—this is The IP Way. The IP Way Forward is how we go beyond just doing the right things; it's how we create value for all stakeholders for generations to come.
At PCA, we think of ourselves as more than a box manufacturer. We are an ideas and solutions company. We seek to be the leader in helping our customers — large and small — package, transport and display products of all kinds. It just happens to be that corrugated products are our area of expertise.
So a partnership with PCA isn't just about buying packaging boxes. It's about building a relationship with a knowledgeable, trusted, committed source; adding value to your business; and actively contributing to your success in the marketplace.
Whether you are looking for conventional shipping containers, custom printed corrugated boxes, custom packaging or eye-catching retail visual displays, PCA is here to deliver the right packaging solution on time and on budget.
Trust PCA and call us to get your E-commerce solutions of color printed corrugated shipping boxes.