Unico is a leading manufacturer in China to make custom printed paper bags, printed corrugated boxes, cardboard boxes, etc. We design and produce paper bags so it's possible to add your own branding or marketing message to your carrier bags.
In our plant, we offer all kinds of high-quality environmentally paper bags, promotional wine bags, handle bags, etc. No matter it's for wholesale, retails, custom-made, we welcome all kinds of business. If you are looking to advertise or promote your brand, personalized paper bags could be the perfect solution.
Printed Paper Bags Made in China
with lower cost rate from China
Ask Price for Your Branded Bags
Various Styles of Printed Paper Bags
As we all know, paper is a recyclable resource. The raw materials for papermaking are mainly plant fibers. The commonly used plastic bags are made of polyethylene. The raw material used is petroleum, and petroleum is already our scarce energy source. In contrast, the raw material for the production of paper bags is trees, which is a renewable resource. Printed paper bags are naturally degradable and recyclable, and have been given a green label.
Nowadays, paper bags are widely used in fashion circles. You can usually see it in the shopping malls, presents exchange, clothing packaging, wine carrier, etc.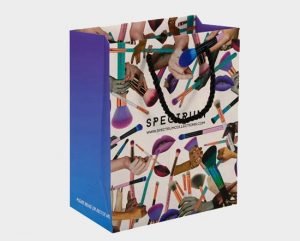 Luxury Laminated Paper Bags
We use high-quality coated boards to make luxury laminated bags, with a reinforced top flap. And in the bottom base, it's possible to add a thick board to increase strength and durability. These luxury paper bags are printed by lithographic method, and hand-finished to ensure the highest quality. 
Furthermore, we offer a wide range of finishes and handles to make a truly luxury paper bag. At the position of the logo, it's possible to add gold hot stamping, glossy spot UV varnish, embossing, flocking, glittering, etc. For the handles, PP rope, satin ribbon, or cotton knotted ones are widely used.
Twisted Handle Kraft Paper Bags​
Twisted paper handle shopping bags are the most popular bags among retailers. The material of such bags is usually white kraft paper, and the surface can be printed with your custom graphics design.
Furthermore, the paper twisted handles can be customized in various colors. It's possible to glue the handles onto the inner walls of the bags. In our factory, we produce your custom bags for as few as 1,000 pieces. If your order quantity is more than 10,000 pieces, we will produce the kraft paper bags from large roll stock paper on machines and cut, then form and glue them.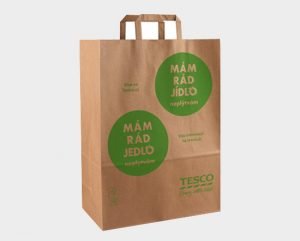 Flat Handle Kraft Paper Bags
It's also referred to folded handle kraft paper bags, with a flat style carrier handle. They are available in white or natural brown kraft paper. Such kraft bags are widely used in groceries, stores, etc. If you need custom-made bags, please feel free to contact us. We are able to offer litho printed bags with full-color process printing. This process is suitable for larger quantities.
Characters of the kraft paper bags. 
Economical and environmentally friendly
Machine finished 100%
Quick delivery
Coloured handles available
100% recyclable
Printed with water based inks
Single Bottle Wine Paper Bags
The primary function of wine bottle bags is to enable your customers to carry bottles of wine. Furthermore, it's friendly to the environment too. These bags are ideal for packaging a bottle as a promotional gift.
From our factory, you can have the wine bags completely customized with your design printing, so that the bags perfectly match your product. Usually, the wine bottle bags are made with a knotted cotton cord, or a paper twisted cord. On the top of the wine paper bags, you can choose to close them using a printed sticker. With the fantastic finishes, you can give the bag a unique look.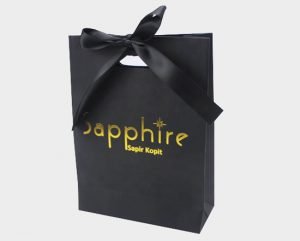 Die Cut Handle Paper Bags
Die-cut handle bags have pre-cutout handles of the bag itself. Usually, there are reinforced boards in the handles to reduce the possibility of tearing. The material of these bags is available in thick, high-end paper. Logo printing and your custom graphics printing are available.
For the sample bag on the left, the logo with gold hot stamping, and a ribbon tie to close the bags. You can choose this type of paper bag for Spas, cosmetics products, jewelry, etc.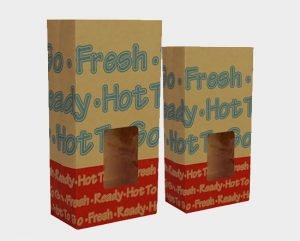 Color Printed Takeaway Bags
Food grade takeaway bags are made for groceries or fast food stores. The inside of the paper bag is usually coated with moisture-proof oil or PE film. Outer paper material is usually brown kraft paper, food-grade, which is recyclable. Such takeaway bags are usually designed without handles. Then you can hold it in your arms back home. 
These color-printed paper bags are more sustainable than plastic bags. They are made from paper boards and renewable materials that are not harmful to the environment. Usually, they are available both in white or brown paper.
Note

: If the type of colored paper bags is not in the list above, you can contact us at any time.
Choose The Right Material for Your Custom Bags
On the market, there are many varieties of paper bags, which are made of various paper materials, and many styles. Unico is a leading manufacturer to make custom printed paper bags. You may choose the logo to be made with hot stamping, glossy spot UV varnish, embossing, etc, which helps makes the paper bags a much luxurious look.
SBS C1S ( Solid Bleached Sulfate, Coated on One Side)
SBS board is also referred to white cardboard. The white cardboard is firm and thick, with high stiffness, burst resistance and smoothness. The paper surface is flat. The commonly used thickness is 210-300 grams of white cardboard. The most used is 230 white cardboard. The paper bags printed with white cardboard are full of colors and the texture of the paper is also very good. It is your first choice for customization.
You can choose this SBS C1S paper to make custom printed paper bags for shopping, gifts, carrier, etc. In the shopping mall, many stores use this material for shopping paper bags to pack clothing, jewelry, cosmetics, etc.
The characteristic of coated paper is that the paper surface is very smooth and flat, with high whiteness, high smoothness and good gloss. It also makes the printed graphics and pictures have a three-dimensional effect. The commonly used thickness is 128g-300g, and the effect of coated paper is printed. Like white cardboard, the color is full and bright. Compared with white cardboard, its stiffness is not as good as white cardboard.
White kraft paper has high burst resistance, good toughness, high strength, and stable color image of uniformity and thickness. European and American countries advocate the use of environmentally friendly paper packaging, and environmentally friendly paper bags will replace plastic bags.
The white kraft paper market is promising. 100% pure wood pulp, environmentally friendly and non-toxic, and renewable. White kraft paper has good toughness and does not need to be coated. It is widely used to make environmentally friendly clothing handbags, high-end shopping bags, etc.
Commonly used white kraft paper with a thickness of 120 grams to 200 grams. The paper has no brightness and gloss, and white kraft paper is not suitable for printing content with too much ink.
Natural kraft paper has the high tensile force and high toughness. It is usually brownish-yellow, with high tear strength, rupture, and dynamic strength. Widely used in shopping bags, envelopes, etc. Commonly used natural kraft paper with a thickness of 120 g-300 g. Kraft paper is generally suitable for printing single-color or two-color and uncomplicated color manuscripts. Compared with white cardboard and C2S coated paper, natrual kraft paper has the lowest price.
One typical specialty paper is the black specialty paper with the matte black color on both sides. The characteristics of black cardboard are firmness, thickness, smooth surface, and high burst resistance. Commonly used black cardboard with a thickness of 120 gsm-350 gsm. Because black cardboard is black inside and outside, it can't print colorful patterns, it's only suitable for gold, silver, and other processes. The bags made are also very beautiful.
In addition to black cardboard, there are many other textured papers to choose from. You can use it to make shopping bags, gift bags, carrier bags, cosmetics packaging bags, etc.
Note

: If the material of colored paper bags is not in the list above, you can contact us at any time.
1. How can I measure the size of a paper bag?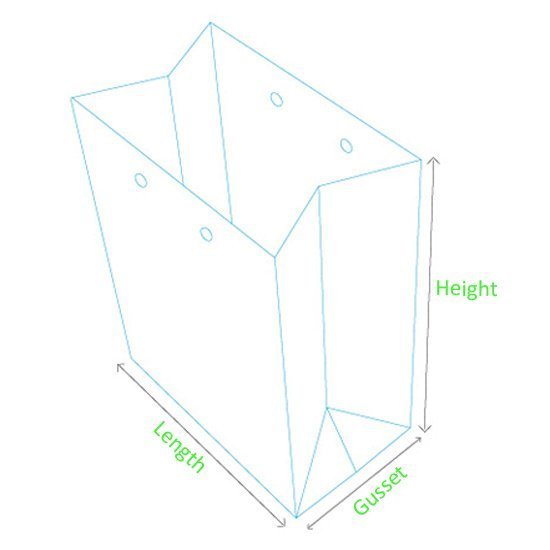 From the 3d model on the left side, you can see how to measure the dimensions of a paper bag, the length, gusset, and height direction. For the laminated paper bag, there is a folded flap on the top, normally 3cm to 5cm. Inside the flap, there are reinforced boards assembled to make it stronger for heavy-duty loading. There is also a piece of cardboard at the bottom.
(1) For the length: Measure, with the bag standing to face you, at the bottom of the bag from left to right.
(2) For the Width (or Gusset): Measure at the bottom from front to back.
(3) For the Height: Measure from the bottom to the top of the bag.
In our factory, all paper bags can be customized with your graphic design printing. Please feel free to contact us for your OEM order. 
2. Can printed paper bags be customized?
Yes, all bags on our website or the one that you have on hand are available to be customized with your graphics. We'd like to produce custom printed paper bags with handles to perfectly represent your brand. The printing of your logo, brand name, and any other designs can be offered. Welcome to contact us for the quotes of a stylish paper bag.
3. What is the turnaround time for the printed bags?
Usually, for the sample order, it takes 5-7 business days to finish. And for the bulk production order, it takes 12-15 working days to finish the custom printed paper bags project.
4. Can I get my business card design on the bags?
Sure, it's possible to add your business card design printed on the paper bags that you need. Please leave us a message or call us. A representative will help you with this.
5. Do you make plastic bags?
We don't offer plastic bags at this moment. However, for plastic bags is not sustainable, it's better to use custom printed paper bags instead.
6. Are printed twisted handle paper bags eco-friendly?
Yes, we have developed our printed flat handle bags to be 100% recyclable. So that customers can throw their used bags in recycling equipment. For the laminated paper bags, it can not be 100% recycled, because there is a thin plastic film on the surface.
7. How long do paper bags take to arrive?
For the shipment of printed paper bags, it can be arranged for by express, by air, or by sea. The shipping times of them three are much different. 
(1) shipping by express to your door, it takes 5-7 days, much fast and convenient, but high cost.
(2) shipping by air to the destination airport, usually it takes 6-8 days. Then your shipping forwarder or broker could arrange for the delivery to your door. 
(3) shipping by sea takes 18-35 days to different destination seaports, much slower, but the cheapest way for shipment.
8. Do you have any paper bags in stock for me to choose?
In our factory, all paper bags are made with custom color design printing. So we don't have any paper bags in stock. If you need a sample paper bag, we only have several with the brand printed for you to check the quality of paper material, and printing.
If you only need a small run of packaging paper bags in stock, it's a better way to choose them from an online shop, like Uline.
9. Can you offer the template of custom printed paper bags?
Sure, we are able to provide you with a die-cut template of the paper bags that you are looking for. You only need to tell us the dimensions of the paper bag, then our graphic designer would work on that and send it to you on time.
10. Do you have any wine carrier paper bags in stock?
In our factory, we don't have any wine carrier bags in stock, because we only make custom color printed items. All packaging boxes and paper bags are made with custom design graphics printing. If you only need one or two pieces of sample bags to check the quality of material and printing, it's possible to be shipped from us. However, these sample paper bags are printing with other brands.
11. What styles of paper bags can be provided?
It's possible to customize all paper bags that you are looking for, no matter what usage you want. Such as shopping paper bags, gift paper bags, wine paper bags, mailing bags, Euro tote bags, etc. From brown kraft bags to branded gift bags, there is a perfect paper bag for every occasion. You can send your design artwork file to us for a free quote.
For business, the paper bag is not only a paper bag but also a perfect embodiment of your brand on full display. We'd like to work together with you to develop and improve upon for commercial use.
12. Are customized paper bags more expensive than plastic?
Yep, the cost of custom printed paper bags is often more expensive than that of plastic ones. Because the production of paper bags is much more resource-intensive in terms of energy and water. However, paper bags are environmentally friendly and can be recyclable. For our only earth, more people are welcome to choose to use paper bags.
13. Who is the largest manufacturer for paper bags in USA?
TransPak is a manufacturer of standard and custom plastic and paper bags. They are capable to make a custom design, engineering, testing, manufacturing, and fulfillment management. They have a history of 66 years, and 24 locations to manufacture the packaging items, including custom printed paper bags.
TransPak protects not only your products but also your brand stability as your goods follow their global journey from manufacturing into your own customers' hands.
14. Do you offer the cheapest price?
Sorry, we cannot guarantee that our price is the lowest, however, that is our quality is definitely guaranteed. Usually, our price for paper bags is 3-5% higher, because we use the origin paper material, and FSC verified. 
15. What kind of finish do you offer?
The printing finishes can bring a high-end feeling, and turn an ordinary paper bag into a high-end artwork. It's almost the same as the printed paper boxes, rigid paper boxes, and printed corrugated boxes.
Among all surface treatments, laminating is the most commonly used, which makes the paper bag water-proof, and more durable. The glossy lamination makes the paper bag quite shiny and attracts customers' attention. The matte lamination brings a high-end feeling, soft touch feeling, smooth and luxurious.
At the position of the logo, it's possible to add glossy spot UV varnish, hot foil stamping, embossing, or debossing. These surface finishes make the printed paper bags much more fantastic.
16. What kind of paper bag handles do you offer?
The handle plays a very important role in the paper bag's performance. With a suitable handle, the paper bag can hold more weight. And you can reuse the paper bag for months to a year. Among the handles, the grosgrain ribbon handles and rope handles are widely used.
For rope handles, the materials mostly are nylon, cotton, or paper. The twisted paper handle or flat paper handle is eco-friendly, and 100% recyclable. However, for the nylon and cotton handles, they are with better durability and endurance.
17. What's the MOQ of custom printed paper bags?
The minimum order quantity for custom paper bags is 1,000 pieces. Usually, the more you order, the better you will get. There is the mini cost of each machine that is engaged in the manufacturing procedures, especially the printing machine.
18. Can you make samples of the printed bags with my design?
Yes, it's possible to make samples of custom printed paper bags with your logo and design graphics printing. However, it's usually charged with a cost of US$100-200. When your order of bulk production is over $10,000, it's possible to refund the full sample charge.
19. Is it possible for you to copy my sample bag?
Usually, it's possible to copy your sample paper bag if you don't have the design artwork. In the beginning, it's better to ship the sample to our factory, thereafter our engineer would work out the price for your reference. Once you accept it,  our designer would work on that to make the print artwork file in .ai format for the bulk production. Of course, you can also send the photos of the paper bags that you need, our designer would check the possibility to make the design artwork.
20. What's your payment terms of printed paper bag order?
Shipping by sea, if the order amount is more than US$5,000, it's okay to pay 30% in advance, and the balance before shipment or a copy of the BL document. Usually, it's advised to pay 100% in advance if the amount is smaller than US$5,000, because the bank handling fees are a high cost (normally your original bank is $15-50, and intermediary bank charges US$35-50.)
Shipping by air-way, deposit 100% before shipment is necessary.