1000 Piece Jigsaw Puzzles
The jigsaw puzzle is a very popular intellectual game. It is varied of different images and different difficulty levels. The pictures of the puzzles are mostly based on natural scenery, buildings, and some familiar patterns. Castles and mountains are two types of traditional themes. However, any pictures and images can be used as materials for the puzzle. Some companies also provide services for turning private photographic works into puzzles. 1000 piece jigsaw puzzles for adults are a little bit difficult level for entries.
1000 Piece Jigsaw Puzzles Made in China
with good cost rate from China
You can choose custom printed box packaging made in China for your 1000 piece jigsaw puzzles. Nowadays, with the surge in sales of jigsaw puzzles, the need for box packaging is on the increase too. Most of the packaging is rigid printed boxes, which are made of thick chipboard, usually, it's a 1.5mm thick board with surface paper 157gsm C2S art paper. You can choose to print your own design artwork graphics on the jigsaw puzzles, and packaging boxes.
Ask Price of Your Custom Jigsaw Puzzles
Classification of Jigsaw Puzzles
The pictures of the puzzles are mostly based on natural scenery, buildings, and some familiar patterns. Castles and mountains are two types of traditional themes. However, any pictures and images can be used as materials for the puzzle. Some companies also provide services for turning private photographic works into puzzles.
Other types of puzzles have patterns printed on both sides of the pieces. Players can form groups according to patterns on any side. At the same time, the difficulty of the game has also increased. Because in terms of the pieces in hand, it is difficult for the player to determine which side is the right side.
In addition to traditional plane puzzles, there are also different types of three-dimensional puzzles. The pieces of three-dimensional puzzles are mostly made of more solid materials such as wood or foam. Its spatial characteristics often lead to increased difficulty. The player need to assemble the pieces in a specific order. If there is improper assembly of parts in the completed part, the remaining parts may not be able to continue to be spliced.
You can regard spherical puzzles as an intermediate type between flat puzzles and three-dimensional puzzles. Similar to a plane puzzle, its spherical surface is also a single-layer structure made of cardboard pieces. And its final shape is a three-dimensional body with the attributes of length, width, and height. The patterns of spherical puzzles mostly imitate geographic and astronomical models such as globes and lunar instruments. The Wikipedia Logo is an example of a spherical puzzle.
Note

: If the type of 1000 piece jigsaw puzzles is not in the list above, you can contact us at any time.
Production Process for 1000 piece jigsaw puzzles
Cardboard is the mainstream material for most modern puzzles, so the cost is lower and the manufacturing process is simpler. The pattern of the jigsaw puzzle is the entire art print pasted on the surface of the cardboard before cutting. The content of the screen can be enlarged photographs, paintings, or other types of graphic artworks.
The color printed cardboard will put to a special embossing machine. This kind of machine tool equip with a steel tool set combined according to a predetermined pattern. After being punched strongly by the machine, the cardboard will be cut into pieces by the tool set. This process is quite similar to the molding process of graphic biscuits. The difference is that the impact force of the puzzle imprinting machine is much higher.
For example, in typical 1000 piece jigsaw puzzles, in order for the tool set on the die to completely cut through the cardboard, the machine tool needs to generate up to 700 tons of pressure during operation. The die plate of the puzzle is usually made of plywood. The mold-making craftsman first depicts or burns grooves on the template according to the pattern of the puzzle pieces. Then insert the blades one by one into the grooves and assemble them into a tool set. A layer of elastic material cover with the surface of the tool set, usually foam rubber. Its purpose is to eject cardboard pieces from the pores of the cutter group after printing.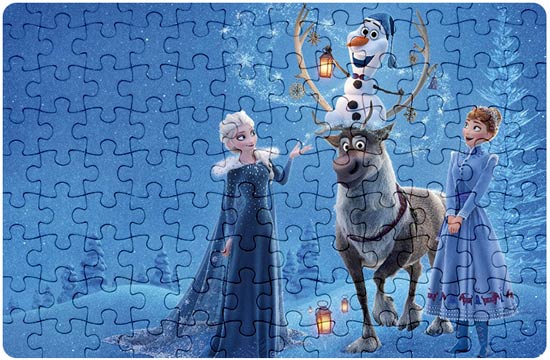 On October 26, 2016, Chongqing, the title of "The World's Largest Photo Puzzle" Guinness World Records was born in Chongqing. It took 220 volunteers 8 hours to put together 29,728 photos into the shape of a landmark building in Chongqing. Completed the Guinness World Record Challenge record. It successfully broke the world record of 2010.98 square meters set by Transitions Optical of the United States on October 11, 2012.
Packaging Boxes for Puzzles
Lift off lid rigid box is one of the printed packaging boxes. It can be with short lids or full depth of lids. You can choose this style packaging box for your jigsaw puzzles. This is the most popular and most commonly used style packaging box.
Usually, the thickness of common material is 1.5mm (1000gsm) chipboard, with the surface printed paper 157gsm C2S art paper. The outer appearance is covered with glossy lamination for waterproof, and the inside box is plain white. After the 1000 piece jigsaw puzzle is well assembled, it's possible to add shrink film to pack the boxes.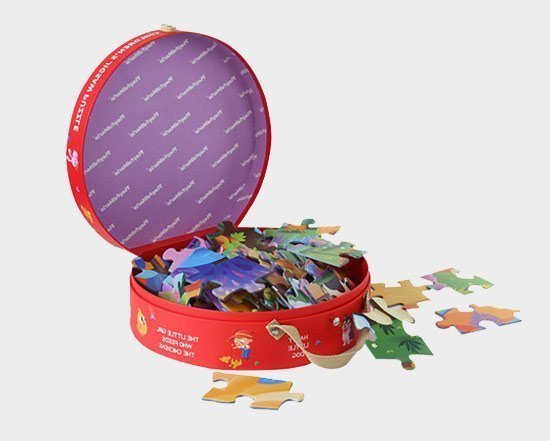 Cardboard Suitcase Boxes with Carry Handle
A suitcase box is a special type of box featuring a handle well assembled on the top, and you can also choose a metal/ wood lock to close the lid with the base. It's a much fashion design for 1000 piece jigsaw puzzles packaging solution. Usually, it's a D-shaped structure packaging box with a hinged lid.
We also provide personalizing options for our customers. Custom cardboard suitcase boxes let you have a unique box to pack your jigsaw puzzles. And the consumers can store the puzzles easily for a long time.
The packaging uses an eco-friendly, durable, and decomposable packaging material to deliver the best product. We do not compromise on quality.
Packaging Paper Tube for Puzzles
Paper tubes are made of paper as the main raw material, so it is easy to recycle. It has the characters of excellent protection performance, waterproof and moisture-proof. With the growth of puzzle sales, the demand for paper tubes is also increasing, because many factories choose paper tube packaging for their jigsaw puzzles.
Usually, there are two parts for the packaging paper tubes, one is the main body base, the other is the separated lid. You can discuss with us adding a rope handle on the body base. It's convenient for the consumers to carry the 1000 piece jigsaw puzzles away.
In our factory, all packaging paper tubes can be customized with your graphics printing. Contact us for free quotes.
Packaging Paper Box for Puzzles
Printed paper box is much common packaging solution for products package. Usually, the material is a single layer board, like ivory board, art paper, SBS, CCNB, etc. And the weight differs from 10pt to 30pt. In the factory, the jigsaw puzzles are packed in plastic bags, then you can choose the packaging paper box for your 1000 piece jigsaw puzzles. This kind of packaging box is more economical and cost-effective.
The box structure for puzzles packaging is usually RTE (reverse tuck end) or STE (straight tuck end). Both are much popular. It's possible to print the boxes in CMYK full color, or Pantone. The logo can be made with embossing, glossy spot UV, glittering, hot stamping, etc, which help improve the grade of the product.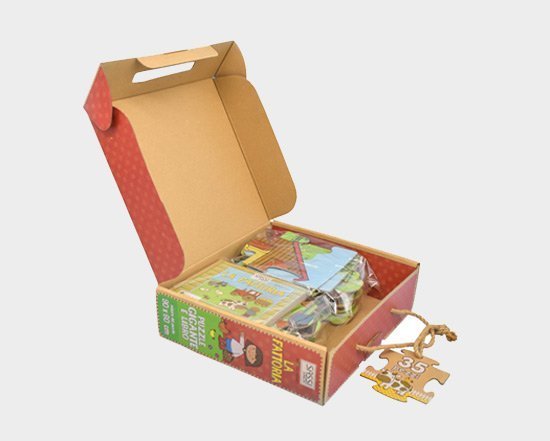 Corrugated Box for Jigsaw Puzzles
E flute corrugated packaging box is a cost-effective solution for 1000 piece jigsaw puzzles packing. As the image shows, you can also choose to add a rope carrier handle on the top. This way, it's much helpful and convenient for the consumers to take the jigsaw puzzles home.
The corrugated packaging box can be printed on both exterior and interior faces. Usually, the outside is printed with logo and design graphics, while the inside face is printed with welcome phrases. Of course, it should be quite warm for the consumers.
For corrugated material packaging boxes, there are many different structures of the boxes. You can refer to the page Printed Corrugated Box for more information.
Note

: If the type of puzzles packaging box is not in the list above, you can contact us at any time.
History of Jigsaw Puzzles
As early as 1760, this popular and beneficial form of entertainment appeared almost simultaneously in France and Britain. Glue a picture to the cardboard and cut it into small irregular pieces. At first, these pictures are educational. Or with a short essay suitable for young people to read. Either pass on historical or geographical knowledge to the emerging bourgeoisie. This is also a prototype of the jigsaw puzzles.
In 1762, during the fifteenth reign of Louis in France, a salesman named Dima began to sell map puzzles and achieved little success. This map puzzle requires the pieces to be rearranged. It is a very elegant entertainment. In the same year, in London, a printer named John Spearsbury also thought of a similar idea. He invented the enduring jigsaw puzzle. He cleverly glued a map of England to the back of a thin dining table. Then accurately cut the map into small pieces along the edges of the counties. 
This idea can bring huge wealth, but poor Spearsbury did not get the money. He only lived to be 29 years old and failed to see the huge success of jigsaw puzzles. The real significance of his success is that he opened two important markets for his invention: emerging middle-class consumers who are hungry for knowledge and status, and the harsh and demanding British schools of his time.
Spearsbury lived in an era where understanding maps was a symbol of a gentleman. The big tourism event pushed this jigsaw craze to its peak. This is a grand event, showing a complete Europe in detail. From this perspective, jigsaw puzzles are to use puzzle pieces to study the geography of Europe-countries, principalities, counties, cities, towns, rivers and so on. Knowing the map back then is just as proud of having its own homepage now.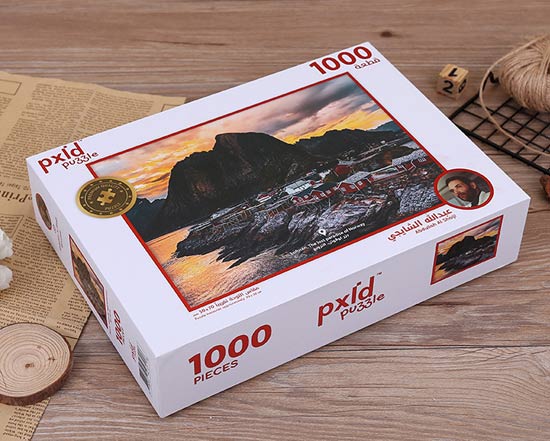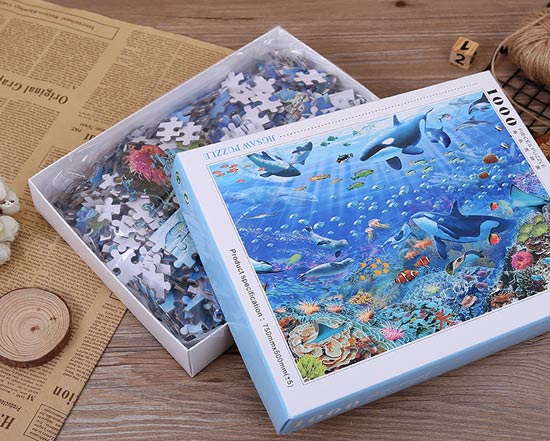 New Style Jigsaw Puzzle Arose
By the beginning of the 19th century, new mass production industrial technologies gave the puzzle a clear form. Previously large and heavy puzzles consisted of an arrangement of pieces with smooth edges, which could be separated by a slight vibration. Around 1840, German and French puzzle makers used interlocking snapping machines to cut puzzles. Modern puzzle fans are familiar with this form. They replaced hardwood veneers with softwood, plywood, and cardboard, which greatly reduced costs. In the end, the low-cost puzzle was accepted by consumers of all levels. Soon there was a jigsaw frenzy among children, adults, and the elderly.
Jigsaw puzzles quickly become a mature entertainment product with a broad market. Consumers can buy puzzles anywhere. At this time, the puzzle is not only used for education and entertainment, but also for commercial advertising and political propaganda. The First World War (1914-1918) is a good example. Cheap puzzles depict brave warriors fighting for the king and the country desperately. The puzzles are popular on both sides of the war and sell well. Jigsaw puzzles have become a way to get close to people's inner world, enter the family and spread information. Jigsaws and newspapers, radio, and the upcoming first generation of television have become a simple and direct way of mass media. Should people be encouraged to travel by train? Many puzzles showing majestic trains and happy tourists appeared. Every new invention and trend—steamboats, airplanes, automobiles, and the latest and boldest women's swimsuits—has appeared on the puzzle.
Top 5 Hot Selling 1000 Piece Jigsaw Puzzles on Amazon
MasterPieces Flashbacks Linen Jigsaw Puzzle, Mom's Pantry, 1000 Pieces
This MasterPieces 19.25″ x 26.75″ 1000pc Flashbacks Puzzle has a nostalgic feeling of different things that take you back to your childhood days. These images include classic retro board games, tin toys, gas station signs, and favorite foods from mom's pantry. These timeless puzzles are a throw-back to yester-year.
MasterPieces is a local USA Arizona based company that creates puzzles for both children and adults specifically for the avid puzzle fan! We are proud to feature images by popular artists, your favorite sports teams, and stunning photography. We design our puzzles to offer a higher quality puzzling experience. When you choose MasterPieces, quality isn't just a promise. Our puzzles are developed using a unique random-cut pattern for every puzzle, thick recycled material, and environmentally friendly soy-based inks. Jigsaw Puzzles make the perfect gift for anyone who enjoys a relaxing evening or a mind-bending challenge! Our high-quality packaging will let you save, store, and enjoy your puzzle for years of puzzling fun.
Retro Comics and Fruit Labels 1000-Piece Puzzle 2-Pack
Enjoy a relaxing day at home with family and friends as you piece together these beautiful puzzles made exclusively for Amazon by Cardinal Games. Manufactured using a high-quality greyboard, the Cardinal line of adult jigsaw puzzles piece together effortlessly to craft artistic wonders. Our specially designed puzzles ensure every piece fits tightly. Durable, thick pieces snap into place and provide a most satisfying build. The matte finish cuts down on glare and gives a picture-perfect finish, making these puzzles great for framing. Give your family and friends the gift of arts and crafts with activities that foster creativity and hands-on learning while having fun!
1000 PIECE PUZZLES FOR ADULTS and KIDS – The beautiful picture on this jigsaw puzzle of Zion National Park in Utah is a scene that all can appreciate. You might decide to even frame this puzzle when you're done so that you can continue to admire it for years to come!
DETAILS MATTER – Our 27" x 20″ 1000 piece jigsaw puzzles are made up of high quality, recycled gray cardboard that uses soy ink surface treatment that is safe and non-toxic for kids, adults, and even the environment! The glossy finish brings the scene to life. Our puzzles for adults are 1.55mm thick, bend-resistant, and sturdy enough that you can move entire sections of the adult puzzles by simply tugging at a single piece. Our jigsaw puzzles for adults are made to last!
WITH HIGH-DEFINITION POSTER – Our 1000 piece jigsaw puzzle also comes with an 8″ x 11″ high-definition poster of the incredible scenery that will aid you while you work on the puzzle. We are confident that puzzle will captivate all puzzle lovers and even those who might be new to this craft!
GIFT-A-BILITY – Like all of our products, this jigsaw puzzles 1000 piece comes in a DELUXE PACKAGING, making it the perfect gift. Whatever the occasion, Enovoe does it best!
A MUST-HAVE IN EVERY HOUSEHOLD – Whether you're stuck at home because of social distancing measure or inclement weather, with a 1000 puzzle at hand, you're prepared for an exciting day! Get yours now!
LEGO Minifigure Faces 1000 Piece Jigsaw Puzzle
MINIFIGURES ARE THE HEART OF THE LEGO BRAND: The minifigure—the humble yellow character found in LEGO creations—has become a global icon. In this up-close-and-personal puzzle, they get to show off the characteristics that set them apart.
BROAD APPEAL: This jigsaw puzzle is perfect for all types of LEGO fans—from longtime LEGO builders to casual fans to parents sharing their love of the brand with their children
INCLUDES: 1000 puzzle pieces, 25 x 20 inch puzzle when built, 11 x 9 x 2 inch box, and full color printout of puzzle image
Contains a 1000 piece jigsaw puzzles
Finished size is 26.75 x 19.75 inches
Full Color Bonus poster included for help in solving
Manufactured from premium quality materials including 100% recycled paperboard
Buffalo Games puzzles are manufactured using trademarked "Perfect Snap" technology ensuring a tight interlocking fit between pieces