Cardboard Boxes Manufacturer
Carton is the most widely used packaging product. According to different materials, there are corrugated boxes, single-layer cardboard boxes, and so on. There are various specifications and models. Carton boxes are commonly used in materials of three layers and five layers, and seven layers are used less frequently. If you are looking for a cardboard boxes manufacturer from China, this page is very straightforward to read.
Packaging cartons are an indispensable part of modern logistics. Because they bear the important responsibility of packaging, product protection, and beauty. So it's better to use high quality and durable materials for the cardboard boxes and choose the right manufacture for your packaging solutions.
Custom Cardboard Boxes Made in China
with good cost rate from China
For cardboard packaging boxes, usually, you can choose the materials made of 3 layers, 5 layers, or 7 layers. There are four types of corrugated shapes commonly used internationally. They are Type A, Type C, Type B, and Type E respectively. Among them, types B & E are the most popular options for cardboard boxes. And you can use them for corrugated mailing boxes, or commodity packaging.
Ask Price for Your Packaging Boxes
Different Types of Cardboard Boxes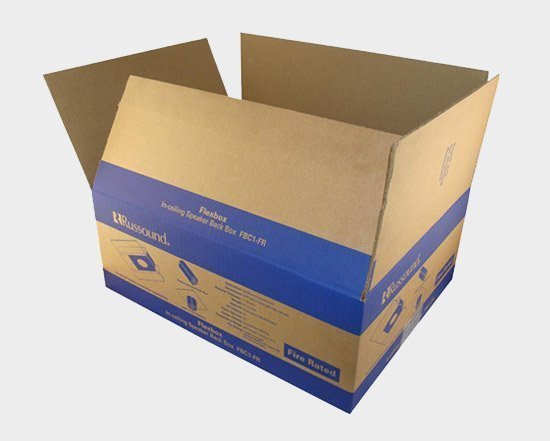 The size of the moving carton is usually 60*40*50cm. And the material is usually five layers of corrugated board, high-quality or reinforced. RSC (regular slotted case) is a widely used carton type for moving cardboard boxes. You can open the boxes from both ends, and after goods are put inside the cartons, you need to seal the flaps using packaging tapes.
From the local stores or online shops like Uline, it's possible to get the cardboard moving boxes. Of course, if you are a wholesaler, you can contact us for your custom graphics printing boxes. As a leading cardboard boxes manufacturer in China, we are able to meet your every single requirement.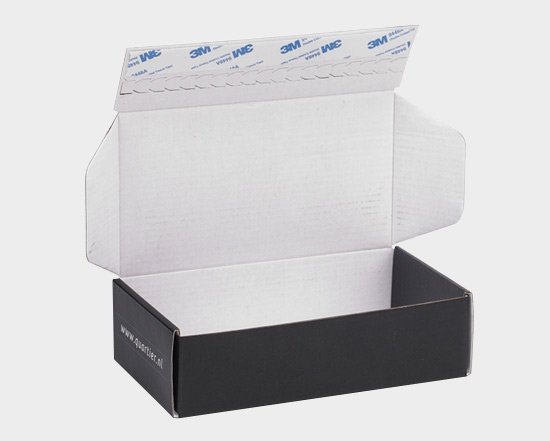 Self-seal Cardboard Postal Boxes
On the front side of the postal box, there is a zipper type perforated line. You can also call it zipper-type corrugated carton packaging. It is a corrugated box produced by professional packaging machinery and equipment based on corrugated cardboard. 
Its characteristics are: beautiful appearance, environmental protection, safety, and anti-theft, can reduce logistics costs, and can improve logistics delivery efficiency. Under normal circumstances, the front of the carton has a zipper. When using, just follow the instructions on the box and gently pull the zipper, and the carton will open immediately. It can eliminate the complicated unpacking process. It is convenient for customers to take the goods.
For cardboard archive boxes, there are 2 different types on the market. One is lid hinged one-piece folding box, the other is a separated lid two-piece setup box. The material is usually a single wall B flute corrugated board, 3-layer. On the outside face, that's possible to print with your design graphics. It's a specific design for UN (United Nations) files storage.
In China, there is a wide variety of archive boxes that are supplied by verified and experienced manufacturers available for you. You can use it to store and protect a single item or an entire collection with archival storage. With two punch holes as handles, it's much convenient for you to move the heave files storage.
Folding carton boxes are also known as corrugated boxes, cardboard boxes, etc. It's widely for lightweight products packaging. In China, Unico as a leading cardboard boxes manufacturer can offer a rich selection of printed and plain folding cartons. We have RSC (reverse tuck end box), POP display design, counter display bin, etc. If you want to innovate a new design or develop based on one of the box styles, please don't hesitate to contact us for your specific requirement. 
Single-layer materials like SBS, coated paper, kraft paper, specialty paper are also much popular for folding cartons. You can choose them for your cosmetics packaging, electronics boxes, perfumes boxes, etc. The cost is super effective.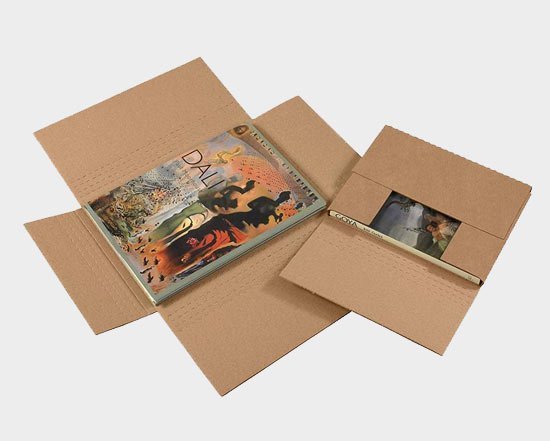 Book Wrapping Mailer Boxes
Book mailers are easy folding carton boxes, which are made of single wall E or F flute corrugated board (200# or ECT-32 kraft corrugated construction). It's used for wrapping the books and shipping them to the consumers. The economical kraft construction helps reduce mailing costs.
These are one-piece mailers that have scores at multiple depths to ensure the proper fit for your products. It's simple to place products in the center, and fold the sides at your desired depth and seal with tape. If you are looking for high quality book packaging/ wrap boxes, Unico is a highly recommended manufacturer in China.
UNICO: Your Premier Cardboard Boxes Supplier
Check our latest cardboard box design and take some design ideas for your own packaging box solution.
We will provide you with the best cardboard box for your business.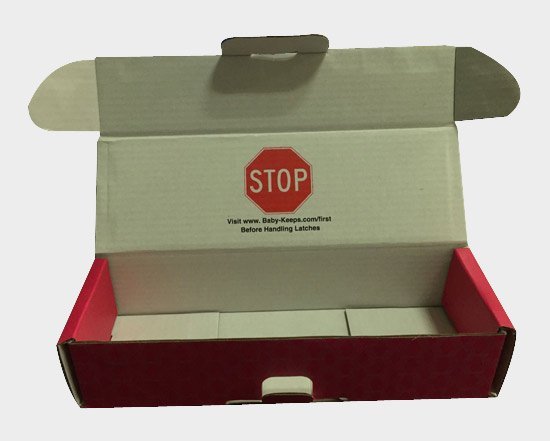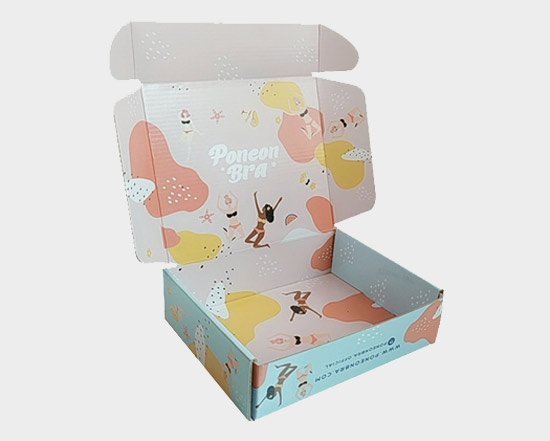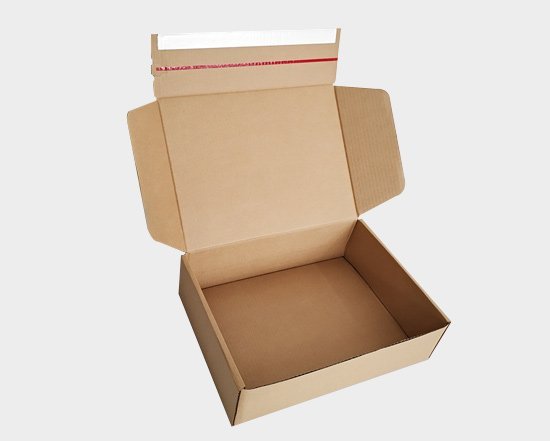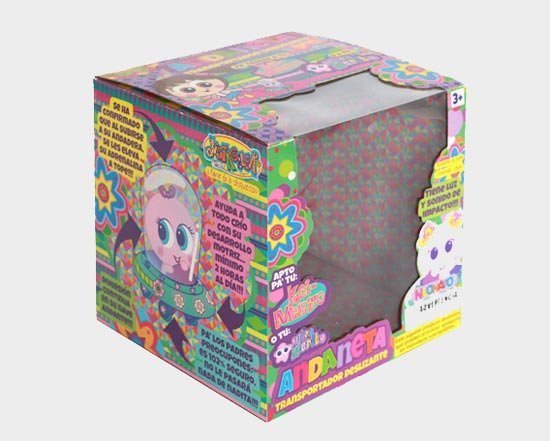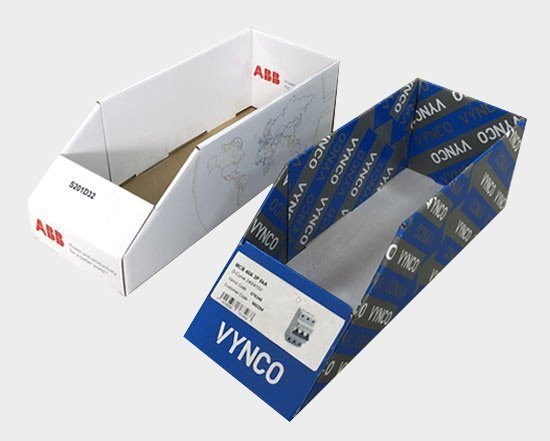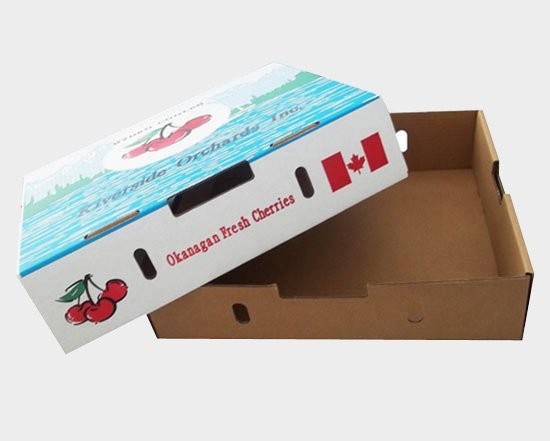 All Cardboard Boxes Can Be Customized
with Your Requirements.
Print Methods for Packaging Boxes​
Flexo Printed Cardboard Boxes
Flexographic print is a much popular method for simple graphic or texts print, and the final print result is not much good. Because its DPI (dot per inch) is low. It's possible to print directly on the finished materials of 3 layers A/ B/E/F flute, or 5 layerS AB/ BE flute, or 7 layers ABB flute. You can choose such printing methods for moving boxes, shipping boxes, wardrobe boxes, etc.
Usually, the inks for flexo printing are water-based ones. And the colors are solid, not gradient colors. There is no extra surface disposal on the boxes, so it's possible to recycle 100% and be environmentally friendly.
Offset Print Packaging Boxes
Offset print is widely for relatively high-quality printing and presents a better visual effect. Usually, it's a pre-printing on the surface paper like CCNB or SBS, then lamination or aqueous on the printed paper, finally mounting to the corrugated board material. There are many different box structures of the printed cardboard boxes, such as straight tuck end, reverse tuck end, auto-locking bottom, etc. 
You can choose the offset printing method for colorful images and content print. And use the cardboard boxes for cosmetics packaging, electronics packaging, metal hardware packaging, etc. UNICO is a premium cardboard boxes manufacturer in China, and we can make offset printed packaging boxes with your graphics.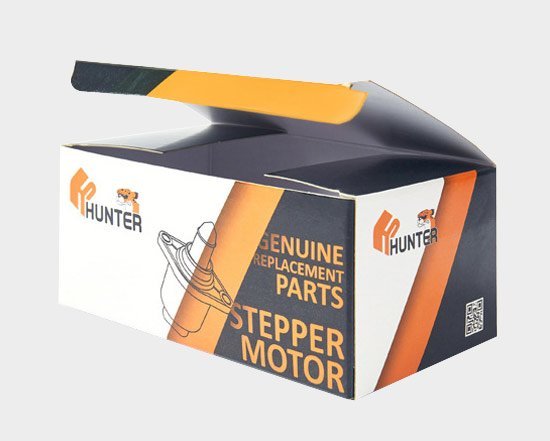 Digital Printing Cardboard Boxes
Digital printing is the digitization of printing technology, and it is to print computer files directly on paper. Further, digital printing is all-digital information transmission, eliminating the need for the in-machine version of film and printing plates. So the cost of a cardboard box by digital printing is much lower.
In the printing plants, we usually use digital printing for sample box making, because it's fast and cost-saving. After the printing is over, we can proceed with the die-cutting by CNC machine. This way, it's possible to finish the sample cardboard box in 2-3 days.
Frequently Asked Questions
1. Can I get custom print cardboard boxes from you?
Absolutely. Unico is a leading cardboard boxes manufacturer in China, and we have been manufacturing high quality customized cardboard boxes for over 10 years. In our factory, we manufacture different types of packaging boxes for your business. You can use the custom printed cardboard boxes for candles, soaps, wine bottles, small hardware metals, and all other creative products.
2. Do you have cardboard box in stock?
In fact, we don't have any cardboard boxes in stock, because we are a cardboard boxes manufacturer in China, and we only make the packaging boxes according to custom design graphics. If you need to get your own brand printed cardboard boxes, it's possible to produce in our factory.
3. Is it possible to get a sample cardboard box?
Sure. You can get in touch with our sales representative to discuss the sample cardboard box. Unico is possible to provide you with a custom printed cardboard box of your own design graphics and logo. Usually, the custom printed sample box is charge a cost of US$100~$150 according to the dimensions of the packaging box. If you only need a stock sample cardboard box, it's also workable. We usually have the same material as your requested specifications. This way, it's free of charge, and you only need to pay the express shipping cost, usually, it's US$50 enough.
4. What is the lead time for custom made cardboard boxes?
We offer custom printed cardboard packaging boxes that suit your unique product needs. Maybe products need to be displayed on the shelf, stacking on the pallets, etc. As a professional cardboard boxes manufacturer in China, we are able to finish your custom made boxes in 15-18 days after the print artwork file is approved. If you only need a sample packaging box to be made, usually, it takes 5-7 days to finish it.
5. How to measure the quality of cardboard boxes?
The quality of the material for cardboard boxes can be measured in several ways. The most widely used measurements include ECT and BST.
The edge crush test (ECT)is a laboratory test method that is used to measure the cross-direction crushing of a sample of corrugated board. This is done by placing a piece of the corrugated box on its edge with the flutes straightened. Then you will be able to see the amount of weight it holds.
BST refers to the burst strength test. The burst test is used to determine the package's strength and precession. The burst test is performed by pressurizing the package until it bursts.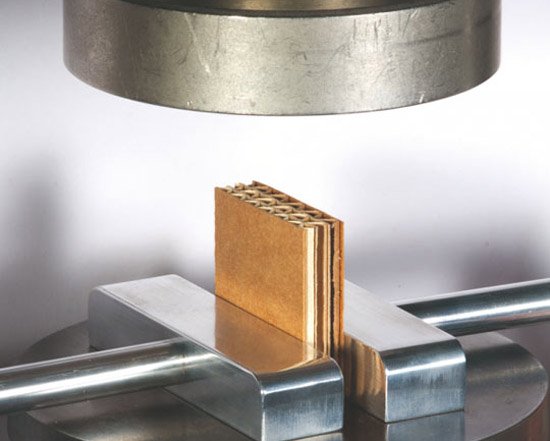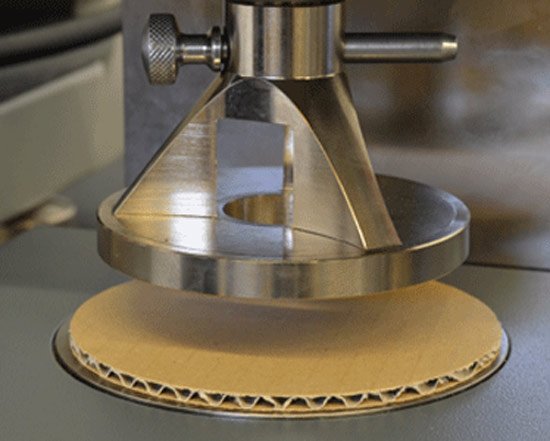 6. Is there any extra tooling charges?
Tooling usually refers to the printing plates or die-cutting plates needed for cardboard boxes customization for display or end-user. In our quote of unit price, it's already included the cost of the tooling cost. As a leading cardboard boxes manufacturer in China, we do not have any extra or hidden charges. Of course, if you want us to list the cost of tools separately, it's also workable.
For standard cardboard packaging boxes, there is no need to make toolings, like printing plates or die-cutting plates. However, if you need custom printed cardboard boxes, the tooling is a must. Normally, the cost of the tooling is around US$100~200 according to the dimensions of the boxes.
7. What additional features can you include on custom cardboard box?
In our factory, all cardboard boxes can be customized according to your requirements, like dimensions, print colors, surface disposal, etc. On the surface of the packaging boxes, you can include additional features of clear windows, lamination, glossy spot UV, glittering, etc.
8. Is there a Minimum Order Quantity (MOQ) of cardboard boxes?
Different manufacturers of cardboard boxes have different minimum order quantities. It is therefore essential to contact your manufacturer to obtain additional information on the minimum order quantity. Unico is a premium cardboard boxes manufacturer in China, and their MOQ is usually 1000 pieces. If you are a startup company or only a smaller trial order, please contact the sales representative for further discussion.
9. What printing method do you use for printed cardboard boxes?
There are several techniques for printing on cardboard boxes. You can choose the appropriate printing method according to your budget, print quality desired, and time constraints. Two widely used ways of printing cardboard boxes are:
Direct printing: It is the most common printing method, usually finished by either digital printing or flexographic printing. 
Pre-printing: This involves the first printing on a sheet of surface paper, then mounting the prints to the corrugated board after surface treatment is done. Usually, you can make it by lithographic printing/ offset printing.
10. What type of inks do you use for colored cardboard boxes?
For flexographic printing, water-based inks are the ones that are used exclusively to print on cardboard boxes. If your design is colorful and needs a high quality print result, it's better to use offset printing. This way, soybean inks are much popular, because it's environmentally friendly.