Packaging tape is composed of two parts: base material and adhesive. It's possible to connect two or more unconnected objects together by bonding. A layer of adhesive is coated on the surface. The packaging tape is widely used to seal the packaging cartons. With the increase of brand awareness, logo printed custom packaging tape is much popular.
In the 19th century, rubber was the main ingredient of adhesives. In modern times, various polymers are widely used. Adhesives can stick to things because they form bonds between their own molecules and the molecules of the object to be connected. This kind of bonding can hold the molecules firmly together. The composition of the adhesive varies according to different brands and types, and there are a variety of different polymers.
Custom Packaging Tape Made in China
with good cost rate from China
As a leading packaging solution provider, Unico company is able to offer you custom logo printed packaging tapes. Custom tape is a great way to get your brand recognized. Not only it is a great cost-effective way to market your company, but also it enables customers to identify your parcels quickly. Because getting your logo printed on to high-quality tape makes your parcels stand out from the rest.
Ask Price of Your Packaging Tapes
Classification of Packaging Tape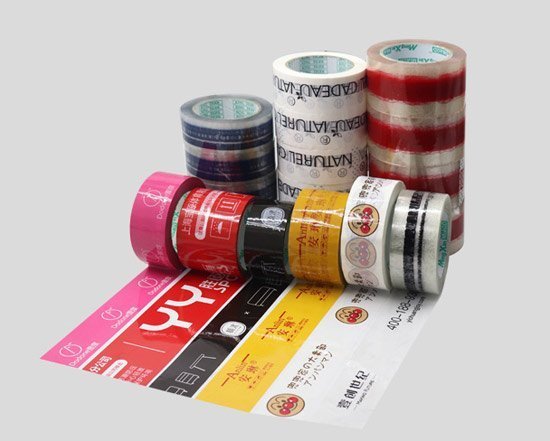 Carton sealing tape is also known as Bopp tape, packaging tape, etc. It is based on BOPP biaxially oriented polypropylene film. Nowadays, it is already an indispensable product in the life of light industry enterprises, companies, and individuals.
The width of carton sealing tape is usually 60mm, 48mm, 45mm, 40mm, 30mm, etc. And you can customize the length in 50m, 100m, 150m, 200m, even 500m, etc. The thickness of the BOPP material+adhesives differs from 45μm to 55μm. So it's possible to say the specifications of the packaging tape is "50mm x100m x50μm".
Custom packaging tape with your logo printed is quite helpful to promote your brand.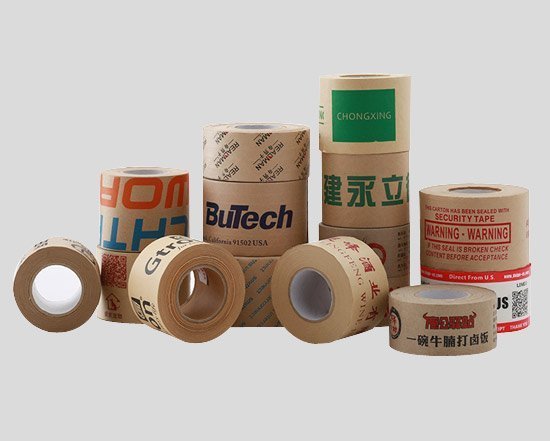 Kraft paper tape is divided into wet water kraft paper tape and water-free kraft paper tape, which can be printed and screened according to requirements.
You can also call water-free kraft paper tape is self-adhesive kraft paper tape. It uses coated kraft paper as the base material and coated with acrylic glue or natural rubber glue. It has the advantages of waterproof, strong adhesion, high tensile strength, good retention, no warping, and stable weather resistance.
The wet water-based kraft paper tape is made of kraft paper base paper and coated with edible vegetable starch glue. It becomes sticky when wet. It is environmentally friendly, non-polluting, recyclable, and renewable resources, anti-unpacking, high viscosity, no warping, long shelf life, and guarantees long-term viscosity without damp.
Masking tape is a lightly adhesive, easy to tear, paper tape, that can be smoothly applied and removed without leaving marks or damage. Traditionally you may also know it as painter's tape, masking tape comes in a variety of widths and is designed for use in painting, to mask off areas that should not be painted.
Masking tape is mainly made of masking paper and pressure-sensitive glue. A roll-shaped adhesive tape made by coating pressure-sensitive adhesive on textured paper and coating with anti-adhesive material on the other side. It has the characteristics of high temperature resistance, good resistance to chemical solvents, high adhesion, soft fit and no residual glue after tearing. In the industry, it is commonly known as textured paper pressure-sensitive adhesive tape.
Custom packaging tape of masking tape can be made in our factory. Contact us for free quotes.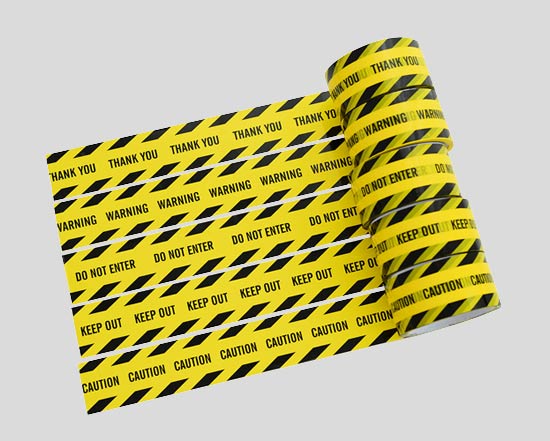 Custom Print Warning Tape
The warning tape is a tape made of PVC film as the base material and coated with rubber-type pressure-sensitive adhesive. Warning tape has the advantages of waterproof, moisture-proof, weather-resistant, corrosion-resistant, and anti-static. It is suitable for the anti-corrosion protection of underground pipelines such as air pipes, water pipes and oil pipelines.
You can choose the twill printed tape use for warning signs on the ground, pillars, buildings, traffic and other areas.
For floor area warnings, packaging box sealing warnings, product packaging warnings, etc, you can use anti-static warning tape. Color: yellow, black letters, warning slogans in Chinese and English. The viscosity is oily extra-high-viscosity rubber glue. The surface resistance of the anti-static warning tape is 107-109 ohms.
Double-sided adhesive tape
A double sided tape has pressure-sensitive adhesive on both sides to bond parts together without visible fasteners. Such tapes come in various types, including foam tapes, paper tape, and cotton or cloth tape.
The width of the double sided adhesive tape varies from 3mm to 1000mm. And the length of each spool can be 30m, 50m, 100m, etc. Custom packaging tape can be made with your requirements. Welcome to contact us for more information.
Note

: If the type of printed custom packaging tape is not in the list above, you can contact us at any time.
Frequently Asked Questions
1. Is it possible to print my logo on the packaging tape?
Absolutely. We are a manufacturer in China to make logo printed custom packaging tapes. For your requirement of printing your logo, it's no problem. You only need to provide us with the logo artwork file in .ai or PDF format. Thereafter our design would work on that and offer digital proof before production proceed.
2. What is the packaging tape called?
You can call the packaging tape box-sealing tape, parcel tape, or packing tape. They are pressure-sensitive tape used for closing or sealing corrugated packaging boxes. On the market, the tape is 48mm wide but it is also used in 72mm width.
3. What is the most common material for custom packaging tape?
The most widely used material for packaging tape is BOPP, kraft paper tape, etc. Also, you can choose masking tape, PVC tape, PE foam tape, fiber tape, etc. In our factory, we have all these materials in stock, and it's ready to start your order right away.
4. Can I get a sample tape before order?
Sure, it's possible for you to get a sample packaging tape to check the quality of material and printing. We have two options for your choice. (1) sample tape in stock, it's free of charge, and you only need to pay the international express shipping cost. (2) if you want a custom printed sample packaging tape, usually it's charged a cost of US$100. When you place the order of bulk production, that's possible to refund the sample charge.
5. How long will it take to get my custom order made?
Usually, the production lead time is 15-18 days after the print artwork approve. 
For the shipping time, it depends on which way you choose. (1) shipment by air to anywhere in the world takes about 5-10 days. (2) shipment by sea to Oceania (AU/NZ) takes 15-18 days. (3) vessel shipping to Europe's main base port takes 28-32 days. (4) shipment by sea to the port in the west of USA takes 15-18 days, while to the east 30-35 days.
6. Can you ship my custom packaging tape order to the vendor in China?
Absolutely yes. We are able to arrange for the delivery of your packaging tape order to the vendor in China. No problem. We made such delivery before, and the other factory is mainly for scented candles business, however, the client requested the logo printed packaging tape. That supplier can not do that. Finally, the customer got in touch with us, and we made that for him.
7. Do you have packaging tape dispenser?
In our factory, we don't manufacture packaging tape dispensers. However, the associated factory is much near to us. If you also need this item to be shipped together, we can help outsource for you. Packing tape dispensers are convenient for sealing boxes and cartons. You don't have to manually roll out the film and cut off the end every time.
8. Are there any common packaging tape in stock?
Yes, we do have some common packaging tapes in stock, which are plain unprinted BOPP tapes. Not any logo printed. As a custom packaging tape manufacturer in China, we also do domestic wholesale business of packaging tapes. If you need fast delivery, such tapes are quite good choice.
9. Can I use the packaging tape on packing machine?
Yes, you can choose to use the packaging tape on the packing machine. No worries. The logo printed custom packaging tape from us is strong & durable and has high endurance. It will not broken during the normal packaging process. 
10. How about MOQ of custom packaging tape order?
The minimum order quantity is according to the different widths of the packaging tapes. MOQ below for reference. 
– Width 4.5cm, 100m length, MOQ 500 rolls;
– 4.8cm width , 100m length, MOQ 450 rolls;
– Width 5.0cm, 100m length, MOQ 450 rolls;
– Width 5.5cm, 100m length, MOQ 410 rolls;
– 6.0cm width , 100m length, MOQ 360 rolls;