Donuts Box Manufacturer in China
UNICO is a leading manufacturer in China that is specialized in making custom design print donuts box. We are manufacturing the donuts box using automatic gluing machine which help save your packaging costs. Fast delivery, rush order in 5-7 days.
Send Your Inquiry Now
As a leading donuts box manufacturer in China, we can produce various kinds of food boxes, including donuts boxes, sushi boxes, cake boxes, etc. And we are using food-safe materials for your projects. To make the boxes more attractive, you can choose a logo with hot stamping, glossy spot UV varnish, embossing, etc. They are all much helpful to your sales volume.
Various Types of Donuts Box
The 6/12 pack donuts box is pre-glued in six corners, and it is easy for you to pop up quickly. The material is usually 300gsm or 350gsm white cardboard, which can be printed both inside and outside to promote your donuts brand.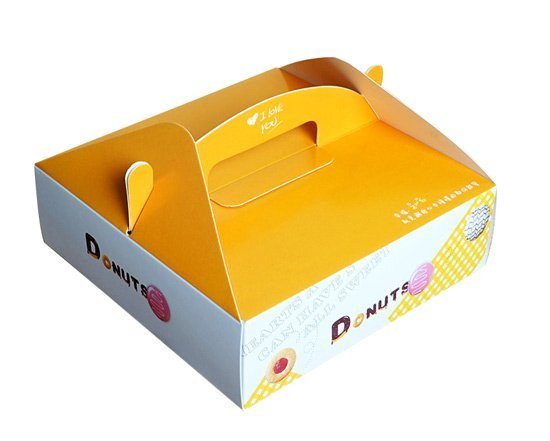 The donuts box with handle is a gable style box, which has assembled handle on the top. The boxes are flat-packed for shipment to save your shipping costs and storage fees. It's a one-piece paper folding donuts box.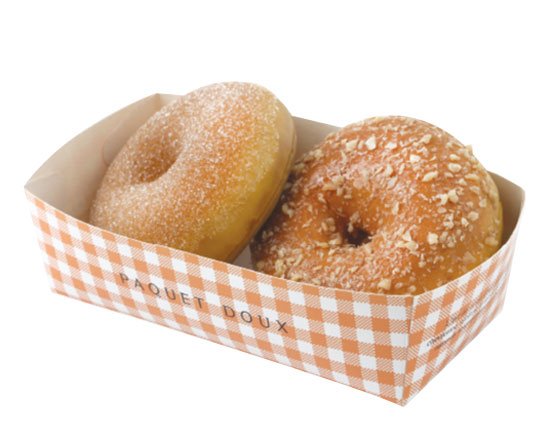 Such a paper tray is perfect for donuts, bakery takeouts, and small take outs. You can also use it as a divider to place multiple products in one box. Food safe material. Flat pack or stacking style is available in UNICO factory.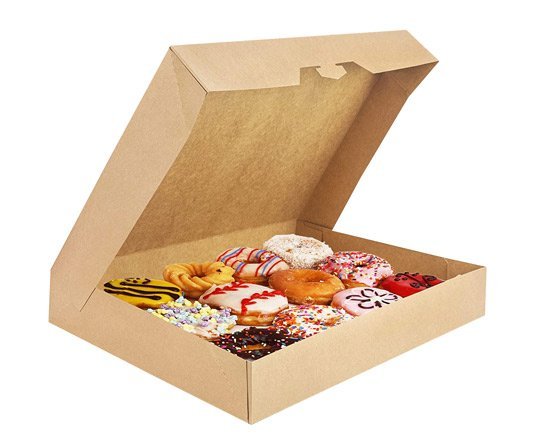 Food grade kraft material is a great option for donuts box, which is 100% recyclable. You can choose to print your brand logo and design colors on the donuts box. Small minimum order quantity, fast delivery.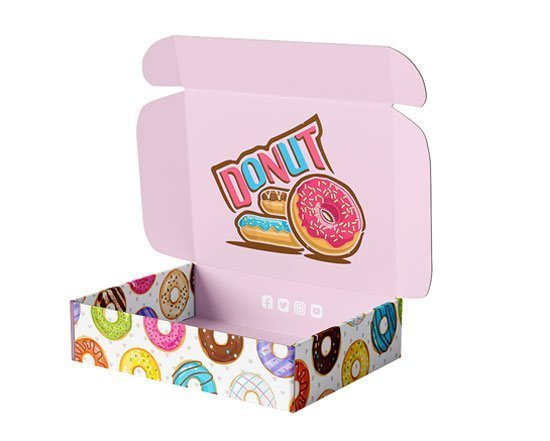 Donuts mailing boxes are widely used for online e-commerce donuts business. Consumers place orders through your website or a shop call. Then you can pack the donuts and ship them out using a donuts mailing box, which is much convenient.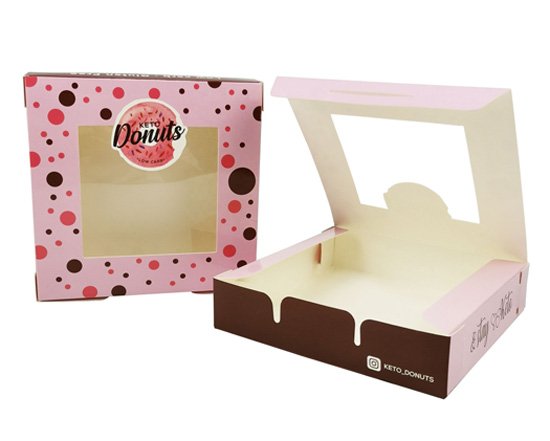 The clear window donuts box is pre-assembled with a plastic transparent film in the lid. Consumers can see through and figure out what is inside. Kraft paper or white cardboard is available for this donut box with window.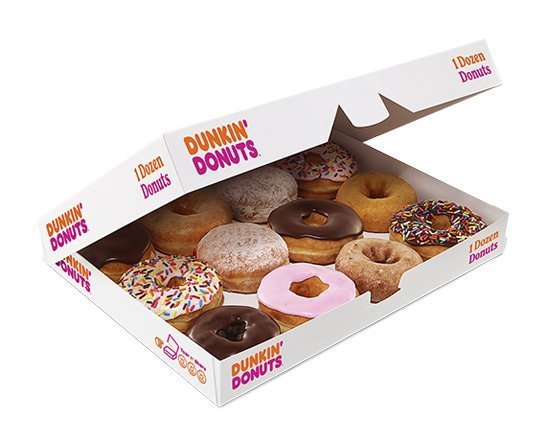 Dunkin' Donuts is a fast-food chain brand specializing in the production of donuts, freshly ground coffee, and other baked products. Headquartered in the United States, it is one of the top ten fast-food chain brands in the United States. High-quality gourmet donuts in over 60 flavors will be available.
In their shop, 6 & 12 pack donuts are much popular, which you can share with the family. Also, you can bring the donuts box away. For the Dunkin Donuts box, its material is 350gsm white cardboard. Pantone 2 colors are printing with custom requirements. Corners are pre-glued in the box factory, which helps you to pop up the boxes quickly.
In UNICO factory, we have the automatic gluing machine for the donuts box, which helps save the labor costs of your donuts packaging. Further, your rush order can be done in 5-7 days of custon artwork printing.
Krispy Kreme Doughnuts Box
Krispy Kreme is a large chain of doughnuts in the United States. It is also the second-largest doughnut grocery store in the United States. Beginning in the 21st century, its business began to expand overseas, including Canada, Mexico, the United Kingdom, Australia, Southeast Asia, Japan, South Korea, and Hong Kong.
The most popular Krispy Kreme doughnuts packaging is 6 pack, whose material is 300gsm white cardboard. On the lid of the donuts box, there is super thin clear film to see through. Consumers could know what flavors of donuts are inside. You can choose this style of donuts box for pre-packaging, and display them on the shelf. This way, consumers don't need to wait for your time to pack donuts.
Customized options are also available, depending on your detailed requests. Please get in touch with us for more assistance.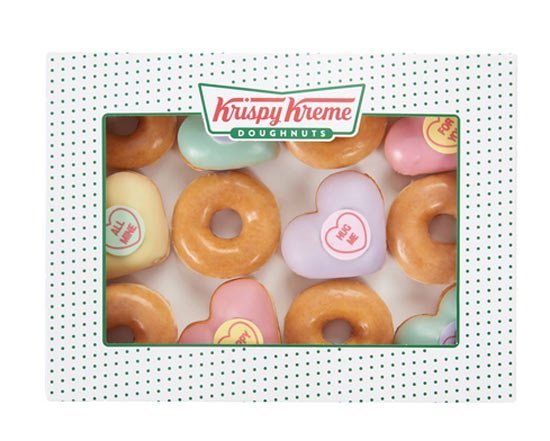 UNICO: Your Premier Donuts Box Manufacturer
UNICO provides you with custom design printed donuts box made of paper material. They are with 6 corners pre-glued in the factory, and shipping by flat-pack, which helps you save shipping costs and storage space. The material is food safe, and it's possible for you to add a transparent plastic film window to the lid. We have automatic folder gluing machines, which help finish the order super fast. If you have a rush order, it can be finished in 5-7 days once the print artwork is approved.
Our team consists of highly-experienced cost engineers that will help figure out reasonable quotes. We also have friendly customer service staffs that will help you understand your packaging needs. They will guide you through available materials and artworks to your donuts packaging boxes. Before the production, the printed sample box can be made if needed. We also have donuts sample boxes in stock, which are freely offered for you to check the quality of material and printing. 
If you have any concerns or would want to place an order, please contact us today. Our knowledgeable sales staff is standing by to assist you.
In the market, there are mainly 2 different sizes of donut boxes. One for 6 pack donuts, the other for 12 pack donuts. Customization is available.
> 6 pack donuts paper box, 273*181*56mm
> 12 pack (one dozen) box, 364*275*56mm
Doughnuts Box Die-cut Template
In UNICO company, we can produce the branded packaging box according to your detailed requirements, including the box dimensions, print colors, surface treatment, etc. Usually, the material is 300gsm or 350gsm white cardboard. If you need a template to embed your design, please get in touch with us for the free die-cut template.
Custom Branded Donuts Box Advantages
The donuts paper box is easy to pop up. You only need to push the edges, then the box will assemble itself with the 6 corners per-glued.
The custom branded donuts box can hold 6 or 12 pack donuts. The thick material provides long-term durability and high performance.
With your logo printed on the donuts box, it helps to increase your brand recognition. And it's quite good for brand promotion.
Donuts gift boxes are folded and flat-packed for shipment. You can save shipping costs and warehouse storage fees with less volume.
Image Feedback from Our Clients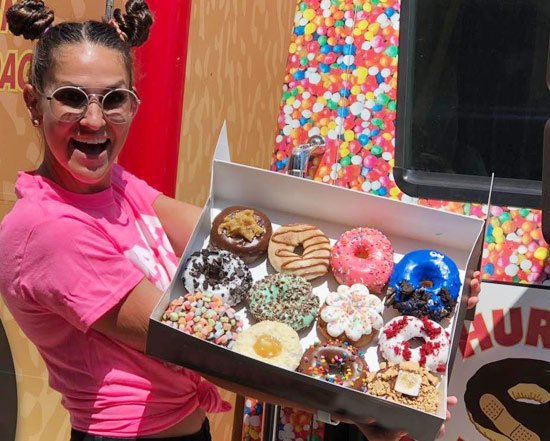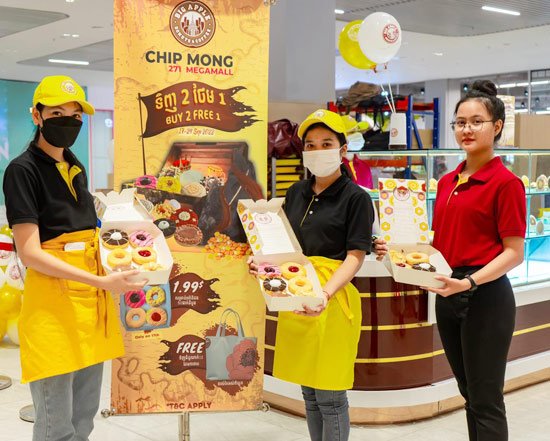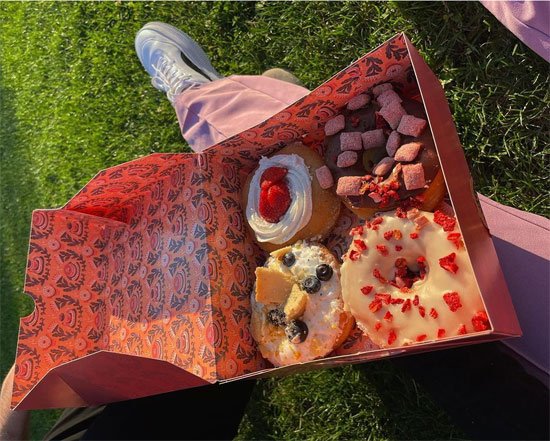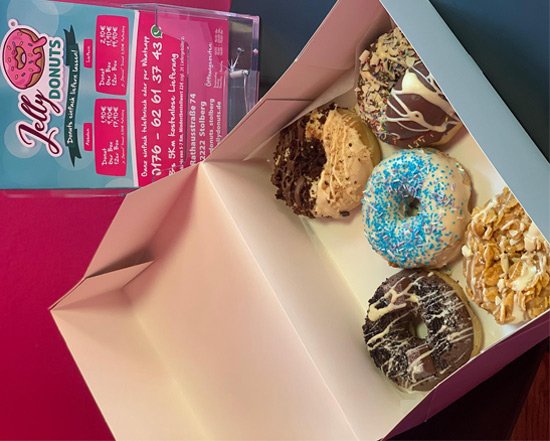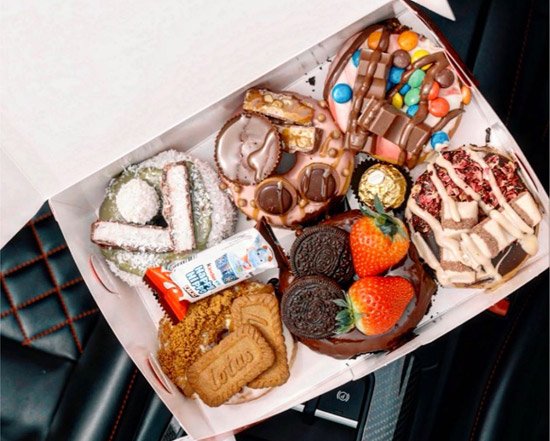 "Thank you for all your help. We received the boxes, and they are perfect! Really great quality, and perfect in everyway. I wouldn't hesitate to recommend you to anyone in the future."
"Everything was just as described. The quality is considerably superior to what you would anticipate for the money. We'd like to recommend UNICO donuts box manufacturer to you!!!"
"The order of donuts box arrived in good conditions. It appears to be well-made, well-packed. We'd like to order more when we need."
Donuts are still one of the most popular desserts in the United States and can be found in any pastry shop or fast food restaurant. Everyone from 5-year-olds to 75-year-olds has a consistent love for it. In Asia, doughnuts are mainly served as a snack food. But in the United States, many people eat doughnuts as a breakfast staple, and even have a "doughnut day". People often use takeaway donuts box to bring it home.
A Brief History of Donuts
One day in 1940, there was a Captain Gray who loved to eat fried bread made by his mother as a child. But he found that the central part of the fried bread was not fully cooked due to insufficient frying time. So Gray's mother scooped out the center of the fried bread and fry it again. Finally she found that the taste of fried bread turned out to be more delicious, so it was named donut. Since donuts are made with high-temperature hot oil, the secret to delicious donuts lies in how to fully fry the donuts in a short period of time. And from the mother's witty handling, it can be seen that the mother's care and love for the children. Donuts are a historical and interesting food, a daily snack, and a manifestation of love and emotion. 
Custom Design Print Donuts Paper Box Supplier in China
Over 20 years in business. Offer High Quality Packaging Donuts Box. Competitive Price. Fast Delivery.
Get an Instant Quote
As a top donuts box manufacturer in China, we can make the boxes with your brand design printing. If you are looking for any packaging box for donuts, please get in touch to discuss further.