E Flute Corrugated Box Manufacturer
Custom design printed E flute corrugated boxes. You can use it for mailer boxes, shipping boxes, e-commerce boxes, or subscription boxes. Good quality, affordable price, fast delivery.
Get A Fast Quote
Corrugated box packaging is much common in daily life. They are widely used for product packaging, mailing, and shipping. As a leading E flute box manufacturer in China, we can produce packaging boxes with your logo and brand design printing. You can order corrugated mailing boxes, cartons, and folders from our factory, and even EE flute corrugated boxes. Furthermore, you can make the design printing both inside and outside to make the E flute box extremely beautiful.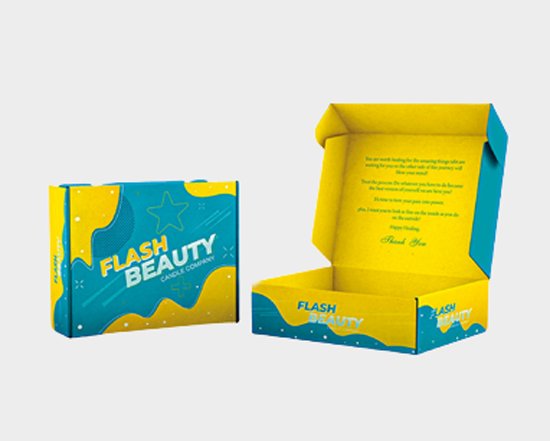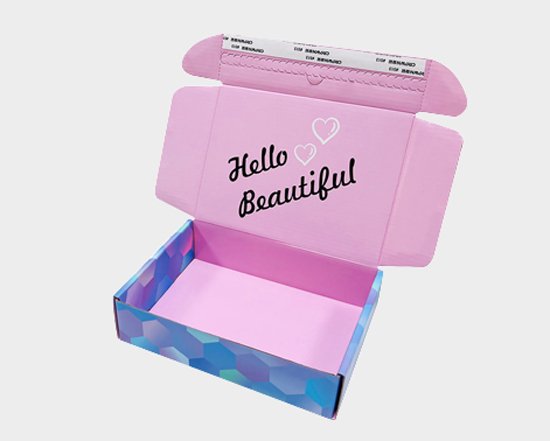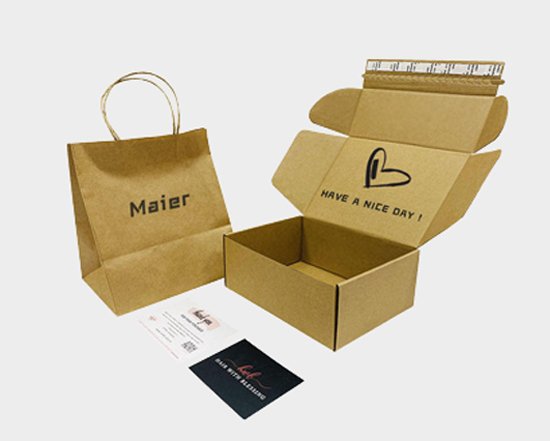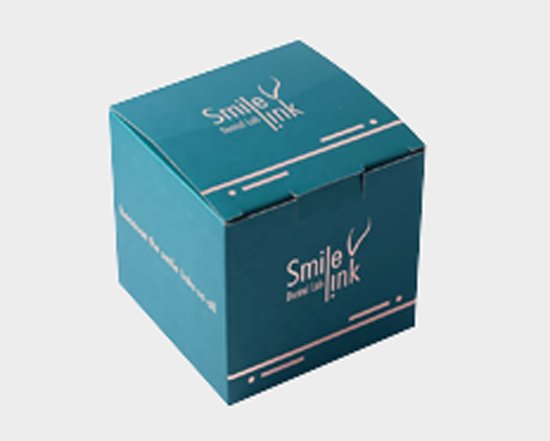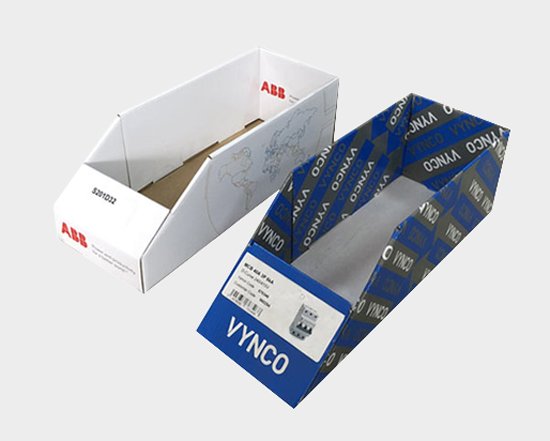 Fast & Reliable E Flute Box Manufacturer
100% Customized E Flute Box
As a leading E flute box manufacturer in China, we can make E flute packaging boxes with your brand and artwork printing, even both inside and outside. You can use the E flute box for product mailing, shipping, and packaging.
In past orders, most customers choose to use E flute boxes as mailer boxes for their e-Commerce business. These boxes need to be strong and durable to protect the product away from damage during shipping. Among them, FEFCO 0427 box style is the most popular one. Because it's tape free, and fast to assemble for packaging.
On the front flap, you can choose to add double-sided tape and perforated lines. These will help a faster packaging and bring a fantastic unboxing experience to consumers.
Advantages of E Flute Corrugated Box
E flute box is made from E flute corrugated board, which is slim but strong and durable. It's a great choice for product packaging, and mailing. E flute corrugated box is easy to fold and brings excellent offset printing quality. If you are looking for a small-sized box, E flute folding box is a perfect choice.
Offset printing quality on the surface of the E flute box is perfect because the fluting is tiny, and getting a smooth appearance.
Very good cushioning force and structural design.
Light-weight, perfect alternative to the paperboard.
Slim or thin E flute board to save shipping space. In one container, it allows loading more quantities of E flute boxes to you. So it helps save your shipping freight.
Ideal material for custom printed folding boxes.
To make your brand more attractive on the E flute packaging box, there are many surface finishing for your choice. And each of them has different character. If the one you need is not listed, please contact our service team for further discussion.
Foil Print: usually, foil print is made with gold or silver color. Over time, more and more colors are available, such as blue, purple, rose red, and even holographic, etc.
Spot UV: its UV varnish makes your logo much shiny through silk screen printing, or even into your requested shape textures.
Embossing or Debossing: in fact, these are two different treatments for your logo position. Embossing makes the logo higher from the paper surface, while debossing makes it lower.
Flocking: using glue to make the fluff to the E flute box by screen printing. So that it feels soft to the touch.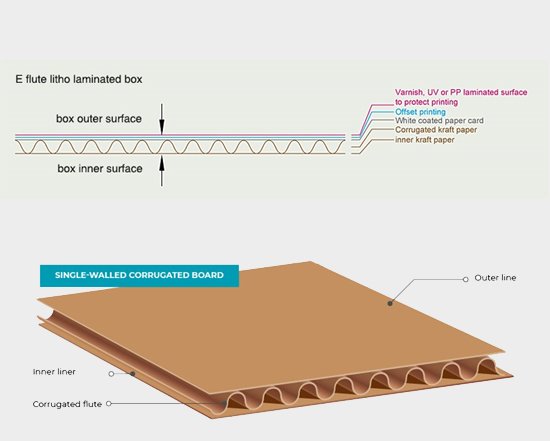 Various Materials for E Flute Board
E flute corrugated board is slim but strong and durable for mailer boxes. It is around 0.0625" thick for E flute corrugated board, varying from 1.5mm to 2mm from different suppliers. There are 3 layers for E flute board, which include the outer liners, inner liner, and corrugated flute. For different sized boxes, it's possible to use different thickness material for each layer.
If you need litho laminated E flute boxes, the surface paper can be duplex board. The weight for the paper is 250gsm, 300gsm, and 350gsm.
The corrugated flute, it is in the middle, wavy shape. The thickness of the material varies from 60gsm to 200gsm.
For the inner liner, you can choose material from 90gsm to 230gsm.
Note: The heavier the material is, the material with better strength.
Different Types of E Flute Boxes
There are various types of E flute corrugated boxes for your choice. If you are running an online shop, FEFCO 0427 style mailer box is recommended. You can use it packaging for clothes, electronics, jewelry, etc. E flute mailer box is strong and durable for product shipping. The litho printed lamination and various finishings on the surface would bring your packaging to a fantastic unboxing experience.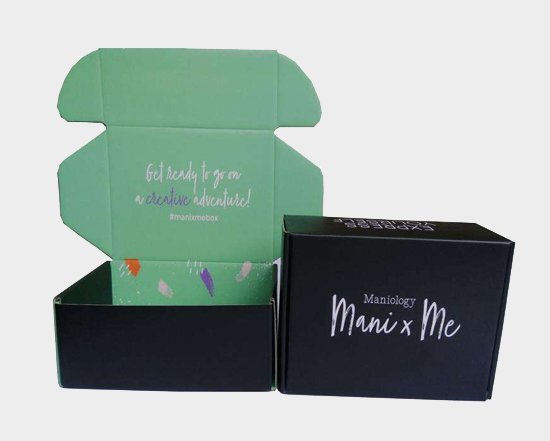 E Flute Corrugated Mailer Box
This E flute mailer box is a traditional type, and most e-Commerce business owners would like to choose this packaging box for their online order's shipping. It's FEFCO 0427 style, with flaps connected to the main body, which is easy to fold and assemble. You can make the design print both inside and outside, even the logo with hot stamping foil print.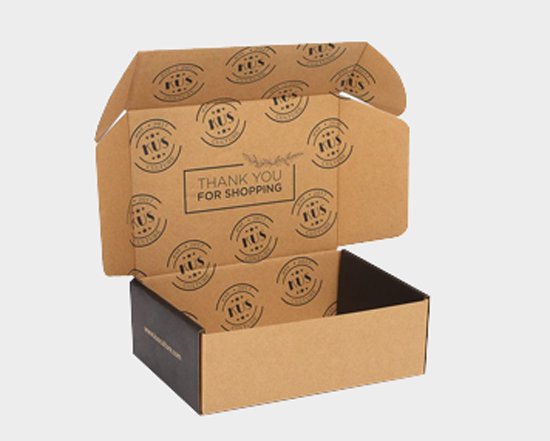 Kraft Corrugated E Flute Box
Nowadays the subscription business is much hot, so the E flute subscription box is much popular for subscription product shipping. Applications of the E flute printed box include boxes for toys, games, beauty, cosmetics, etc. The printing on the E flute subscription box is CMYK 4 colors process and PMS Pantone color process. You can also choose lamination on the printed paper outside or inside.
Litho Print E Flute Corrugated Box
E flute corrugated board material is slim, so many clients would like to choose that for product packaging box. Litho printed E flute packaging box is popular for beauty, electronics, cosmetics, etc. And the cost of an E flute box is more reasonable compared with cardstock packaging or rigid box. In the front of the box, you can choose a clear plastic window for consumers to see through.
E Flute Box with Hang Tab
Litho printed lamination box with hang tab is widely used for small items packaging with lightweight, like phones, pens, USB mice, etc. These E flute boxes can be displayed on the shelf with a top hanging. So it's easy to catch consumers' attention in the shop. The bottom of the E flute box is auto locking, or snap lock bottom style. Both of them are easy to assemble and fold.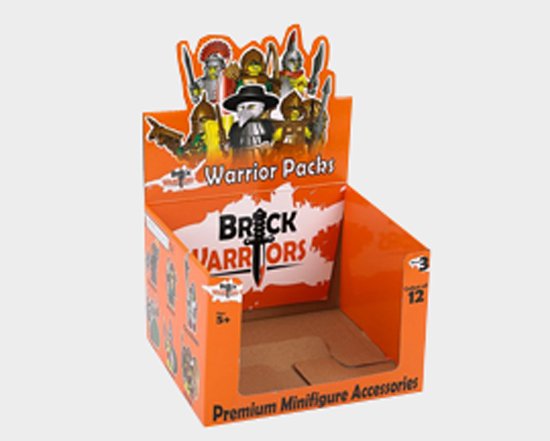 E Flute Counter Display Box
Counter display box, also known as cardboard bin, is often placed next to the cashier to attract the attention of consumers and promote purchasing. You can use it to display chewing gum, candies, vapor, etc. As a leading E flute box manufacturer, we can make the E flute display box with your brand design artwork printing. Usually, the surface of the bin box is shiny and glossy.
Factory
Order Process
Certificate
Factory
Order Process
Certificate
Listen to What Our Clients Say
We have been working with UNICO for 3 years, and they always offer good quality shipping boxes for us. Highly recommend UNICO as your packaging supplier.
UNICO is an excellent supplier for our subscription boxes, very good quality, nice printing, and safe shipment to our warehouse. People from UNICO are nice guys too.
Our orders of cardboard bin boxes arrived safe and sound. The quality of printing and material is really good. We love the cooperation with UNICO team, and they are really nice.