Paper card is a new kind of card that is conducive to environmental protection, and it is gradually replacing PVC material cards. With the implementation of the plastic restriction order, more and more customers choose a custom paper card for their projects. Its advantages of low cost and easy production are widely accepted and used by all walks of life. 
The paper card has no pollution and is a green card. As a leading manufacturer of printing and packaging, UNICO can make your paper cards with your own design graphics. Feel free to contact us for quotes.
Custom Paper Cards Made in China
with good cost rate from China
The material for the custom paper card can be imported coated paper, with various thicknesses such as 250g, 300g, 350g, 400g, 450g, etc. It has the characteristics of low cost, strong confidentiality, environmental protection, and energy saving.
Ask Price for Your Paper Cards
Different Types of Custom Paper Card
A greeting card is a kind of card that people greet each other when they encounter a specific date or event. It is always the best way to express love to friends and family. Americans exchange about 6 billion greeting cards each year. Greeting cards are already an important social tool for Americans.
You can see the greeting card in department stores or big shopping malls or online shops like Amazon. They are printed with various colors or hot stamping greeting phrases. UNICO can custom all kinds of greeting cards, you can send us your design or even an idea. We will make a perfect greeting card to support your business or event.
Christmas cards are holiday gifts to express your best wishes to others. Christmas cards are usually paper, beautifully printed, and you can write blessings on them. It is still the traditional way to spread the festive cheers. 
The sending of Christmas cards at the time was only among Christians. By the beginning of the twentieth century, it became popular. Whether you are a Christian or not, you can use Christmas cards to bless your relatives and friends and congratulate the New Year. In the past, the pictures of Christmas cards were mostly related to Jesus or Christmas. Now the pictures are so various and colorful. UNICO can custom shapes and patterns Christmas cards. you can send us your design or even an idea, start customizing your dream Christmas cards now.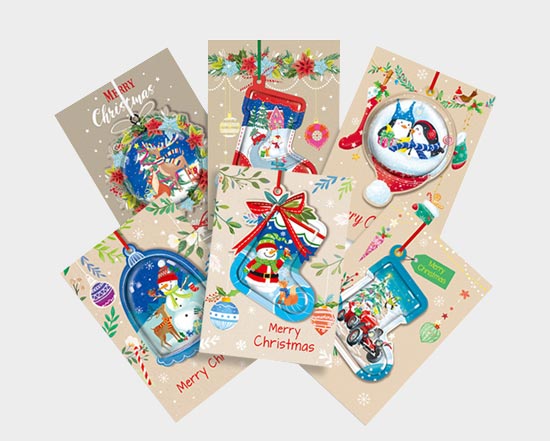 A holiday card is one of the most popular ways to send greetings and warm wishes. You can use holiday cards to celebrate life's special moments. There are some online websites to design and order custom greeting cards. It's super easy to design and personalize your favorite with text and photos.
As a leading manufacturer in China to make the custom paper card, UNICO can custom variety holiday cards with fancy processing like embossing, foil stamping, etc. you can send us your design or even an idea, ask for a quick quote on your next holiday cards order. Various kinds of materials for your choice in our factory.
A postcard is a card with an image and written text that can be posted directly. The image can be photography, painting, or design, etc. You can use custom printed postcards to show the company's image, philosophy, brand, and products. It's also workable for the custom paper card to promote your business activities. The postcard is to show local characteristics and humanistic emotions, it is a new type of advertising media.
UNICO is a leading manufacturer of custom paper card, and we can custom any postcards with various paper materials like kraft paper, C2S art paper, specialty paper, etc. You can send us your design or even an idea, send us your inquiry to custom your postcards now.
A wedding invitation card is a ceremonial letter sent to invite guests to participate in a wedding event. It is always the most important part of every wedding ceremony. On the wedding invitation card, you need to specify the specific time and place of the wedding. In the West, wedding invitation cards are mostly horizontal and the colors are mostly light white and light pink, and scarce red invitations are rare.
In our factory, we can custom wedding cards with high quality guaranteed. You can send us your design or even an idea, ask for a quick quote for your wedding card order. Of course, you can also make the design via an online template, like Canva, etc.
Gift cards are usually presented on paper material. And starting from the actual needs of gift-givers, various styles and packaging forms have been developed. A gift card is an amazing way to celebrate important occasions with your friends and family.
In today's society, more and more people are beginning to use gift cards as a way of giving gifts. From our factory, we can custom gift cards in any shape and size. Of course, there are various quality paper materials for your choice. On the surface of a custom paper card, it's possible to make your logo with hot stamping, shiny spot UV, embossing, or glittering, etc. Welcome to contact us for free quotes.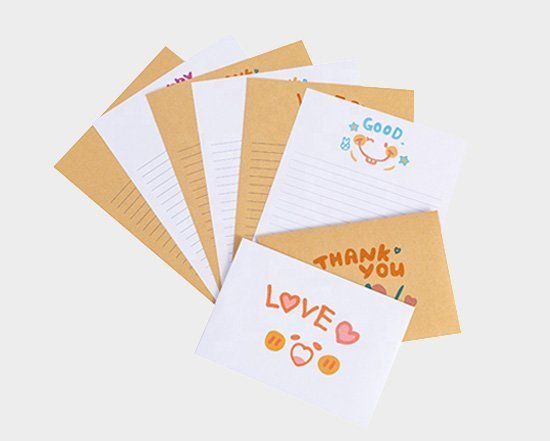 A stationery card is necessary for lots of commercial events and daily office requirements. Usually, stationery cards include note cards, business cards, memo cards, business head letters, etc. There are various quality paper materials for stationery cards, like kraft paper, offset paper, C2S art paper, and so on.
In Unico factory, all stationery cards can be customized with your logo and design graphics printing. You can send us your design or even tell us an idea, ask for a fast quote for your stationery card order. The quality of the custom paper card is ensured in our company. Contact us now for your project.
Blister cards are most traditionally glued to a thermoformed plastic blister cover. The other way is to use a heat shrinkage on the top of the custom printed cards. The cardboard back can be customized with printing of your own graphic design and logo. To protect the printing ink, blister varnish is needed on the cardboard.
Unico is a leading factory in China to manufacture custom paper card, including blister card packaging. You can send us your design or even an idea to ask for a fast quote. On the backboard, it's possible to make your logo shiny UV or hot stamping. A EURO-hole is usually made on the top to be displayed in the shop. 
UNICO: Your Premier Paper Card Supplier
Check our latest paper card design and take some design ideas for your own paper card solution.
We will provide you with the best paper card for your business.
All Paper Cards Can Be Customized
with Your Requirements.
Frequently Asked Questions
1. Can I get custom paper card from you?
Absolutely. Unico is a leading paper cards manufacturer in China, and we have been manufacturing high quality customized paper cards for over 10 years. In our factory, we manufacture different types of paper cards for your business. Fast delivery and quality are guaranteed.
2. Do you offer sample paper card? If yes, is it free?
Yes. It's possible for us to offer a sample paper card. Now we have two options for your choice below. 
sample paper card in stock, however, it was printed with graphic design of other clients. You can receive the sample to check the quality of printing and material. This sample is free, and you only need to pay the express shipping cost of $50 or so.
If you need a custom print paper card sample of your own design, there is sample cost needed approximately US$200, and express shipping cost of $50 or so. When the amount of the bulk order is over US$10,000, it's possible refund the sample charge 100%.
3. How many days to finish an order of custom paper card?
We are a factory who are well equipped with lots of advanced machines, so it's easy for us to finish a custom order of paper printing quickly. For a sample order of custom paper card, it usually takes 5-7 business days after the print artwork file is confirmed. If you need a bulk production, it can be finished in our factory 18-22 business days after the sample is approved.
4. Do you ship custom paper card to countries other than United States?
Absolutely. We can ship the custom printed paper cards to where that you need them, not just the U.S.
5. What paper do you usually use for paper card making?
On the market, there are various paper materials available for paper card making. Now we'd like to list some of them below for your reference. 
Kraft paper, it's coarse and brown, but with high strength. You can use it to make paper cards, envelopes, paper bags, etc.
Art paper, it's usually known as C2S art paper or C1S art paper. Both of them are quite popular for postcard printing, greeting card printing, etc. It is thick, pricey, and a bit rough but suitable for ink.
Specialty paper, it has a medium weight and is a bit smooth to make envelopes, wedding cards, etc. 
Of course, if you have your own specific requirements for the paper material, please feel free to contact our sales representative. As a leading manufacturer for a custom paper card, we can get the right material for your business.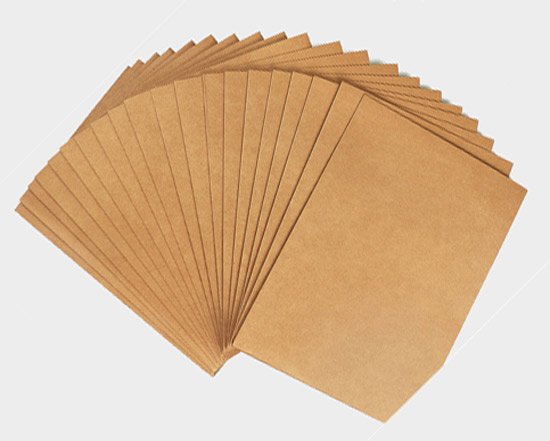 6. What is your MOQ of custom paper card?
In our factory, there is no minimum order quantity of custom paper card printing orders. Even it's a small quantity of 10 pieces or 50, we can take it as a sample trial order, and it is possible to produce in short days. However, it is important to know that you will get discounts when you purchase more quantity of custom paper card.
7. What additional features can you include on custom paper cards?
In our factory, all paper cards can be customized according to your requirements, like dimensions, print colors, surface disposal, etc. On the surface of the paper cards, you can include additional features of hot stamping, lamination, glossy spot UV, glittering, etc.
8. Can paper card be recycled?
Sure, the paper card is possible to be recycled. Most of the paper material is recyclable, except for a few exceptions like laminated paper. Like SBS, C2S art paper, they are made from virgin pulp, and it's possible to recycle 100%.
9. How can I ship custom paper cards?
On the market, there are several different shipping options for your choice. Now we'd like to list them below for reference. 
air shipping, it is the fastest option, but it is relatively expensive compared with other ways. Of course, if you need the paper cards in a rush, air shipping is a very good choice. 
ocean shipping, it is a quite good mode for shipping large volumes. The shipping by sea takes more days, but the cost is the cheapest one. 
train shipping, China-Europe Railway Express is one of the train shipment. It can reach many countries like Russia, Poland, Germany, France, etc. The shipping time is usually 15-20 days, and the cost is much affordable.
truck shipping, it is a good combination of other transportation modes. When your goods of paper cards arrive at the port, you can get a truck to pick up the packages, and ship them to your warehouse.
10. What payment terms do you accept for custom paper card order?
Usually, payment can be done by bank transfer (T/T), Paypal, Western Union, Moneygram, etc. 
the amount of an order is less than US$1,000, it's necessary to pay 100% in advance. 
the amount is more than US$1,000, it's possible to pay 30% in advance, balance before shipment.
If your shipment is by air, it's better to pay 100% in advance to save several days of deposit transfer between banks.