Card games, also known as playing card games, are a type of table game. The appearance is small, mostly rectangular, and the standard card size is 88x63mm. You can choose to pack the kids playing cards by a printed paper box, rigid paper box, shrink film, etc. The domestic initial issuance was in the early 90s. Because it has printed many cartoon characters, it is loved by a wide range of children. Some of them provide many weapon names or sci-fi characters. Market sales of kids playing cards are extremely hot.
Kids Playing Cards Made in China
with good cost rate from China
You can choose custom printed box packaging made in China for your playing cards. Nowadays, with the surge in sales of card games for kids, the need for a box packaging for cards is on the increase too. Most of them are made of white cardboard, usually, the weight differs from 250gsm to 350gsm, and some of them are with a clear plastic window to see through.
Ask Price for Your Custom Playing Cards
Various Types of Paper Card Games
Playing Card Games for Kids with Tin Box
Monopoly card games for kids include two packs of cards (totally 108 pieces), one 2 sides printing instruction paper, and an outer tin box. It's a much popular kids playing cards game on the market. (1) Size of the cards is 84x54mm, and material is 300gsm poker card paper. (2) The size of the outer tin box is 155x95x30mm. Inside instruction paper with 2 sides printing of how to play the card games.
Kids playing cards set can be customized with your logo and design graphics printing. You can choose your own requested material, print colors, and packaging ways for the playing cards game set.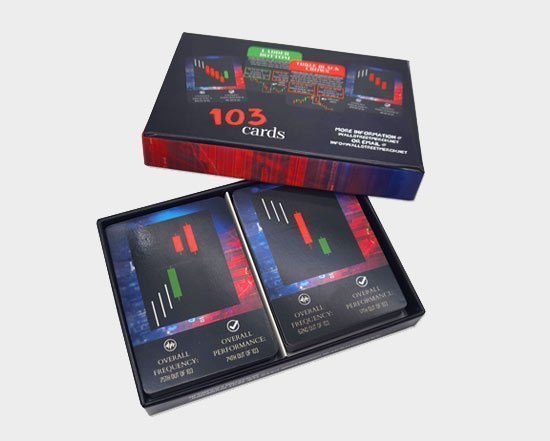 Kids Playing Cards with Rigid Box Packing
Particularly due to the epidemic, large households spend more and more time in daily life and doing jobs at home. How to spend time with children is a difficult question. Cards game is a small item which can be played with your family at home, and children like to play. You can also share these family card games with your friends when they take a visit.
Rigid box packing kids playing cards is super popular, for its sturdy and durable package is much helpful. The rigid box would help you keep the cards safe, and not missing anymore. This set of family card games includes 103 cards, 2 decks of paper playing cards. And on the top, there is an instruction of how to play the card games.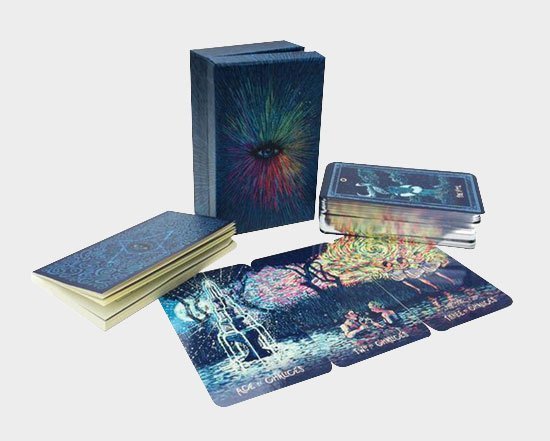 Custom Printed Tarot Cards Deck
Tarot has 78 cards in total. Among them, there are 22 large arcana cards and 56 small arcana cards. You can use them separately for divination, or you can mix 78 sheets for divination. It is worth mentioning that the Tarot card does not refer to a fixed card. In fact, there are many kinds of tarot cards, at least there are thousands of them. But in fact, most of them are based on the extension of the world's three major tarot systems.
The graphics on the tarot cards deck are not fixed, which means you can customized every single card with your design colors. In our factory, we are able to manufacture tarot kids playing cards with your design artwork. And the outer packaging is a custom printed paper box.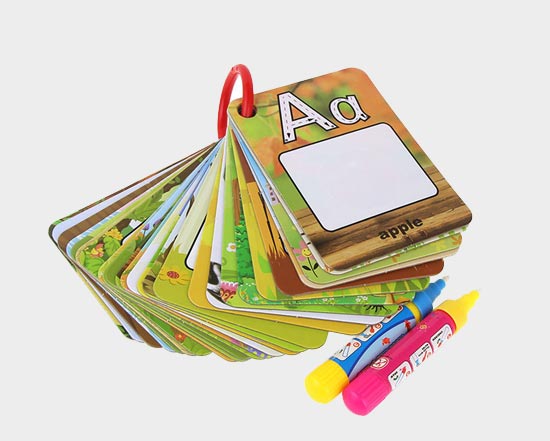 Children Education Memory Cards
Education memory card is a memory game especially suitable for children. It can exercise children's reaction, recognition, and memory abilities. While playing games, it also helps children identify various cute animals, plants, insects, and other common daily necessities.
Usually, the size of the memory cards is the same as that of the poker cards, 63x88mm. And the material is thick cardboard 600~800gsm weight. Both sides of the cards can be printed with custom design graphics. As the image shows, there is a punch hole in the top corner, and it's helpful to use a plastic ring to tie the cards together and protect the cards from missing.
If you are looking for custom printing education memory cards for kids, please get in touch to reach free quotes.
Custom Print Paper Board Card Game
Board games are tabletop games that typically use pieces moved or placed on a pre-marked board (playing surface). And it often includes elements of the table, card, role-playing, and miniatures games as well.
On the market, there are many various board games. They represent real-life situations that can range from having no inherent theme to having a specific theme and narrative. Rules can range from the very simple, such as in Snakes and Ladders; to deeply complex, as in Advanced Squad Leader.
Monopoly is a very typical board game among all kids playing cards. And your custom printing graphics are acceptable.
Note

: If the type of kids playing cards is not in the list above, you can contact us at any time.
Frequently Asked Questions
1. Are you able to manufacture the kids playing cards with my design?
Absolutely. We are a professional manufacturer in China to make paper playing games cards with custom design graphics printing. In our factory, we have ManRoland printing machines to finish the printing and automatic die-cutting machines to complete the playing cards cut. It's also possible to manufacture the packaging boxes for the cards. Finally, you can complete one-stop shopping in our factory.
2. Can I get sample playing cards before an order?
Yes, you can get the sample cards before the production order. No problem. 
For the samples, we have 2 options for your choice. First, sample playing cards for kids in stock, which means the printing was finished for other customers, or our logo, is free of charge. And you only need to pay the express shipping cost to your address. Second, sample of custom printed kids playing cards, usually this is charged a sample fee of $200. If the amount of your bulk order is over $10,000, it's possible to refund the sample cost 100%.
3. How many days does it take to finish the custom card games for kids?
Usually, it takes 15-18 working days to finish the custom printed kids playing cards project. If your order quantity is much larger, it could be finished in 30 days.
For the shipping time, it depends on which way you choose. (1) shipment by air to anywhere in the world takes about 5-10 days. (2) shipment by sea to Oceania (AU/NZ) takes 15-18 days. (3) vessel shipping to Europe's main base port takes 28-32 days. (4) shipment by sea to the port in the west of USA takes 15-18 days, while to the east 30-35 days.
4. Do you have any playing cards in stock for wholesale?
Yes, we have several models of kids playing cards in stock for wholesale, however, their quantity is not big. We are a professional manufacturer to make custom printing playing cards, so your custom design graphics are welcome.
5. What ink do you print with?
We do print the kids playing cards with soybean oil ink as we are environmentally conscious. Soybean ink is truly environmentally friendly ink that can be applied. Moreover, its output is abundant, and the performance is safe and reliable. Furthermore, the printing effect is good, and it meets the standards of printing ink, and it has excellent environmental protection.
6. Can I print the photos on the playing cards?
Absolutely. It's possible to print your photos on the playing cards. No problem. You can contact our sales team to upload the photos, Logo, or image to custom your playing cards includes 55 Cards. (12 Suits / 2 Jokers / 1 card cover) (Note:Please provide clear and high-definition pictures, it will affect the custom playing card effect,the clearer picture the better effect.) Photo printed playing Cards are popular for Wedding Favors, Corporate Promotion or as a unique gift for birthday and you will have a good memory.
7. What material do you use for the kids playing cards?
We usually use high quality 300gsm card for playing cards and packing in a gift box. It's not easy to bend and deform, waterproof, and conducive to long-term preservation. Of course, if you have your own requirements for the material and packaging, please feel free to inform us. As a leading manufacturer of kids playing cards, we are able to meet your every single request.
8. Can you ship my order to the vendor in China?
Q: I am from Australia, and I import some household supplies from Dongguan, China.  I'd like to purchase the playing cards from you, but we need your service to ship the cards to the vendor. Is it possible?
A: Sure, it's possible for us to ship your order of kids playing cards to the vendor in China. No problem. And we'd like to pay the shipping cost in mainland China.
9. Is there any minimum of the playing cards?
Yes, the minimum order quantity of the kids playing cards is 500 decks. If you want to place a trial order smaller than this, it's also negotiable. Welcome to get in touch with us to discuss further the kids playing cards project.
10. What's your payment method?
(1) payment terms are 50% down payment in advance, balance before shipment.
(2) payment can be made by T/T bank transfer, Western Union, PayPal, etc.