Custom Printed Pillow Box Manufacturer
Pillow boxes are such a fast and cute way to present your gifts, and it's eye catching, unique, and well made. We can make the pillow paper boxes with your brand design printing.
Get A Fast Quote
UNICO is a leading pillow box manufacturer in China to make packaging for jewelry, hair extension, cosmetics, electronics, etc. We use high quality materials like C1S or C2S art paper, white cardstock, and kraft paper as your requirements. Printing in CMYK/ Pantone is as per your design artwork file. We have advanced printing equipment imported from Germany and skilled workers to ensure the quality of your packaging projects.
Gallery of Paper Pillow Box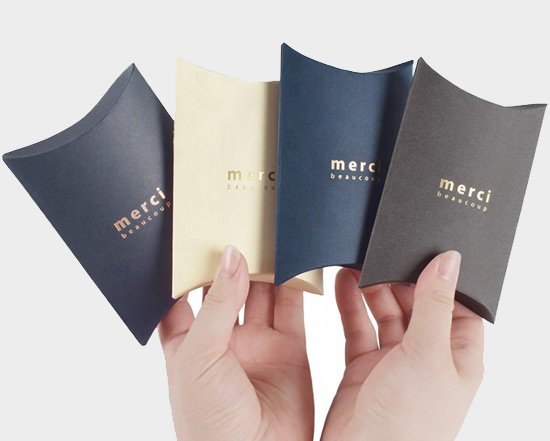 Fast & Reliable Custom Pillow Box manufacturer
100% Custom Pillow Box Packaging
The pillow box is very useful packaging in daily life, you can use it for packaging wedding favors, jewelry, or wigs. There is a huge range of sizes for you, and you can put anything you need inside. Pillow boxes can be printed in full color design with your artwork in CMYK and Pantone. Material is usually 14pt, 16pt, 18pt SBS paperboard.
To protect the inks on the surface, you can choose glossy or matte lamination. It also keeps the surface away from water. To bring the packaging pillow box to a higher level, you can make the logo with foil print (gold, silver, rose pink, purple, red, blue, etc available). 
For the carrier handle, there are various options for you, like wide ribbon, slimy cotton handle, etc. Colorful and diverse for you to choose.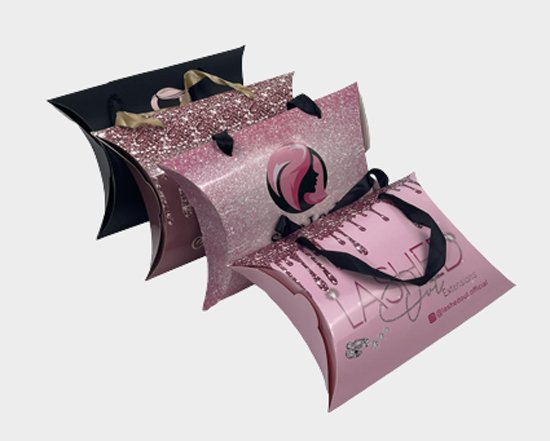 Pillow Boxes: Packaging Simple and Unique
Pillow box packaging with your logo printing will bring your brand to a high level. You will get them flat for easy storage, and pillow boxes are already pre-glued in our factory, so you just need to pop them into shape in just a few seconds. This is a perfect quick packaging solution for gifts, jewelry, and wigs business.
Simple designed pillow boxes are with lightweight, and it helps save your postage to ship the products. And printing directly on the cardstock gets a fantastic visual effect for your consumers.
In practice, you have a wide variety of surface finishes to choose for custom printed pillow boxes. It can make your logo and brand more prominent and attractive.
Foil Print: usually, foil print is made with gold or silver color. Over time, more and more colors are available, such as blue, purple, rose red, and even holographic, etc.
Spot UV: its UV varnish makes your logo much shiny through silk screen printing, or even into your requested shape textures.
Embossing or Debossing: in fact, these are two different treatments for your logo position. Embossing makes the logo higher from the paper surface, while debossing makes it lower.
Flocking: using glue to make the fluff to the pillow box by screen printing. So that it feels soft to the touch.
For the pillow box template, you can get it 100% free from our side with your requested dimensions and style. You can discuss it with our sales team, and after everything is clear, our designer will make the drawing. PDF or .ai format of the pillow box template will be shared with you by then.
Solid Line: cutting lines of case blanks
Dotted Line: crease lines
If you are looking for a supplier for your custom printed pillow boxes, UNICO is the perfect one. In our factory, we can 100% customize the pillow boxes with your logo and brand design printing. And we can recommend suitable materials to fit your products.
Assortment of Pillow Boxes
There are various styles of pillow boxes on the market. Pillow boxes are widely used to package jewelry, gifts, wigs, electronics, and more. So pillow gift boxes and pillow boxes for jewelry are much popular nowadays. This packaging method is lighter and can reduce the weight of your courier, thereby reducing the courier fee. Furthermore, you can also customize the box with your own logo to elevate your brand.
White SBS Paperboard Pillow Box
SBS paperboard is widely used for custom printed pillow box making with your logo design. Material thickness is usually 14pt, 16pt, and 18pt. You can choose the suitable one to fit your box size, and the products packed inside. With a clear plastic window assembled in the front, consumers can see through and have a rough idea of the product.
Glossy Color Printed Clothese Pillow Box
Custom glossy color design printed pillow paper boxes for clothes packaging are made for a USA client. The material is 16pt C2S art paper with surface glossy lamination. Two rope handles are assembled on the top. The logo is printed with silver foil.
If you have your own design to print, please contact our service team for further discussion. 
Kraft paper is a traditional and commonly used material, 100% recyclable and environmentally friendly. In the market, under normal circumstances, there are two different origins, one is American kraft paper, and the other is Chinese kraft paper. Both of them are okay for color printed kraft paper pillow boxes, however American kraft paper is stronger and more resistant to breakage.
Metallic Paper Pillow Box
Metallic paper is luxurious to be used for packaging to bring your brand to a higher level. To print your design, there is a need to use UV printing. The cost of this kind of printing is relatively high compared to ordinary offset printing. If you want to use this metallic paper material, it's better with a big quantity to save costs.
Listen to What Our Clients Say
UNICO is a nice pillow box manufacturer in China. We have been working with them for over 5 years. We purchased pillow boxes for our wigs packaging. Efficient communication, professional service.
Always fast replies, and professional advice. Further, the box quality is beyond our expectations. We love the pillow boxes from UNICO factory. New orders will be confirmed for our new year plan soon.
Quality of the pillow boxes from Unico is perfect, nice printing and fantastic foil stamping.