Custom Birthday Card Manufacturer
UNICO makes custom design printing birthday cards, greeting cards, wedding cards, thank you cars, etc. No matter what size or material you need, we can customize it for you.
Send Your Inquiry Now
Personalised Birthday Cards
A birthday card is a card that is given or sent to someone to celebrate a birthday. Similar to birthday cakes, birthday card traditions vary from culture to culture, but the origin of birthday cards is unclear. The advent of computers and the introduction of the Internet and social media have led to the use of electronic birthday cards and even Facebook posts to send birthday messages. Even though, personalised birthday cards made of paper are still much more popular.
Custom Birthday Cards Made in China
with good cost rate from China
Birthday cards with envelopes are hot selling via the Amazon platform. There are many sellers buying these goods from China manufacturers of personalised birthday cards. Material is usually 300gsm white cardboard, with letters hot stamping foil print on the surface. Size 5×7 inches, or custom design is available.
Ask Price for Your Greeting Cards
Why UNICO Can Custom Perfect Birthday Cards
Over 10 years of Birthday Cards manufacturing experience.
Low MOQ (minimum order quantity) is acceptable.
Always on-time delivery.
Stable and experienced workers to support your order.
Trusted by 1000+ clients.
100% quality inspecting.
Eco-friendly material is used always.
24/7 online service for your order.
After-sale warranty.
Happy birthday cards assortment, these are large and very high quality Happy Birthday Cards made from 300gsm quality paper. Cards are thick, sturdy, matte finish, and feel very smooth to the touch.
Envelopes and stickers – Envelopes with adhesive are made from thick brown paper and are not flimsy or see through. They are strong enough to be dropped in the mail. Stickers are large, easy to peel, and with durable, strong adhesive. They will stick and secure the envelope.
Dimensions – each card measure 5×7 inches, including 100 corresponding V-flap, white envelopes.
Boxed happy birthday cards are much popular via wholesale or retail channels. There are 100 pieces personalised birthday cards with envelopes, and they are well packed by rigid cardboard packaging box, separated lid with bottom type.
100 large Happy Birthday cards, paper quality of 300gsm (14PT card stock)
100 white envelopes with adhesive and paper quality of 150gsm
quantity of 100 large stickers
Ten (10) unique designs (10 each)
Letters with gold hot stamping foil print.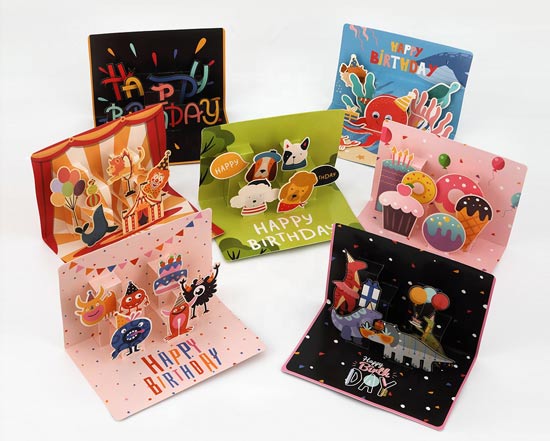 Pop-up cards are much popular among children and adults. They change a typically two-dimensional greeting into a three-dimensional world by use of flaps, revolving parts and other movable pieces to enhance the text.
Custom printing 3d popup birthday cards with your design artwork can be made in our factory. Small MOQ, fast delivery. So far, there are lots of Amazon sellers are buying these personalised birthday cards from us. 
UNICO: Your Premier Greeting Cards Supplier
Check our latest birthday cards design and take some design ideas for your own card design.
We will provide you with the best birthday cards for your business.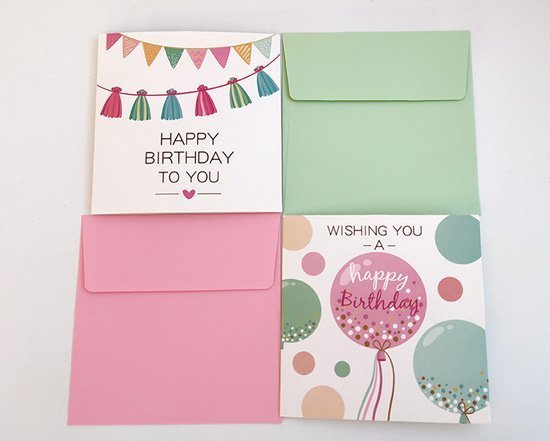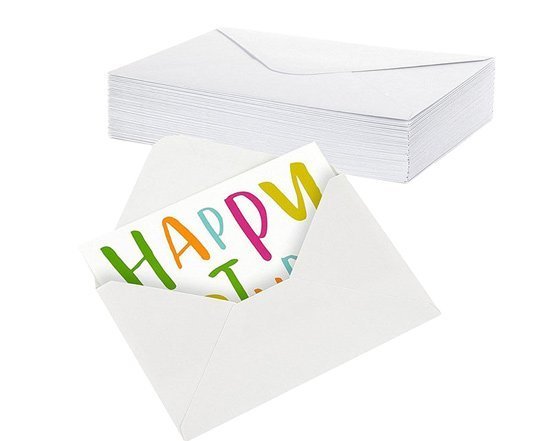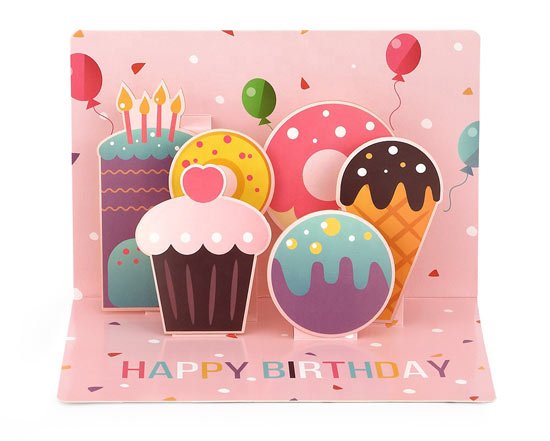 All Greeting Cards Can Be Customized
with Your Requirements.